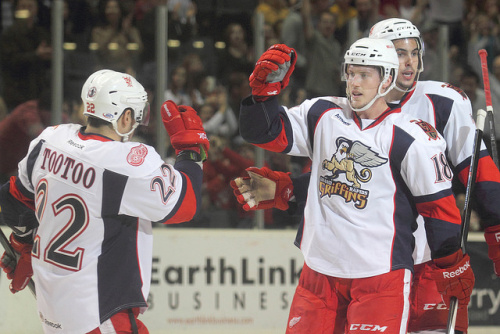 The Griffins and Barons faced off for the second night in a row on Saturday in the second of a three-in-three home stand. Grand Rapids had the opportunity to avenge Friday night's 4-2 loss.
Coach Jeff Blashill had said that his team had not been showing enough resiliency, resorting to hanging their heads when things didn't go their way. Forward David McIntyre mentioned that his team was not talking enough on the ice or shooting the puck enough.
Now that the problems had been spotlighted on Friday, the Griffins set out to avoid them on Saturday.
However, it did not start well for the Griffins. Just 18 seconds into the contest, C.J. Stretch deflected a shot past Griffins netminder Petr Mrazek, giving the Oklahoma City Barons a 1-0 lead. Giving up a goal on their first shift of the game has to be pretty deflating for a team, but each game is sixty minutes, and that's what Blashill has stressed repeatedly of late.
Grand Rapids would get its first power play in the, and they wasted no time converting on it. Center Calle Jarnkrok, who scored the game's first goal last night, wristed a shot that teammate Mitch Callahan was able to tip in. It was just the team's second shot of the game.
"The power play goal (I scored) was pretty huge for us," said Callahan. "We were down 1-0. All I did was stand in front of the net and Jarnkrok shot and it hit my stick and went in. That's what we need out of the power play is to get momentum swinging for our team."
But the momentum shift was short-lived, because Barons forward Steve Pinizzotto would regain the lead for his team just 1:28 later. 2-1. Edmonton Oilers rookie forward Mark Arcobello, who had nine points in four AHL games this season, added an assist.
When the two teams took to the ice for the second period, the Griffins looked like a completely different team. They skated harder, made better plays, and in the process, created a lot of scoring chances. There were numerous 2-on-1 and breakaway opportunities, many of them to Callahan, who was all over the ice all night.
The trio of Callahan, Almquist, and Jarnkrok came through on the power play for the second time. Callahan again scored, with Almquist registering the primary assist this time. The assist was Jarnkrok's fifth point in his last five games.
Three minutes later, Grand Rapids took the lead. Almquist fired a hard slapper from the point that was deflected by Trevor Parkes past Barons goalie Richard Bachman. The Griffins would head to the dressing room with a 3-2 lead.
The Barons came out with enough energy to match the Griffins in the third. Defenseman Brad Hunt, who had scored two goals the night before, added his second assist of the night as he set up Arcobello for the tying goal. Grand Rapids could certainly use some resiliency now!
Fewer than six minutes later, Jordin Tootoo set up Cory Emmerton for a perfect one-time slapper that was labeled for the back of the net. 4-3. After the Barons were in desperation mode, the Griffins managed to stave off the opposition for the remaining 6:46 to win the game.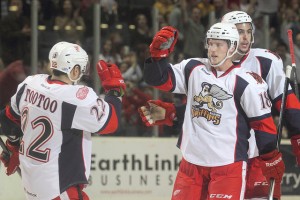 Coach Blashill again emphasized the importance of being resilient. "I thought it was a big factor for us. We thought last night that in the last little bit, when bad things happened, we just kind of slumped our shoulders and didn't keep fighting, and that's not really what this group's been about for a year and a half. I think this group showed more of what they're about tonight by just continuing to play. It's a sixty-minute game. Lots of things happen. You got to take the good and the bad and just keep going and I thought we did a good job with that tonight."
It was just the team's fourth win in their last 13 games, and it snapped a three game skid.
Callahan, after scoring two of his team's four goals, now leads the Griffins with 21 goals. When I asked him what he's done that's worked for him this season, he said: "Just being around the net and going to the net hard. Probably my work ethic. I'm not getting nice pretty goals like some of the guys do, but I'm getting the hard-working ones."
He earned the praises of his coach after the contest.
"The thing about him is he can score goals on any line," said Blashill. "So I moved him to a different line, because I wanted some different type of chemistry on that line. But he can score goals on any line because all he does is he shoots the puck and he goes to the net hard, and he scores lots of hard, dirty goals. He's done a real good job. The other thing I liked about him tonight, I thought he was skating real good. I thought he looked real fast."
Jarnkrok followed up on McIntyre's comment from Friday regarding on-ice communication. "That's what we have to do every game. We haven't done it lately, so it's a good point, and we did it today."
Calle, along with fellow countryman Almquist and Callahan showed great chemistry all night, especially on the power play, where they generated numerous scoring chances and produced two goals. The trio combined for seven points on Saturday.
"Almer and Jarnkrok, they're real good buddies and they seem to have real good chemistry, and real good chemistry on the power play," said Blashill. "Our power play hasn't necessarily produced in the last little bit, but I think it's been strong with Callahan, and Pulkkinen, and Nestrasil's on there. It's been dynamic, and we've had lots of chances on it as well."
Did the coach agree that the players were communicating better this game than yesterday? "Yeah, I did [think the communication was better tonight]. I thought it was much better tonight. We still got to tighten up. We still gave up too many chances and too many shots, but I thought we did a real good job for the first time in a while of being a grind-type team and really grinding the other team. I thought in the second period, there were times where we looked like we were taking the game over, and that was good to see."
The penalty kill was another bright spot for Grand Rapids in the contest. On Friday, they allowed OKC to score twice with the man-advantage, but managed to stifle all five of the Barons' chances in this game.
"I thought tonight, it was very good," said Blashill. "And I thought when we needed a save, Petr [Mrazek] made some big saves. They got a real good power play, so it was obviously a big difference in the game."
The Griffins earned two points and improved their record to 31-17-2-3 (67 points) but Chicago (66 points) is still hot on their heels in the Midwest.
Grand Rapids will finish their MLB-like three-in-three Sunday night against Milwaukee. Same place, different team, different time (5:00 ET).
Follow me on Twitter @yungspork