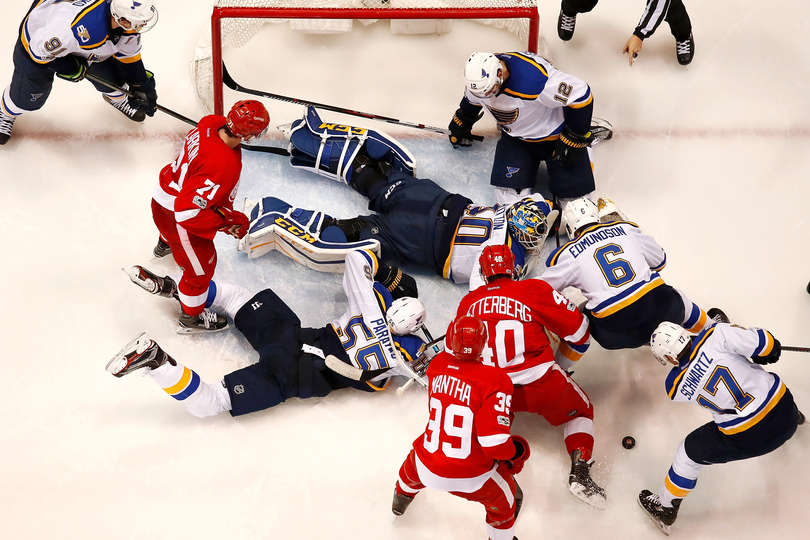 Detroit Red Wings forward Gustav Nyquist was suspended for six games Wednesday following a phone hearing with the NHL Department of Player Safety. The incident occurred early in Sunday's contest with the Minnesota Wild. Wild defenseman Jared Spurgeon was the recipient of a brutal high-stick to the face, which required multiple stitches. Nyquist was only penalized with a double-minor infraction instead of a game misconduct.
He waived his right to an in-person hearing, which signified a ban of no fewer than six games.
Nyquist has struggled for much of this season and is on pace for his lowest goal and point totals. He scored only seven goals and 29 points through 56 games.
Detroit is at risk of missing the playoffs for the first time in 26 years. They sit last in the Atlantic Division and Eastern Conference (54 points) with 26 games to play in the season. Only Arizona (45) and Colorado (32) have fewer points than the lowly Wings.
Game Recap
18 scouts from 14 different teams were in attendance during Wednesday night's nationally televised broadcast. Every game has been a must-win for the Red Wings, and the team would fall further behind at the hands of the St. Louis Blues.
The game was dedicated to Mike Ilitch's memory, as he was honored before the game with a moment of silence, a touching video package, patches on every Detroit jersey, and a "Mr. I" decal painted onto the ice. Wednesday was also the day of the long-time owner's public visitation at Detroit's Fox Theatre, another Ilitch Holdings property.
However, the Wings could not muster up enough willpower to win one for Mr. I.
It was a slow start for the home team, per usual. The game's first shot would be allowed by goalie Petr Mrazek, who has had a disappointing year in every stat category. Blues rookie center Ivan Barbashev, playing in only his ninth NHL game, scored his second goal of the season with relatively little resistance from the Detroit defenders.
He skated from behind the net to the top of the left faceoff circle, without being picked up by a Red Wing player, similar to the extra man dilemma on a power play. Except, this wasn't a power play. His low shot found a gap between Mrazek's pad and his blocker. It was one he'd like to have back.
"Yeah we had two guys kind of protecting middle ice, they both kind of covered the same guy, so he was able to walk up [and score]," said Jeff Blashill. "I mean, it wasn't a big-time chance. It was still from the dots or whatever, but he definitely had too much time."
Unfortunately, that easy goal would haunt the Wings for the game's remainder, as they were unable to register a goal.
Detroit led in shots 11-7 after one period, but the majority of those shots were from low percentage areas. In the second, they would be outshot 16-4, a startling differential. Only one Detroit shot was taken near the net while the Blues peppered Mrazek with well-placed shots.
St. Louis nearly scored early in the second period, but Mrazek was quick with the glove to save another scoring opportunity from Barbashev.
The Red Wings attempted a comeback in the final stanza, and found a number of quality scoring chances, but backup netminder Carter Hutton stood tall for the shutout. Forward Jaden Schwartz added an empty-netter for good measure.
"You can't ask more than one goal against," said Henrik Zetterberg of Mrazek. "Even though he didn't get a lot of help on that first one either. But he was good again. He's been real good the last four, five starts he's been playing, so [you] can't ask more from him."
Detroit was 0-for-3 on the power play, which continues to plague this team all season. They rank last in the NHL (11.8%) behind Colorado and Florida (14.9%) with only 22 tallies on the man-advantage.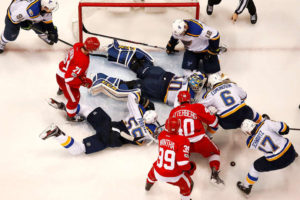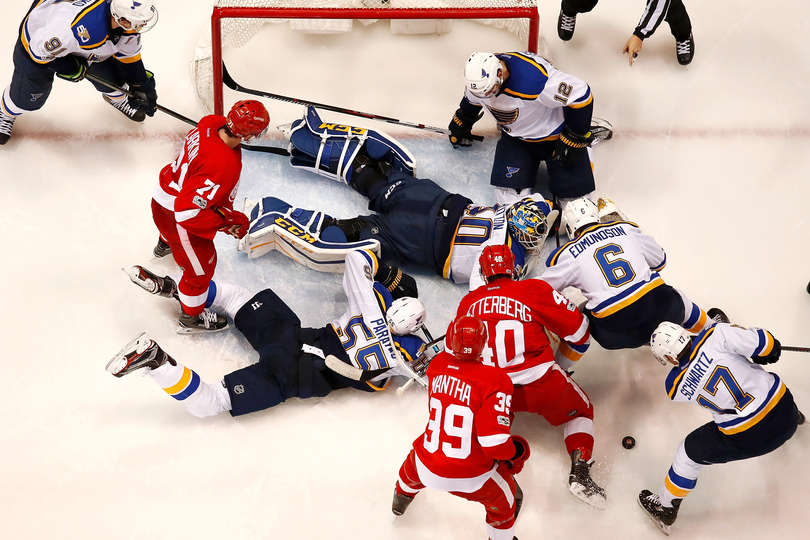 Trade Deadline
For the first time in forever, Detroit will likely be sellers at the March 1st trade deadline, and the plethora of pro scouts are likely looking at veteran forward Thomas Vanek, who has had a surprisingly successful season to this point. His play has proven to be a breath of fresh air for a team struggling to produce points. Many teams will likely pursue Vanek for their own playoff runs.
There is little hope of passing every team in the wild card race. In fact, it appears downright impossible to think of any scenario where the Wings even make it close.
The rebuild will need to begin, and unfortunately the 25-year playoff streak will end during the farewell season of Joe Louis Arena. This process will involve trading some veteran players in the hopes of acquiring draft picks and prospects.
Follow me on Twitter @KevinSporkaHOHM