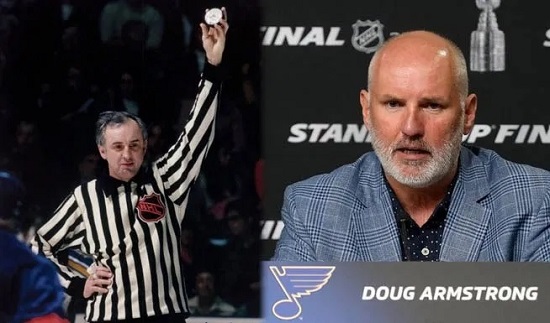 Neil Armstrong, passed away early this morning. Neil worked as an NHL linesman and officiated 1,744 regular-season games before retiring in 1978.
He was inducted into the Hockey Hall of Fame in 1991.
Neil's son, Douglas Armstrong is a Canadian professional ice hockey executive, currently the general manager for the St. Louis Blues.
In spite of being regarded as one of the finest linesmen ever to work in the NHL, occasionally, like all on-ice officials, Neil would make a mistake. "If I've blown the whistle before I should have and a player comes up to me, I say, 'I've blown the whistle. What do you want me to do about it? I've made a bad call.' You just hope a goal wasn't scored on it – then you're really in trouble. But the players are understanding. We have provisions in our rules that if we make a mistake on an icing call, we take it to centre ice and start again. Both teams aren't necessarily happy but they're content that one team doesn't have an advantage over another."
Neil Armstrong retired in 1978, having officiated an astounding 1,744 games. He joined the Montreal Canadiens and had a long, successful second career as a scout while during the summers, Neil was the golf pro at the Sarnia Golf and Curling Club. In addition, his son Doug is the general manager of the St. Louis Blues, having held the same post previously with the Dallas Stars.
Neil was elected to the Waterloo Region Hall of Fame and in 1991, he was inducted into the Officials' Category of the Hockey Hall of Fame. That year, Armstrong was joined by fellow inductees Scotty Bowman (Builders' Category) and, in the Players' Category, Mike Bossy, Denis Potvin, Bob Pulford and Clint Smith.