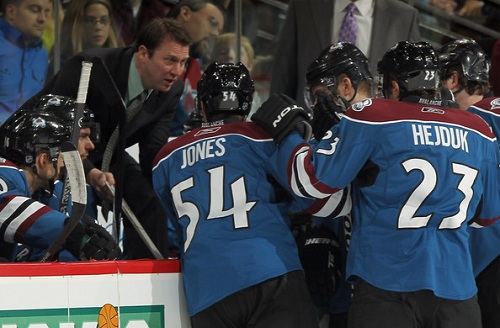 With one more loss to take the 2013 Colorado Avalanche season rolled over and took its last agonizing breath before finally expiring. Compiling a 16-25-7 record, the Western Conferences worst team kicked the bucket with a 3-1 loss to the Minnesota Wild. Collective breaths were taken right before the axe began to fall. The first head to roll was Coach Joe Sacco.
Becoming the first casualty –and many fans favorite choice for sacking- Coach Sacco was relieved of his duties by General Manager Greg Sherman on Sunday afternoon. Sherman could very well be sacked, completing a Monty Python hat trick as the sacker of the sacked coach is then sacked himself. Speculation is abound if Joe Sakic becomes the John Elway of the Avalanche, taking over Sherman's post.
According to Denver Post's Avs beat writer, Adrian Dater, who will be the next head coach isn't a known certainty. Many options are available but I am really hoping that they give George Gwozdecky a call. Maybe they play it safe with a newly available coach in the coming days, either way some NHL coaches will be getting interviewed unless the Avs have guarded their favorite choice waiting in the wings. Patrick Roy's name is always brought up by some as a preferred choice.
It won't end with Sacco and even Sherman, the roster is going to see some turnover. Saddled with some hefty contracts creating drag, the Avs may trim the fat by trading or releasing some. Dater is forecasting that Paul Stastny, Ryan O'Reilly and Semyon Varlamov could be in danger. Stastny had another average season, his third in a row. It's not that Stastny is bad, but for what he gets paid –the richest player on the roster with a $6.6 million paycheck for 2013- his worth is overvalued for what he has been doing. He had three 70+ point seasons earlier in his career, but since has produced less than 60 points and this season only 24 (given a full season at that rate, a projected 48). That's it. He is the victim of his own contract. Stastny is a pretty good player, just not $6.6 million good. He may be dealt to someone who can handle that, but the Avs will have to accept a hit for him.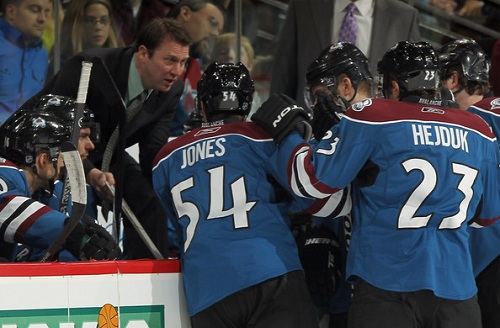 O'Reilly cannot be traded until February 28th due to the matched offer the Avs took on when the Calgary Flames tried to obtain him after his KHL release. He and Gabriel Landeskog had great chemistry in the captain's Calder Trophy winning season. Once the lockout ended O'Reilly didn't return to base right away and rotted his relationship with the team, or so Dater has observed. This will be a wait-and-see scenario, maybe O'Reilly can repair his ties with the team and get back to form with the line pairing of him and Landeskog under a new coach.
The two season Varlamov project is rocky and tumultuous. Varlamov hasn't gotten a good shot at developing into a good goalie. We can't get a look at him because the defense in front has been poor and consistently unreliable. The whole team has played poor around him and he has made some brilliant saves and had to follow along with the rest of the team in trudging through a shortened losing season. He all ready had one rough season in Denver, this was a second. If there is a third is yet to be decided. His fate rests in the hands of Sherman … or his replacement.
There are not many players safe at this point. Landeskog, Duchene and PA Parenteau can surely rest easy, but everyone else should be feeling some degree of concern. Other likely safe players should include those who signed new deals and aren't a headache to the front office, Cody McLeod –who could certainly benefit from a role change under a new coach- immediately comes to mind. The coach became the first casualty, but surely not the last. Another disappointing Avalanche season is in the books but there is going to be hope for a better season with different characters.
Let's hope they do the right thing and create a better team with a more productive vision. This team had began with a good legacy -that book closing for good with Milan Hejduk's retirement- and it has since been eroded, beginning with the 2004-05 lockout.