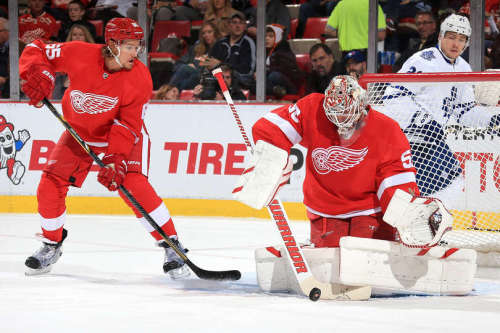 The Detroit Red Wings won a 1-0 thriller on Saturday night, after a last second goal saved the game from a shootout. Toronto hoped to avenge their 4-1 loss on home ice the night before. It was a hard-fought game for both sides all the way until the end.
Johan Franzen and Jimmy Howard were sidelined with minor injuries after Friday night's game in Toronto, although Jonas Gustavsson would have gotten the start either way. Stephen Weiss was able to play in his first game of the season, after being a healthy scratch the first four games. He was not given much ice time, playing in just over eight minutes, by far the shortest time of any Red Wing. He played left wing alongside Darren Helm and Andrej Nestrasil on the third line.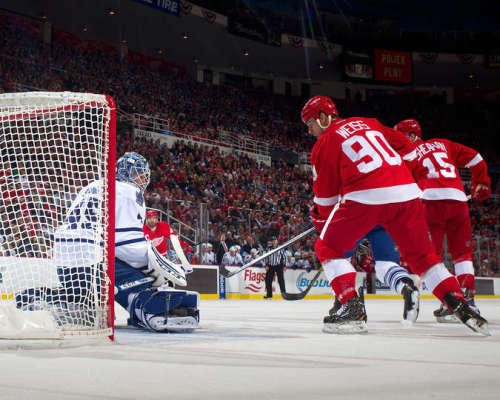 It was a very physical contest throughout. Defenseman Jonathan Ericsson exchanged a few blows with Maple Leafs captain Dion Phaneuf in the first period, and that set the tone for the rest of the game.
There were a total of ten power plays (five for each team), but neither could solve the opposing netminders. Gustavsson and Jonathan Bernier were both on their game, making numerous game-saving stops. Perhaps the most impressive save came on an untimely turnover by Niklas Kronwall. The veteran defenseman was the victim of a theft by Mike Santorelli, who broke in all alone on "The Monster." He was able to extend his left leg and make the save with the toe of his skate.
Detroit is one of four teams that has a perfect penalty kill this season, along with the Winnipeg Jets, Minnesota Wild, and Columbus Blue Jackets.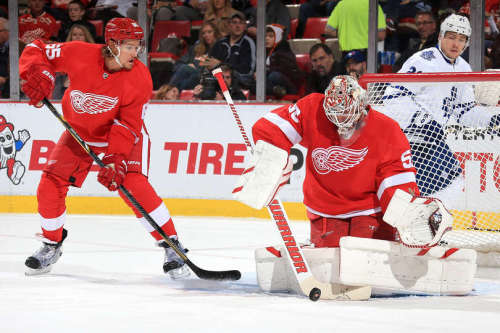 As the game wore on, the playoff-like atmosphere grew more restless. Leafs fans came in droves and helped pack Joe Louis Arena. Such intensity is rarely seen in an October game so early in the season.
"It was a lot of fun," said Gustavsson. "I think it's always fun to play against the Leafs. They always have some fans here too. It almost feels like a playoff game because it's a little bit louder than normal and both teams have a good crowd here."
From the start, it appeared the game was destined for overtime. When overtime came, it looked as if that would not be enough to decide the game either. However, Kronwall was able to find Henrik Zetterberg, who slapped the puck past Bernier with ten seconds left on the clock. For a team that has not had a lot of success in shootouts, that was a sigh of relief.
"It was a tighter game (than Friday night)," said Gustav Nyquist. "I thought both teams competed hard. It was one of the most fun 0-0 games I've been a part of. It was a good game."
For Gustavsson, the shutout marked his first perfect game as a Red Wing, and sixth of his career.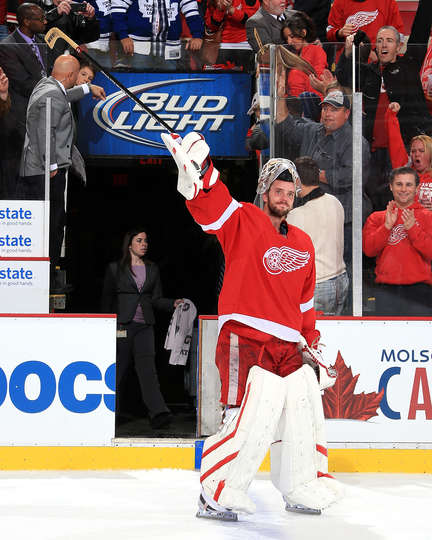 Detroit improves to 3-1-1 through five games. They currently sit fourth in the Atlantic Division, behind Tampa Bay (also with seven points), Ottawa (eight points), and Montreal (ten points).
The Red Wings have three games this week, starting with Montreal on Tuesday, Pittsburgh on Thursday, and Philadelphia on Saturday.
Follow me on Twitter @yungspork