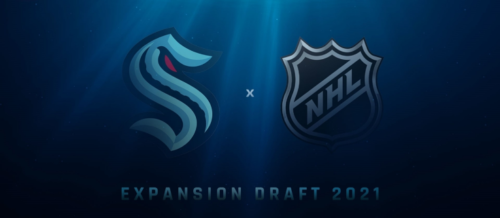 The Seattle Kraken announced their initial 30-player roster during the 2021 NHL expansion draft Wednesday night.
Seattle had to select at least 14 forwards, 9 defensemen and 3 goalies.
The remaining selections were allowed to come from any position. One pick came from each of the existing NHL franchises aside from the Vegas Golden Knights, who were exempt from the process.
The Kraken also had an exclusive negotiation window with potential free agents. Any contracts signed counted as their pick from the players' previous teams.
Here's a look at the full list of selections:
Atlantic Division
Age: 24 | Ht: 6-1 | Wt: 204
2020-21 stats: 41 GP | 1 G | 7 A
Age: 24 | Ht: 6-3 | Wt: 198
2020-21 stats: 10 GP | 0 G | 0 A
Age: 23 | Ht: 6-2 | Wt: 197
2020-21 stats: 16 GP | 1 G | 2 A
Age: 27 | Ht: 6-4 | Wt: 205
2020-21 stats: 23 GP | 2.07 GAA | .927 SV%

Age: 22 | Ht: 6-1 | Wt: 213
2020-21 stats (AHL): 22 GP | 0 G | 6 A
Age: 24 | Ht: 6-2 | Wt: 197
2020-21 stats: 8 GP | 3.27 GAA | .897 SV%
Age: 29 | Ht: 5-9 | Wt: 173
2020-21 stats: 56 GP | 17 G | 19 A
Age: 25 | Ht: 6-1 | Wt: 185
2020-21 stats: 43 GP | 14 G | 18 A
Metropolitan Division
Age: 23 | Ht: 6-3 | Wt: 193
2020-21 stats: 36 GP | 3 G | 6 A
Age: 27 | Ht: 6-1 | Wt: 195
2020-21 stats: 9 GP | 1 G | 0 A
Age: 23 | Ht: 6-4 | Wt: 205
2020-21 stats: 41 GP | 3 G | 7 A
Age: 31 | Ht: 5-11 | Wt: 187
2020-21 stats: 55 GP | 16 G | 17 A
Age: 28 | Ht: 5-9 | Wt: 190
2020-21 stats: 47 GP | 12 G | 10 A
Age: 23 | Ht: 6-2 | Wt: 198
2020-21 stats: 7 GP | 0 G | 0 A
Age: 29 | Ht: 6-0 | Wt: 180
2020-21 stats: 32 GP | 7 G | 9 A
Age: 25 | Ht: 6-0 | Wt: 165
2020-21 stats: 37 GP | 2.69 GAA | .908 SV%
Central Division
Age: 29 | Ht: 6-2 | Wt: 200
2020-21 stats: 38 GP | 6 G | 5 A
Age: 25 | Ht: 6-1 | Wt: 195
2020-21 stats (AHL): 16 GP | 1 G | 1 A
Age: 29 | Ht: 6-0 | Wt: 190
2020-21 stats: 51 GP | 17 G | 14 A
Age: 28 | Ht: 6-7 | Wt: 255
2020-21 stats: 56 GP | 6 G | 8 A
Age: 26 | Ht: 6-5 | Wt: 210
2020-21 stats: 50 GP | 1 G | 16 A
Age: 29 | Ht: 5-11 | Wt: 186
2020-21 stats: 49 GP | 13 G | 15 A
Age: 24 | Ht: 6-0 | Wt: 203
2020-21 stats: 43 GP | 6 G | 14 A
Age: 25 | Ht: 6-2 | Wt: 193
2020-21 stats: 56 GP | 12 G | 13 A
Pacific Division
Age: 25 | Ht: 6-3 | Wt: 208
2020-21 stats: 47 GP | 3 G | 1 A
Age: 37 | Ht: 6-1 | Wt: 200
2020-21 stats: 56 GP | 9 G | 17 A
Age: 28 | Ht: 6-3 | Wt: 208
2020-21 stats: 56 GP | 4 G | 6 A
Age: 27 | Ht: 6-5 | Wt: 240
2020-21 stats: 28 GP | 2 G | 2 A
Age: 24 | Ht: 6-5 | Wt: 200
2020-21 stats: 7 GP | 0 G | 1 A
Age: 22 | Ht: 6-1 | Wt: 178
2020-21 stats: 7 GP | 0 G | 0 A