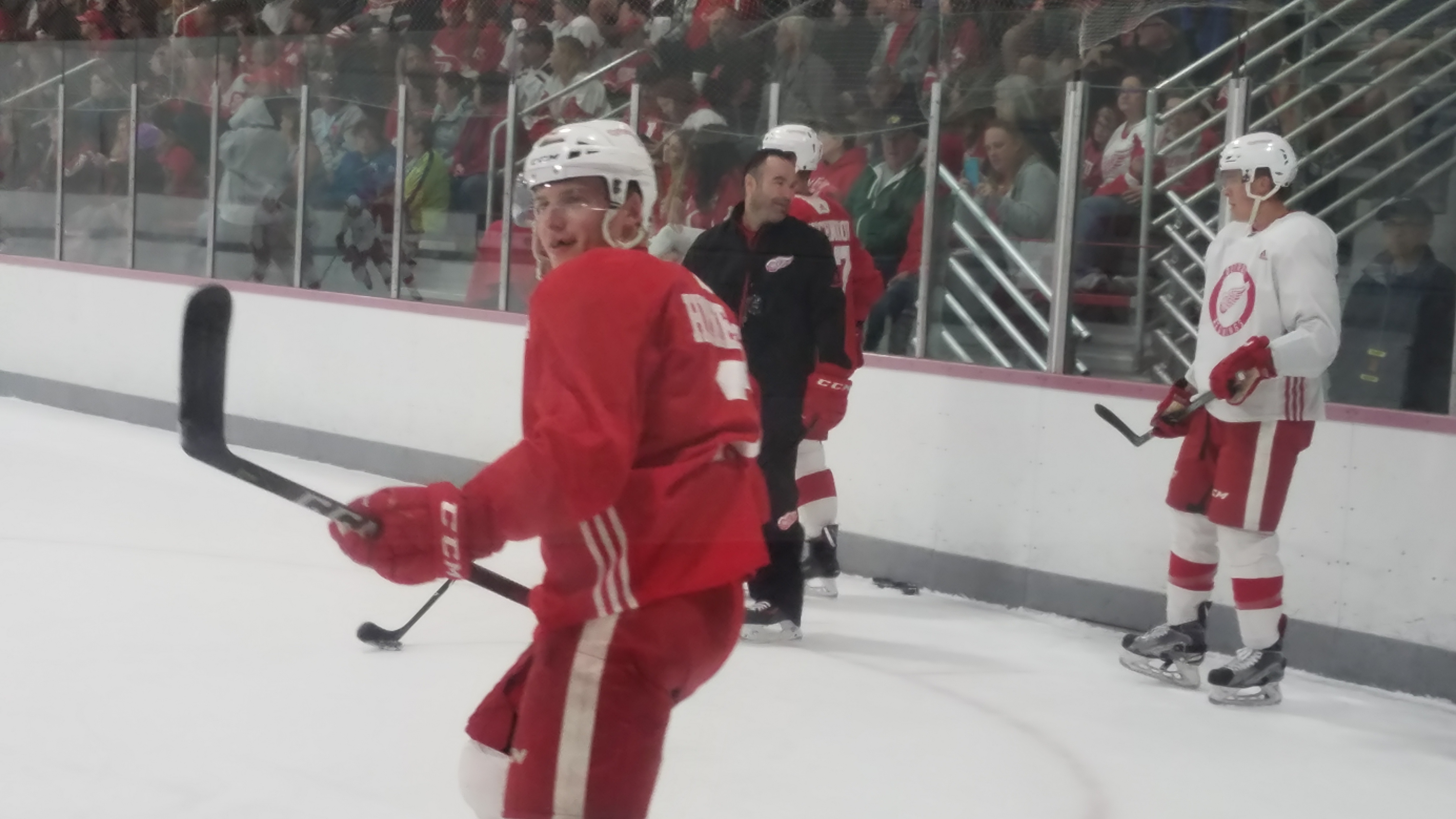 Here's a double dose of Red Wings recaps for you. On back-to-back nights the Red Wings played pre-season games at Little Caesars Arena.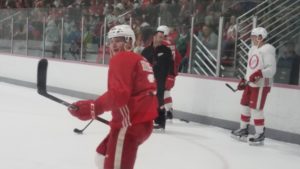 Thursday vs. Chicago
On Thursday night, they fell to the Chicago Blackhawks 4-2.
Thursday's lineup was the weakest Detroit had iced all pre-season. The top line consisted of David Booth, Riley Sheahan, and Ben Street. Meanwhile, the Hawks had Jonathan Toews, Alex DeBrincat, Tommy Wingels, and Richard Panik.
The Wings held their own in the first period, despite allowing 15 shots on net. In the second, Michael Rasmussen continued his great pre-season, deflecting a Kronwall shot past goalie Anton Forsberg. It was originally credited to Kronwall. The mark came on the power play.
"I think he skates well," said Jeff Blashill. "And I think he's only going to get better and better with his skating as he continues to improve his strength. So, he looks like a real good prospect to me."
Next, Richard Panik evened the score for Chicago as Toews executed an amazing cross-crease pass.
Still in the middle frame, Czech free agent Libor Sulak impressed with a great wrist shot. His play was impressive all night long. Last season he played in the Austrian League and this year he will play in the Finnish League.
"I talked to Jiri Fischer a bit," said Blashill. "Jiri had known him real well. He was a big reason why we signed him. I knew he'd played at the World Championship, but I didn't get a chance to see the Czech team play while I was over there. He struggled in the Prospect Tournament, and he's gotten better and better and better as this has gone along. Now he's raw. He's got great physical attributes. He can skate, he's big. He can get a puck off in a hurry from the offensive blueline. And I just think he needs to learn how to play the game in a smaller sized sheet [of ice]. If he gets real good coaching, I think he's got a chance to be a real good player."
Petr Mrazek came on big, stopping Panik on a clear breakaway late in the period.
Wingels tied the game early in the third, followed by DeBrincat scoring a power play goal seven minutes later. DeBrincat had just had a goal disallowed after he was pushed into Mrazek by Wings defender Brian Lashoff. It was a suspect call, but the second effort was rewarded.
Laurent Dauphin added an empty netter and the Hawks won 4-2.
Notes
Griffins Ben Street and Matt Lorito stood out, especially on the power play.
Mrazek stopped 37 of 40 shots faced.
As expected, this Red Wings lineup dominated the hits category with 26 hits to Chicago's 15.
Colin Campbell led the hit category with five.
David Booth, hoping for a contract led the team with six shots.
Friday vs. Toronto
Mike Babcock's Maple Leafs came into town for the first of back-to-back games between the two teams.
Both squads iced lineups indicative of their respective opening night lineups.
The high-powered Leafs wasted no time finding the scoreboard, as Mitch Marner slapped home a goal on the team's first shot.
Gustav Nyquist tied the game on a great pass by captain Henrik Zetterberg.
Early in the first period, Martin Frk showcased once again his booming slap shot. His power play linemates continually fed him the puck for a one-timer, none of which beat goalie Frederik Andersen. He had six shots on the game, as he continues to prove that he's worthy of a roster spot (it's a safe bet).
Detroit dominated the opening stanza, outshooting the dynamic Leafs team 15-3.
However, Toronto would take ownership of the other 40 minutes. William Nylander opened the second with a goal (almost the same time as Marner's goal). It was a five-hole redirection past Jimmy Howard.
Luke Glendening managed to even the score for Detroit by poking home the tying goal in the final minute of the second.
In the third, the Wings managed only two shots (outshot 24-8 in periods two and three), as Auston Matthews and Leo Komarov (empty net) earned Toronto the win, and Detroit its fifth pre-season loss (seven games).
Defenseman Joe Hicketts was a bright spot for Detroit though. Despite his seemingly diminutive stature, he put up five shots and five hits on the night, playing the second most minutes on the team (20:14). He has continually impressed since first being invited to the team's Prospect Camp in 2013, where he was an undrafted free agent.
Since, he has succeeded at every level he has played, leading to his Calder Cup championship season last year with the Grand Rapids Griffins.
He's a "gamer" according to coach Jeff Blashill. Blashill has watched the young defender grow into a strong player, and he seems confident that he will be able to succeed at the NHL level when that time comes.
Saturday @ Toronto 7:00 ET
Follow me on Twitter @KevinSporkaHOHM