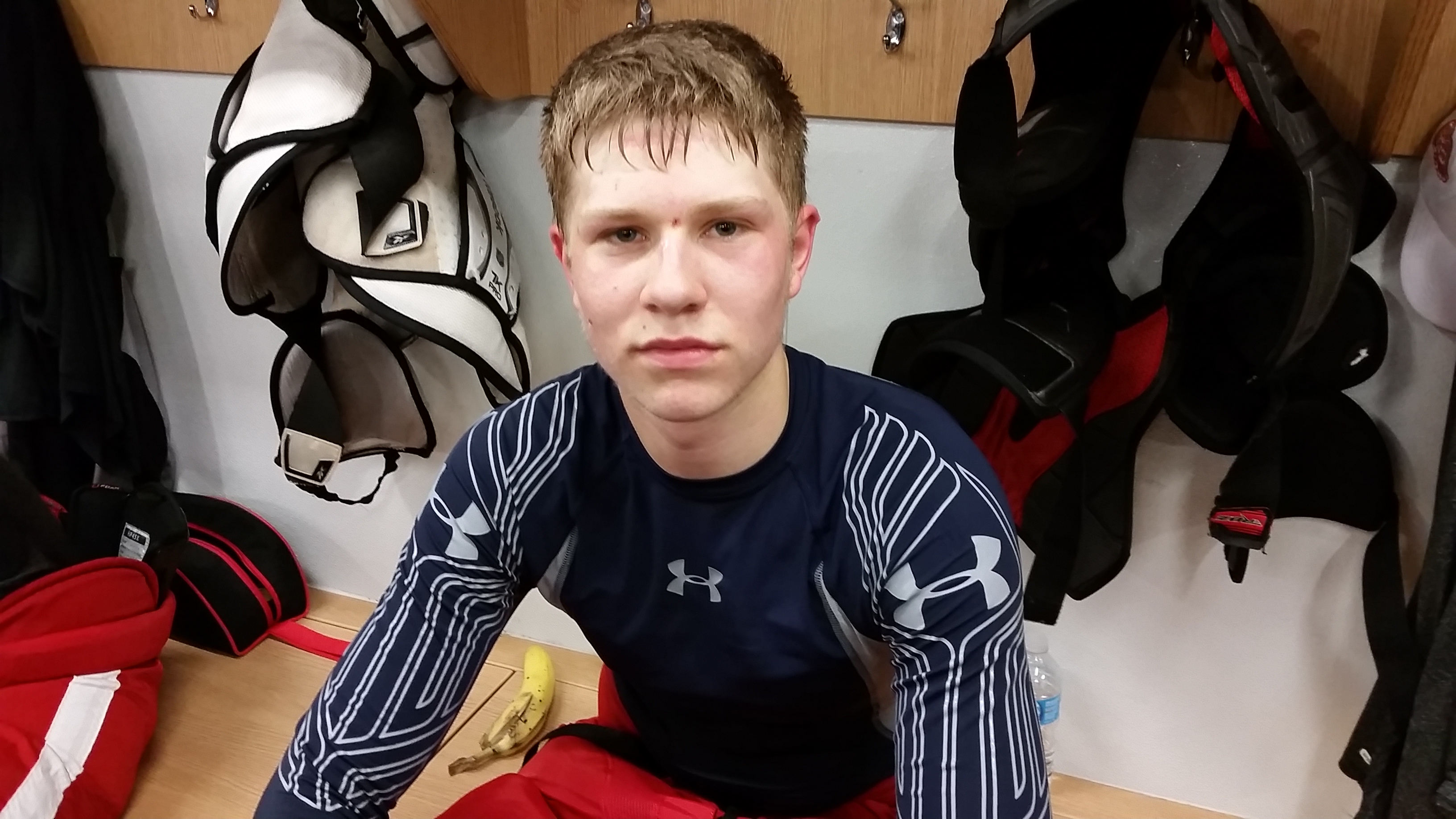 "I had fun last year and it's good to be back and see everyone again, and see the new guys," said Cholowski after Day 1 of the Detroit Red Wings' annual development camp, held at Centre Ice Arena in Traverse City, Michigan. "The procedure's pretty much the same, and I'm really enjoying it so far."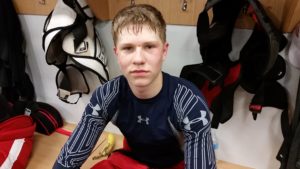 Expectations are high for the first round-drafted defenseman, and he seems to be up to the task of meeting those expectations.
"[I've] been working out really hard over the last season [in] college hockey. [My] weight's up and strength is up I think too."
Last season's transition to the college level was a difficult one, and he will likely play this next season in the Western Hockey League, for Prince George.
"It's definitely different. The guys are older and bigger. It takes a little bit of time to transition. I think after a while I got the hang of it."
After his season concluded, he spent time with the Grand Rapids Griffins of the American Hockey League. Although he only played a single game for the Griffins, it gave him some valuable experience, allowing him to watch and learn from the veteran players on the team.
"It was a lot of fun being in Grand Rapids," he said. "Obviously they had a great team. Just getting to be around the guys and to see what pro hockey is like a little bit and play the one game was great experience for me for sure."
"I just remember being nervous before the game, but then once I got on the ice, it was just hockey. Obviously it's bigger and faster guys…hopefully I'll play pro hockey next year."
Detroit's director of player development, recently retired NHL forward Shawn Horcoff, had nothing but good things to say about the promising young blueliner.
"I'm really looking forward to what Dennis is going to be able to do this year," he said. "I think he's made an overall commitment to condition this year. And not just conditioning, but getting stronger, getting bigger. He knows that in order to play in the next level and be successful he needs to get physically stronger, and he's already done that, so he's been working really hard this year. I think he's up ten pounds since I had him in Grand Rapids at the start of their run. So in about three months, he's put on some good strength. He's just a dedicated guy. He can't do enough. He's always asking 'what can I do, what can I do?' That's my favorite type of player and person. I expect him to have a good year. I'm looking forward to his season."
Dennis knows what he needs to work on the most, and his offseason goals reflect that.
"Just work harder during the offseason, get bigger and stronger, and see where next season takes me, whether it's Detroit or Grand Rapids or the WHL," said Cholowski. "I'll play where they want me to play."
Cholowski signed his first pro contract after his college year came to a close.
"Basically after the season, Detroit offered the contract, said they wanted to speed up the development [process] a little bit. I wasn't going to turn it down (laughs). I was happy to sign it and be here."
He also knows that his shot needs some work. Horcoff mentioned this as well, stressing the importance of a hard shot in today's NHL.
"Work on his shot, I think that's a big thing," said Horcoff. "In order to play on the power play in the NHL, you have to be a threat to shoot it. And he's no different than a lot of the young guys; they need to develop a shot. Dennis is working on that. He's going through the process of doing that right now. I think [his shot] is better [now] actually, in this short little time that I've seen him. He's such an elite skater. I'd like to see him use it even more. I want to see him turn the corner; I want to see him break the puck out all the way down. I think, actually, watching a guy like (newly acquired veteran defenseman) Trevor Daley, you can learn a lot from a guy like that. A guy that can just go back and just break the puck out. It's such a valuable tool to be able to just have a defenseman that can go back, and with pure speed, turn the corner, in a couple crossovers, and he's beat everyone, and with one nice pass we're on instant offense. I think Dennis has that ability. Those guys are tough to find. And we're going to try to make him one of those guys."
Dennis says he plans to hit the gym and get stronger over the summer, in preparation for a better season come September.
He has never lacked maturity, enthusiasm, or professionalism. And once he achieves these goals, he has the potential to be a really dynamic player in a couple years.
Follow me on Twitter @KevinSporkaHOHM