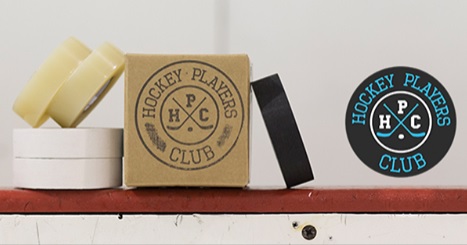 The Hockey Players Club is a fantastic online subscription based service that delivers hockey tape and other essential hockey accessories straight to your doorstep.
Subscription based services have taken off in recent years and HPC is a great example of why such services rock for many of us hockey players out there.
It's a no hassle process to join and benefit from what HPC has to offer. With just a few clicks, new users select their tape package before creating an account. You can upgrade or downgrade your hockey tape package at anytime simply by logging into your account and changing your current hockey tape package preference. Additionally you may pause your subscription at anytime for any reason whether you're away on vacation or out with an injury and don't need more tape for the time being.
After a user has selected their base hockey tape package you have the option of browsing through a growing list of top quality hockey accessories like stick wax, laces, grip tape, odor eliminators, and more as the Hockey Players Club continues to expand. Unlike the base tape packages which you schedule to come monthly or every other, these add-on products aren't set as recurring purchases. Instead, they need added to your order prior to shipment. And don't worry about forgetting as you'll receive an email reminder days prior to your next shipment to ensure you get everything you need.
Input your shipping address and payment information and you're all set! The beauty is you never get charged for shipping and handling so you'll only ever pay for the products you order.
Speaking of shipping, it's incredibly fast! Within a couple of days your HPC package will arrive at your doorstep with everything you need for your next game or practice.
HOHM's Score For The Hockey Players Club Service
Easiness Of Use To Order - 9.5
Product Options & Quality - 9.5
Price & Shipping Options - 10
Convenience Of The Service - 10