Featured
Hockey Season is Here Again: Enjoy It to the Fullest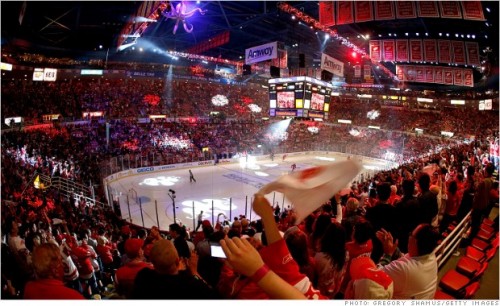 Once mid-October rolls around, die hard hockey fans are ready to eat, sleep, and breathe their favorite sport. From body checks to freezing the puck, hockey is special kind of sport that breathes life into the sports world when other sports may lack the unexpected brawls among players and competitive edge.
Whether you get together with a group of fellow hockey fans to watch the action on the ice or engage in your own friendly competition, here are a few ways to get the full hockey experience:
Fantasy Hockey
Everyone has heard of fantasy football, but hockey enthusiasts may not be aware that fantasy hockey exists. Just like fantasy football, it helps to have some hockey knowledge, but it's not required.
Basically, you select a fantasy hockey league based upon your comfort level, your experience/knowledge, and how much time you're willing to spending playing each week. If you are a beginner, you can always start out slow and safe and choose to be a little more competitive the next season.
One of the many great things about fantasy hockey is you can enjoy the competition without actually engaging in the sport and it's a good opportunity to learn more about the game. It's a social opportunity with fellow hockey fans and you can do a little trash talking without worrying about starting a fight on the rink.
If you want to get in on a little more action with a chance to win more money, why not head over to Online Casino Bluebook and check out sports betting? These days, sports betting has become far more convenient with the ability to do all of your betting online rather than having to track down your bookie.
Watch a Game
If you're a hockey fan, watching a game is just a given and you probably wouldn't miss it for the world. While cracking open a beer and watching a game from the comfort from your own home is the preferred way for many hockey fans, particularly for games that take place during the week, don't pass up the opportunity to catch a game in person. If you've never headed to an arena to watch a hockey game in person, you're missing out.
From the sounds of the blades and sticks sliding across the ice from the bodies deflecting off of the plexi-glass walls to the fragrant language coming from the crowd, a hockey game is truly a visual and auditory experience.
Wanna catch a game, but don't have cable or don't have tickets to a game? Don't worry, there are plenty of hockey fans out there that will have your back. Whether you head to the local sports bar or to a friend's house, there's no excuse to not watch your favorite sport.
Support Hockey at All Levels
Some hockey enthusiasts only follow the NHL. If you've only paid attention to the NHL, you may be missing out. Check out the minor leagues, your local college team, or even youth hockey. Remember, fans, hockey is hockey. Want to show your support even more? Volunteer at games or if you have past experience playing the game, apply to coach.
From playing it at the neighborhood rink to watching it on a big screen television, however you decide to enjoy hockey this season, make sure you are getting the full experience.