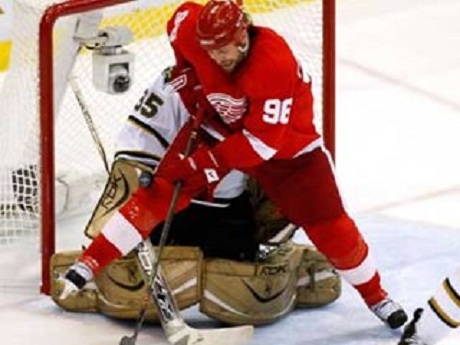 The National Hockey League is home to some of the best athletes in the world. Stars like Pavel Datsyuk, Steven Stamkos, and Sidney Crosby all seem to single-handedly dominate the league. Many fans believe their teams need to acquire most of these top-level players in order to compete for the Stanley Cup. However, this is not entirely true. To be considered a complete team, many general managers assemble a roster that includes two top forward lines that are known for scoring and play-making, a third line for those players known as grinders, who use their grit and tenacity to get the job done, and a fourth line of lesser seen, but still important pieces of the puzzle. If a team's top lines are struggling to score, often times the enforcers/grinders will step in to initiate a fight that may increase tension and try to boost team spirit. These men are the unsung heroes of hockey.
Guys like Dallas's Steve Ott, Detroit's Tomas Holmstrom, and Tampa Bay's Steve Downie demonstrate the great qualities of being a team player. They are the ones who use their physicality to generate scoring chances and to weaken the opposing team's players. Steve Ott often delivers bone-crushing checks and uses his intimidation to strike fear in opponent's eyes. During this season, he has even begun to put up the points and is on pace to break his previous season high in goals, assists, and points. This is extremely impressive considering he has spent 105 minutes in the penalty box, and rarely plays more than 18 or 19 minutes a game.
Tomas Holmstrom, at age 39, is another true unsung hero. He is the player that every other team hates to play against. His dedication and perseverance knows no bounds. Fans in Detroit questioned his physical health before the start of the season and he has continued to prove them wrong. His main skill-set is redirecting booming slap shots from the point, especially on the power play. "Homer" as he is called, is known for setting up camp directly in front of the opposing team's net and screening the goalie while attempting to tip in shots from the defensemen. Red Wings coach Mike Babcock mainly uses Tomas on the power play, so he does not usually see more than 10 minutes of ice, yet he has still managed to score 8 goals and put up 18 points this season. Although he is well-known and loved by Detroit fans, his name is never mentioned during discussions of NHL star players. Tomas Holmstrom has played slightly under the radar but always finds a way to help his team.
These unsung heroes may not get all the glory, or the all-important paycheck, but their heart and love for the game shows in their physical play. When they dive to the ice to block a slap shot and sacrifice their body for their team, they are not simply doing it to earn their pay but are doing it for the love of the game. Many of these grinders are the complete package of grit, checking, shot-blocking, and often times getting timely goals to put their team ahead. This is the definition of a true hockey player.