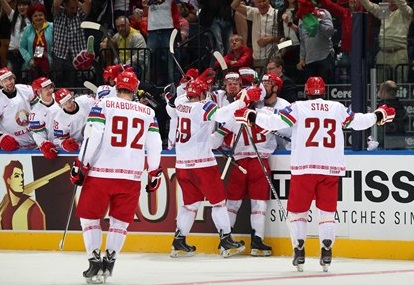 It was just the kind of start that Belarus needed to ensure themselves of a quarter-finals appearance on home soil. Belarus' Geoff Platt and Mikhail Grabovski tallied the first two goals of the game in a span of 33 seconds in the first period. The home crowd erupted and momentum fully swung in favor of the host nation as Latvia took a timeout to gain composure. Both teams went 0/1 on their respective power-plays in the first and Belarus skated off for the first time with a lead after the opening period in the tournament.
Belarus started the second period with consecutive power-plays but would fail to capitalize on both opportunities. Then less than eight minutes into the period a mini brawl broke out that sent two players for both teams to the box and gave Latvia their second power-play of the game. The two teams skated exchanging a couple more power-plays with Latvia capitalizing on a 5-on-3 late in the second to cut Belarus' lead in half going into the second intermission.
The third period was much the same for both teams with little clicking on the man-advantage and teams exchanging rushes up and down the ice. Latvia got one final power-play to finish the game pulling their goalie to make it a 6 on 4 advantage. In-fact Latvia scored with the equalizer but it was waived off immediately due to a skate in the crease violation. Belarus' Sergei Kostitsyn capped the game off with an empty netter with just a second left to take the game 3-1.
The win is Belarus' fourth in six games with a final game against Group B leader Russia to take place tomorrow. As of now, Belarus sits in second place of Group B and cannot finish any lower than third. It's a huge step for the host nation which started the tournament ranked 15th in the world but now looks to move up significantly in ranking; especially if they can advance through the quarter-finals.