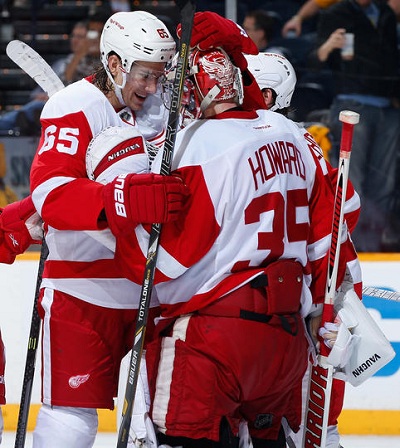 The Detroit Red Wings and goaltender Jimmy Howard agreed on a contract extension that will see the 29-year old playing another six years in Hockeytown. He will receive $5.3 million per season, with the full value being worth $31.8 million.
Howard is 6th all time in wins for the franchise with 127. He is just two wins shy of passing Tim Cheveldae (128) and five wins shy of Roger Crozier (131, 4th). His career Save-Percentage and Goals-Against Average are .917 and 2.39 respectively.
In the playoffs, Jimmy still has a lot to prove. His 13-15 record (2.63 GAA) in the postseason is lackluster, but can be attributed to inexperience. If the Red Wings make the playoffs this year, it'll be an accurate judgment of his play, now that he has 28 playoff games and (currently) 228 regular season games under his belt.
The contract is a good length, and will allow for Petr Mrazek to step in and play a bigger role when he's ready. He's in line to take over the starting job one day, or at least play a solid backup role very soon. Petr Mrazek still needs time to develop in Grand Rapids, even though he looked really sharp this year with the Red Wings.
The contract does not appear to be front-loaded, which means that there will be equal cap hits of $5.3 million per year for the deal's duration.
In the future, we may see a dominant goaltending tandem of Howard and Mrazek. Detroit has been known to not put too much pressure on one goalie/player. In the 1997 Stanley Cup Playoffs, Detroit opted to start veteran goaltender (and 1989 Cup champion) Mike Vernon, instead of the young star, Chris Osgood. (Speaking of Mike Vernon, here's a fun fact: In the 1996-97 season, Vernon finished the regular season with more penalty minutes than games played – 33GP, 35 PIM.)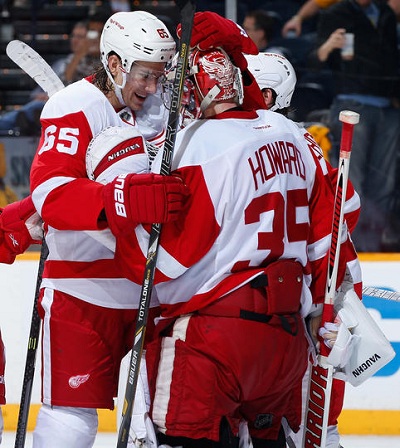 During that year, Osgood had the better stats. He had 23 wins. Vernon had 13. His GAA and SP were 2.30 and .910 as opposed to Vernon's 2.43 and .899.
In the playoffs, Mike Vernon played 20 games, with a 16-4 record, 1.76 GAA, and .927 SP, whereas Osgood played 2 games, with a 2.55 GAA and .905 SP.
It is always good to have two really good goaltenders (ask Vancouver).
Currently this season, Howard is 17-12-6, with a SP of .920 and GA of 2.31, which are better than his career marks (even without Lidstrom and Stuart on the back-end).
This is a good signing for Detroit.
Follow me on Twitter @yungspork.