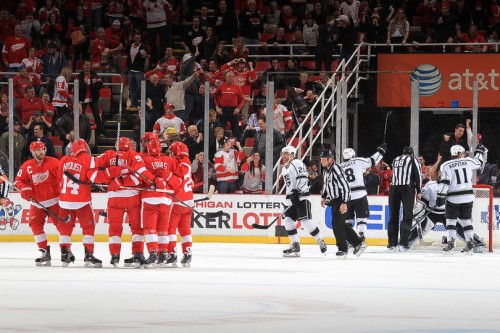 Detroit came into Saturday night's game nine players missing from their lineup. They were forced to play without forwards Stephen Weiss, Johan Franzen, Pavel Datstyuk, Daniel Alfredsson, Darren Helm, Tomas Tatar, and Joakim Andersson, defenseman Jonathan Ericsson, and goaltender Jonas Gustavsson. Lately it seems like Detroit hasn't been able to catch a break (that is, until tonight).
Unable to generate any offense Thursday night in New York, Detroit had just dropped their second consecutive 1-0 loss. It was the first such occurrence since November 1954.
They came into this contest looking to find some offense, any offense. Their last win had come in Los Angeles the previous Saturday night. This was the first time Detroit was able to play a game in Joe Louis Arena since December 23rd.
After a scoreless, evenly matched first period that saw both teams have eight shots apiece, the second saw tensions rise rapidly.
Red Wings grinder Luke Glendening started things off with his physical play following a goal by Mike Richards that made it 1-0, notably by two instances of an exchange of words and punches with Jarrett Stoll.
Detroit proceeded to tie the game just 41 seconds later. Captain Henrik Zetterberg scored his 15th goal of the season with some help from Gustav Nyquist and Brendan Smith.
Tensions would rise later in the period after Richards ran into Detroit netminder Jimmy Howard, causing Howard to fight back. Glendening then came in to throw some punches at Los Angeles enforcer Kyle Clifford. Howard proceeded to throw Richards' stick. He and Richards both received minor penalties. "I just didn't like how he was using his blocker there in front," Richards would later say. "I just said something. I didn't really go after him and he came at me. It's hockey." On the ensuing TV timeout, Howard and Team USA teammate Jonathan Quick exchanged words near the benches causing more drama. "We were just discussing what we were going to do over in Sochi," Howard said as he was giving a PG-rated account of the conversation. "You know, who we were going to bring. I told him I was bringing my parents and my sister, and I asked him who he was bringing. It was a good discussion."
After a tight third period, Niklas Kronwall was caught holding, giving Los Angeles a chance to decide the game with 3:08 to play. Sure enough, Detroit could not catch a break, and Jeff Carter scored on the man-advantage. It appeared all hope was lost for the Wings.
However, Dwight King held his hand on the puck with 1:45 to go, and Detroit was allotted a power play of their own. After calling a timeout, Detroit began firing on all cylinders. With half a minute remaining, Niklas Kronwall fired a point shot that hit the protective netting behind Quick. The puck then bounced back, falling on Quick's back and careening in.
Defenseman Drew Doughty immediately went to the referee to make sure the goal would not count, but it was too late. The referee had already signaled "goal." Fortunately for Detroit, that is not a reviewable play.
After a scoreless overtime, the dreaded shootout commenced. Howard had a losing streak of nine consecutive losses in shootouts.
Tomas Tatar was the first to shoot, and that was all that was needed. After scoring the deciding goal, he again gestured to his late father in an emotional moment.
"It felt really good [to win in a shootout]," said Howard after the game. "I'm still not a fan of the skills competition, but we were able to get two points tonight and that's all that matters."
"We obviously got a great bounce there (on the Kronwall goal)," said defenseman Kyle Quincey. "Finally winning in a shootout, it feels like the monkey's off our back. Hopefully we continue winning in the shootouts when we get the chance. I think we were due for a break. It was a good break for sure (laughs)."
Kronwall liked the way his team played and was thankful for the lucky bounce.
"I thought tonight we battled hard. I put our team in a bad position there taking that late penalty for no reason and they found a way to score. We ended up getting a lucky break there. I thought as a whole we played a pretty good game. It was intense out there. Howie was on fire again. It shouldn't have counted but at this stage of the game, where we're at in the standings, we'll take it."
Detroit moves to 21-17-10 after 48 games, which nearly matches their record in the 48-game season last year (24-16-8; 56 points). Their 52 points tie them with Columbus, who have won seven of their last ten games, and edge Detroit out in regulation-plus-overtime-wins (20 to 19).
Kings Respond
In the visiting locker room, the Los Angeles Kings were visibly upset after the blown call.
"On the video you can see it," said Quick. "It's clear, but non-reviewable. So they get a goal that shouldn't have been a goal. Sometimes you get the bounces. Sometimes you don't."
Mike Richards responded to questions regarding the minor altercation between him and Jimmy Howard. "I just didn't like how he was using his blocker there in front. I just said something. I didn't really go after him and he came at me. It's hockey."
Doughty, who was closest to the play when the puck hit the mesh, was the first to react to the referee. He had immediately gestured up with his stick, telling the officials that the puck was out of play.
"That's a tough bounce. It's a black puck, a little thing up in the sky, and it's tough for the refs to see it. I think I'm the only person on the whole ice that saw it, so obviously that made it tough. We got one point out of it. That's the only positive you can take."
Finally, coach Darryl Sutter had a few words to say about the call. His humorous take:
"That's embarrassing for the league. That's what that is. It doesn't matter if we'd scored, or if they had score it. That's embarrassing.
"I told the players: 'We got screwed.'…They could see the puck when Dwight King covered it with his hand, but they couldn't see it when it went over the barn and came back in. Hell, if there wasn't a net there, they could've caught it, thrown it back in, scored, and they still had time, and nobody wouldn't have seen it. What are you going to do at the outdoor game? What happens if it goes through a cumulus cloud and comes back down? Like, what are they going to say?"
When asked if he thinks there will be a rule change with regards to criteria for reviewable goals he said "I don't know. You'd have to talk to one of them stewards of the game."
Not the First Time
Many Red Wings fans are glad they their team is on the other end of a controversial game-winning call. You may think such a play has never happened in the NHL, but it actually occurred in a 2008 game when Detroit played San Jose.
It isn't even the first time something like this happened this season. In December the puck became lodged in Phoenix goalie Mike Smith's pants at a crucial point in overtime. Instead of blowing the play dead, they reviewed it and decided that it was a good goal.
Bad calls are a part of sports. Until the NHL expands its video replay process to include all disputable goals, there will always be the risk of something like this happening. For Detroit, it was a welcomed relief for a team that couldn't seem to catch a break until now.
Follow me on Twitter @yungspork