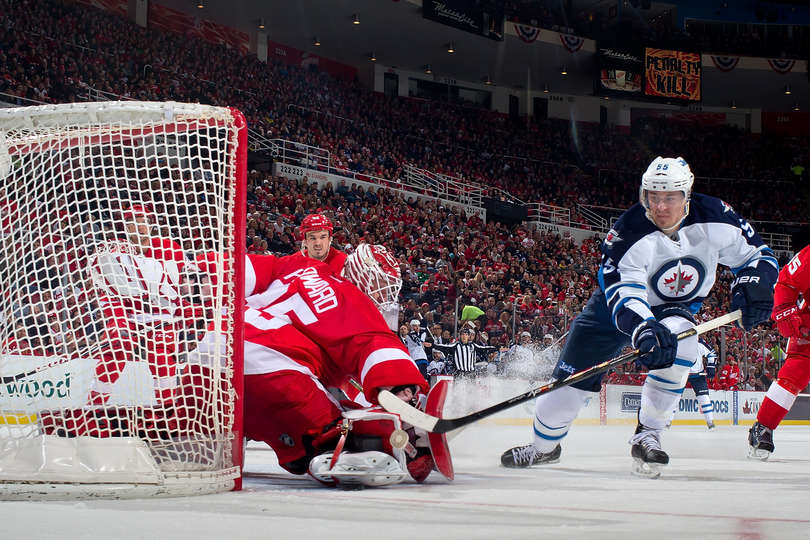 Detroit's starting goalie Jimmy Howard returned to action on Saturday night to face the Winnipeg Jets, who recently had acquired 6'8" defenseman Tyler Myers and top-six forward Drew Stafford from the Buffalo Sabres.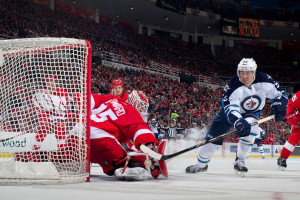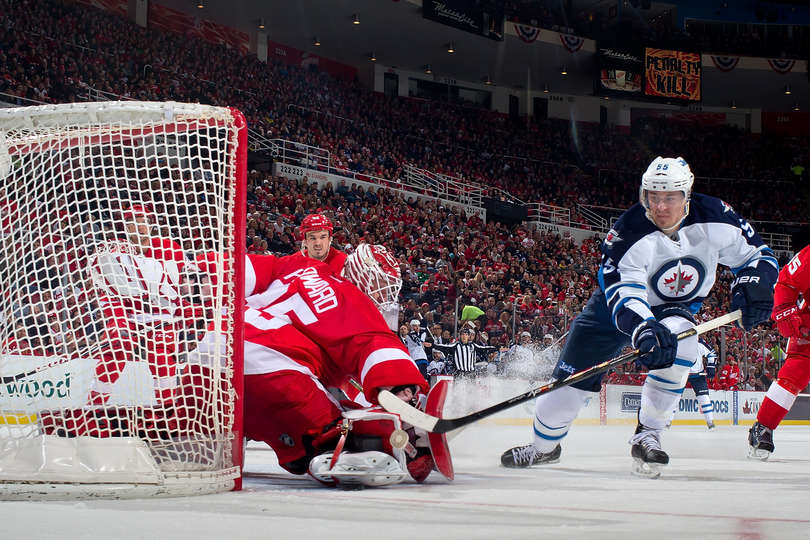 He had missed just over a month of action (ten games) after sustaining a groin injury in the first two minutes of a game on January 10th.
Petr Mrazek had been solid in his absence, but he is not the short-term answer for Detroit, especially since Howard is under contract for four more years.
He was selected to the NHL All-Star Game just hours before the injury occurred, due to his 16-7 record (including two shutouts), 2.11 goals-against average and .920 save-percentage.
Unfortunately, his return resulted in a game he will likely want to forget. He was not in his usual form, which is to be expected after missing five weeks.
The game was a back-and-forth affair for both teams, with the scoring started by the Jets.
Chris Thorburn was able to deflect a shot through the five-hole on a Jacob Trouba shot, of which Howard had little chance to stop.
Following the opening marker, the Red Wings would score three unanswered goals before letting off the gas.
Winnipeg's second goal was the result of a bad line change by Detroit (who had the long change in the second period). Both teams changed simultaneously, but the Jets had the advantage, resulting in an odd-man rush. Tyler Myers took a quick shot of which was saved, before Blake Wheeler pounded home the rebound immediately after.
"That happens," said captain Henrik Zetterberg. "I think especially when you play against a high-paced team like them."
Nearly three minutes later, the Jets took advantage of a power play, with Stafford scoring his first as a Jet on a quick wrister.
Just as the Wings recorded three unanswered, so did the Jets, as they took the lead early in the third period on the man-advantage, thanks to their captain Andrew Ladd.
Detroit was able to tie the game on a Pavel Datsyuk goal to send it to overtime. The Wings' defense would fail Howard yet again, as they allowed Mathieu Perreault to have a long breakaway in the extra period. Howard bailed his team out to force a shootout, his nemesis.
Going into the night, Howard had a 0-6 record in the skills competition this season. However, this time he saved each of the first three shots, before Stafford ended it 1-0.
All-in-all it wasn't a bad performance by the Red Wings netminder. In total, he allowed a skillful deflection, an odd-man rush with no support and two power play goals, all while facing nearly 40 shots.
"It was great to be back out there, competing with the guys," said Howard. "I'm not going to get too down on myself right now. I'm just going to watch the video tomorrow and try to learn from my mistakes."
He said the toughest challenge was tracking the puck. "As the game went along I felt more and more at home out there."
When asked how long he thinks it'll take to get back into full form he was optimistic.
"It shouldn't take long. It comes back pretty quick, once you get out there and you get playing."
Coach Mike Babcock will give Howard the chance to rebound quickly on Monday night, when the Wings take on the Atlantic Division-leading Montreal Canadiens. Both teams have identical records in their past ten games: 7-2-1.
Follow me on Twitter @KevinSporkaHOHM
Love Reading About Hockey?

Subscribe to keep up-to-date with the latest and most interesting hockey news!
| | |
| --- | --- |
| | We hate spam just as much as you |