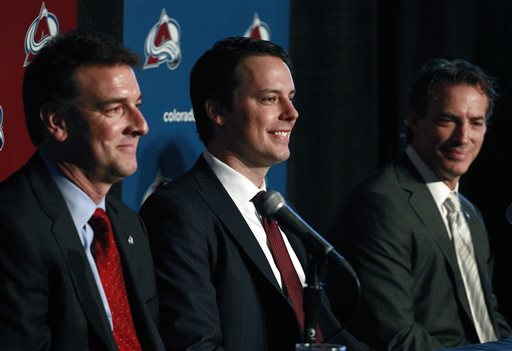 On Friday the Colorado Avalanche remade former captain and Hall of Famer Joe Sakic in the mold of the Denver Broncos John Elway as club executive vice president of hockey operations. Given the keys and final say to hockey related decisions, Sakic brings his credibility as a former player to his new mission of righting the Avalanche and making them a competitive hockey club. Stating a commitment to bringing another Stanley Cup back to Denver, Sakic's off the ice moves will have to be comparable to what he did when he was playing. Charged with returning a downtrodden franchise with waning fan interest back into a winning organization, Sakic may have his work cut out for him but the hiring of a new coach will be crucial to his success.
Not being the only front office change, club governor Josh Kroenke made himself club president by moving Pierre Lacroix out and into a more advisory role within the front office. Kroenke wanted more involvement with the franchise as president, his second such title as he holds the same with the Denver Nuggets. Korenke addressed the animosity of fans and the perception that he and his father, owner Stan Kroenke, don't care about hockey: "I'm fully aware that I'm going to be taking on more responsibility with the fans, and I'm excited about that because I look forward to interacting more with them and hearing some of their ideas," Kroenke also said. "We're in this business for the fans, and it wouldn't be possible to put on the show we do without them."
Team GM Greg Sherman will now have a reduced voice in player personnel decisions with Sakic becoming VP.
Time will tell if Sakic has the final say or if Kroenke is the one pulling the strings, but either way it was an exciting announcement to see the front office go through a reshaping after three losing seasons in a row. A Q&A session that followed the press conference didn't reveal much in what they were thinking when it comes to a new coaching hire, but both agreed that they want it done sooner than later and most certainly before the NHL Draft June 30th.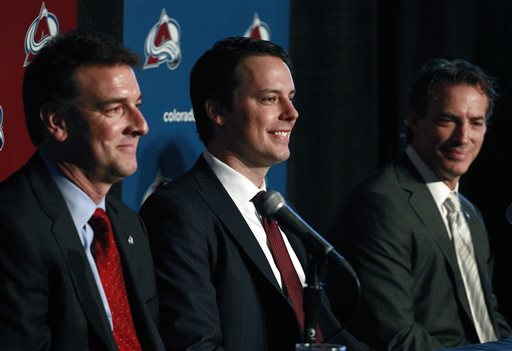 Sakic believes the team needs a "passionate coach" but slightly tipped his hand about the speculation that Hall of Famer and former Stanley Cup winning Avalanche goaltender Patrick Roy would be it. Sakic said, "You don't just bring a guy up to the majors from juniors." Roy has previously declined to coach the Avalanche.
Since the end of the Avs season Coach Joe Sacco was fired, Eric Lacroix resigned as vice president of hockey operations, and now Pierre Lacroix and Greg Sherman have been moved to the side. While desks and personal effects are shuffled in the front office, the team of Sakic, Lacroix, Sherman and Kroenke will be getting back to work finding a new coach. Hopefully the coach and their number one draft pick will be the last puzzle pieces needed to move the Avs back into Stanley Cup contention and away from potential Draft Lottery winners.