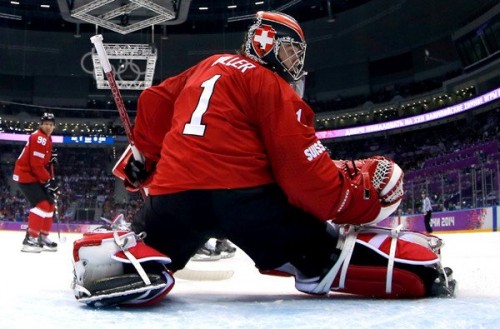 Swiss goaltender Jonas Hiller has yet to allow a goal in this tournament. He started Game 1 on Wednesday and Game 3 this afternoon, with backup Reto Berra getting the nod on Friday.
It's a known fact that Switzerland excels in team defense and goaltending, but the main problem has been scoring, or lack thereof. Although they have allowed just one goal over the first two games, they have only scored one as well.
Fortunately, they managed to score their trademark one goal in the first period. The final score? Why, 1-0 of course!
Their lone goal was the result of strong boards play behind Czech goalie Ondrej Pavelec. Kevin Romy was pinned along the glass, but managed to free the puck. Teammate Denis Hollenstein found it and immediately fed it to Simon Bodenmann, who was wide open. Meanwhile, Pavelec is still on his knees thinking the puck was still behind him. When he saw that his team didn't have control, it was too late. Bodenmann sniped the biscuit top shelf in the far corner on a tough angle.
Switzerland had great possession time in the first period. Everyone backchecked well and didn't let the Czech Republic have many scoring chances. Jaromir Jagr (who just turned 42 today) had one of those scoring chances, but was absolutely robbed by Hiller. He would also rob Zbynek Michalek with an incredible splits-save later in the same period.
The second stanza was led by the Czechs. After leading 12-8 in shots after one period, the Swiss were outshot 10-6 in the next twenty minutes, as the shots were soon even at 18 apiece.
When the second period concluded, the Czech Republic had a total of twelve scoring chances while Switzerland had nine.
The Swiss PK has been stellar as well through these three games. They have now successfully killed off all twelve of their opponents' power plays this tournament, including five this afternoon.
Jonas Hiller has been the MVP of the team thus far, and it has allowed his team to clinch second place in Pool C, behind Sweden.
When the competition stiffens, the Swiss offense will need to step up while not sacrificing their responsible play in their own end. No one has been able to solve this team, aside from Daniel Alfredsson's rebound goal Friday morning.
Their next game is yet to be determined.
Follow me on Twitter @yungspork