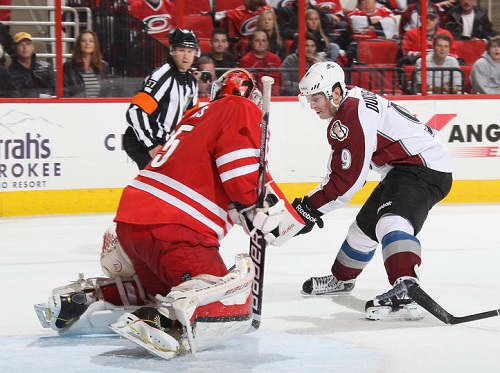 Justin Peters has had a difficult time making an appearance as a goaltender in the NHL. He was first drafted to the Carolina Hurricanes in 2004, but never made an appearance in the NHL until the 2009-2010 season. In 09/10, Peters played in 9 games with 6 wins and 3 losses. However, most of his playing time in 09/10 was for the AHL team, the Albany River Rats.
He continued to play for the Canes, mainly when goaltenders were injured in 10/11, 11/12, and 12/13, but still mostly played in the AHL.
Now that the Hurricanes are out of their two main goaltenders, Justin Peters is finally getting a chance to prove he can be a goaltender in the NHL. The Canes have won three of their last four games with Justin Peters in net. They have only scored a total of seven goals in these four games, but they have made out with the 114 saves that Peters has made.
After a 2-1 victory against the Colorado Avalanche on Tuesday, Justin Peters has turned in three of his best outings as a professional in the last week and a half.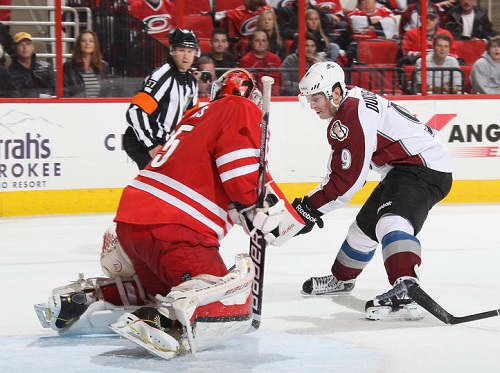 When the third-string goaltender was first put in the net, he struggled with an 0-5 mark in his first five games. But, he obviously knew he had to make up for it. He was finally given a chance to prove his skill in the NHL, after being drafted 9 years ago and it was time to show he was worth it. Since his five game loss streak, he has helped the Canes with a save percentage of .970 or even higher with his three wins. And his win against the Colorado Avalanche helped him greatly, beating a team that had yet to lose a road game this season.
As Ward and Khudobin start to recover, Peters plans to stick in net for awhile before being sent back down to the AHL. He has made his appearance and has finally shown he is capable of being an NHL goaltender.