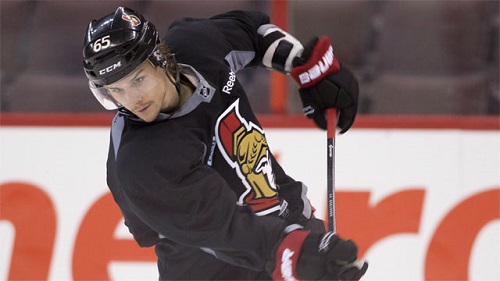 At 7 p.m. on October 4th, the first puck of the Senators' 2013-2014 season will drop when they face the Buffalo Sabres at First Niagara Center.
Over the course of the off-season, the Sens made headlines with acquisitions and a controversial departure. But how do those things affect the upcoming season?
With the homestretch approaching, it's about time we address where the Sens are, and a few other things while were at it.
So, let's get it started.
Q: Who is more deserving of the captaincy? Chris Phillips or Jason Spezza? (Hooked on Hockey's Adam Bernard and Josh Beneteau)
A: There's no doubt this question is being asked by many Sens fans. Phillips, 35, and Spezza, 30, were both drafted by the team and both already play a leadership role on and off the ice. It may seem like a tough call, but to me, the answer is much less complicated than people are making it. Jason Spezza. Period.
First of all, Spezza is in the midst of the prime of his career. He can still score, and he can still make plays. The center is only two seasons removed from scoring 80 points in 62 games, and that seems like nothing compared to the 71-assist, 90-point season he had in 2005-06. So, we know he can score, but where's his leadership at? Well, according to Don Brennon of the Ottawa Sun, Spezza shows the new guys around, plans the parties and is largely responsible for team bonding. Even when Alfredsson was present, it was Spezza who had the dressing room going.
What about his injured back? Keep reading.
Some may ask why Phillips isn't the easy answer, and that's a good question, but what Phillips lacks is the playing ability of a leader. He turns 36 next year and at just over $3 million a pop, management won't be crazy about the idea of re-signing him — unless he wants to take a pay cut.
Sound familiar?
Yes, faces are changing and letters are switching sweaters. The Alfredsson years were great and I would personally thank him for all he did for the team and the city of Ottawa, but he's gone now.
Sens fans, you may actually find that you're now better off.
Q: What's the team's salary situation like compared to that of other teams? (Hooked on Hockey's Nick Fearns)
A: Of all 16 playoff teams this past post-season, the Sens have the second lowest current payroll going into this campaign, according to CapGeek. But, it's not that Ottawa is doing a good job of managing their money, but a case of simply not having enough. It was revealed by owner Eugene Melnyk that the organization did not have enough dough to sign Bobby Ryan and Daniel Alfredsson plus other players that need to be signed like defensemen Jared Cowen. In fact, there's some news surfacing about the team being hundreds of millions of dollars in debt despite countless attempts at trying to re-finance through lending. This isn't new to the team, either. Melnyk purchased the Sens and the arena, then known as the Corel Centre, before it went into bankruptcy in August of 2003.
There are a number of reasons for the team not breaking even, one being that Ottawa is a small-market city. Less demand means lower ticket prices compared to a team like the Toronto Maple Leafs who can jack up their prices with a massive fan base and population to draw from. But, let's not forget that the Ottawa Senators franchise only had its 20th anniversary a year ago.
Still, despite all that, management has put a solid team together. One that was among the leaders in league defence in 2012-13, second to the reigning Stanley Cup-champion Chicago Blackhawks, and one that made it all the way to the Stanley Cup finals in 2006-07.
Some teams have the cash flow to bring in whatever star they want. For the Sens, drafting seems like the more cost effective venture, and perhaps a more promising one.
Stay tuned for next week's question addressing the Senators drafting history and where its taken them.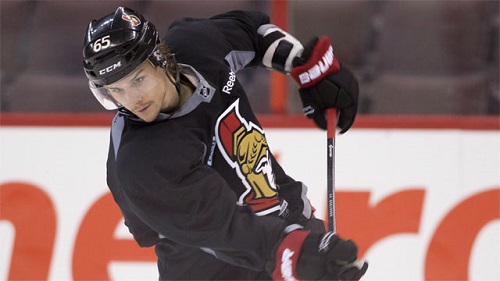 Q: What are the statuses of Karlsson, Spezza and Michalek? (Jake Rowbotham)
A: Erik Karlsson has said he still feels side effects from his ankle surgery but that he'll be "100 per cent" when the season starts.
Jason Spezza.
"With a back you never really cast it aside and expect to never hear from it again," Spezza said a couple weeks ago on the Team 1200 Ottawa sports radio station.
"It's something that'll be a career long thing where I have to make sure I'm doing the proper maintenance but I feel pretty good right now and I'm excited to go."
The Sens star center and their probable succeeding captain als0 played through the playoffs with a torn meniscus in his knee and had it surgically repaired at season's end. He was feeling good as of Aug. 10 so he too will likely be ready come October.
Milan Michalek, on the other hand, is still a bit of a question mark. He saw a knee specialist in Germany at the beginning of the summer that has performed procedures on Kobe Bryant and Tiger Woods. The specialized procedure does not involve surgery but a treatment of blood removed from the knee and reintroduced to the injured zone thereafter. Apparently there is a 75 per cent success rate and the results last anywhere from 2 to 4 years.
That given, Michalek would be my only question mark, at this point, going into the season. More news surrounding his condition is sure to come over the next few weeks as we look forward to the beginning of training camp.
Q: Do you see the team moving one (or more) of its many young defensemen to improve up front? (Andrew DiRienzo)
A: No. I mean, anything is possible but with Patrick Wiericoch and Erik Gryba locked in with 2-way contracts, the Sens have plenty of flexibility on the back end. That is, assuming the team gets a contract done with Jared Cowen.
As for improving up front, I don't believe they need to. They have two very-talented first lines and a lot of young depth running through the bottom two.