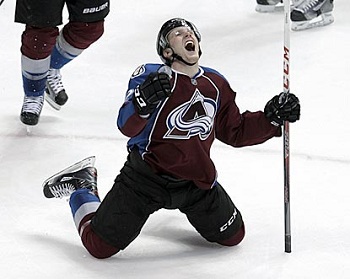 The Calder Trophy finalists have been announced and Colorado left winger Gabriel Landeskog is unsurprisingly amongst them. The other well deserving finalists are Edmonton's Ryan Nugent-Hopkins and New Jersey's Adam Henrique. All three had outstanding rookie seasons, but only one is going to go into the books as the "most proficient" for the 2011-2012 season when the awards are presented in Vegas.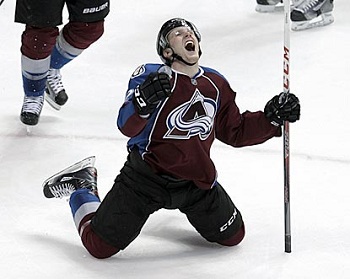 Now I'm not trying to be biased, but I really do believe that #92 should be accepting the Calder at the podium come June. I am well aware that Philly's Matt Read didn't make it, and plenty would say was snubbed, but he is merely a victim of his own team's success.
Adam Henrique gets a ton of run on forums and Twitter when the Calder question came up and you can't deny that the guy is good, scoring 51 points for the season as an assist machine. Getting all those assists helps when you are setting up Ilya Kovalchuk and Zach Parise. Henrique doesn't win.
RNH plays on a bad Oilers team and was hampered by injury during the season. If he had played a more complete season it might have been a foregone conclusion that he gets the trophy, but his success was mostly contained to the beginning of the season (I know very well because he occupied too much of my fantasy team bench). RNH had a great year, but I just don't honestly feel that he deserves it outright.
So that leaves Landeskog who was a force for the Avalanche. What sets him apart is that he is a very brash player. He can skate like an ice ninja, he has no problem taking the body, and he can smoke a rebound puck like it ain't no thang. I feel that Landeskog is the more complete player.
I'm not saying that the other top rookies aren't good, just that they didn't quite get to his level. Landeskog was a huge key to the Avs late season push to try and make the playoffs and his play was instrumental to the team's success, much more than Matt Duchene. It is because of those reasons that I believe Landeskog should and will be holding the Calder in Vegas.