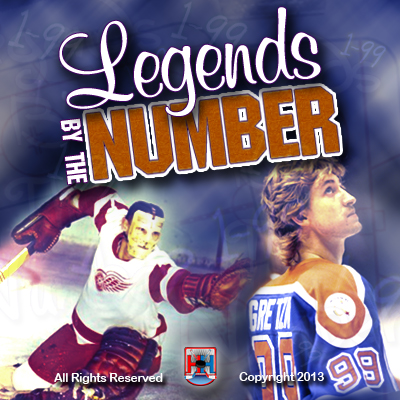 #1
*Note, when referring to the Vezina Trophy from the time frame of 1927-1981, the criteria for winning was that it went to the goalie on the team with the fewest goals scored against it in the regular season.*
Honorable Mention: Glenn Hall (Mr. Goalie), Turk Broda, Harry "Apple Cheeks" Lumley, Gump Worsley, Ed Giacomin (Fast Eddie)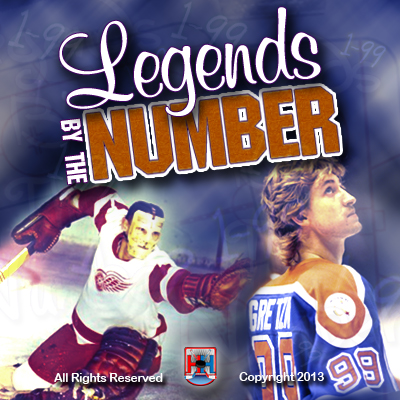 #3 – Johnny Bower
Nickname: "The China Wall"
Position – Goalie
When he wore #1 –His entire career: 1954-57 with New York Rangers, 1959-70 with Toronto
Regular Season Stats – 552 GP – 250 W – 195 L – 90 T – 37 SO – 2.52 GAA
Known primarily for – His Hall of Fame Induction, four Stanley Cups and two Vezina trophys
Background – Born 11/8/24; 5-ft-9, 170 lb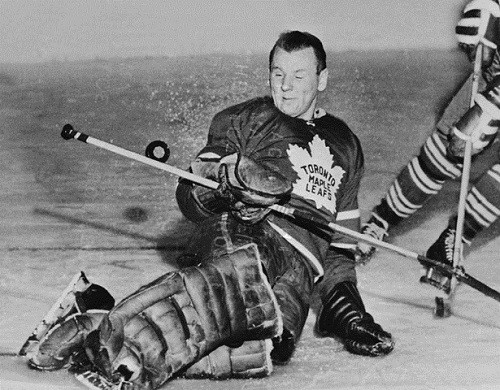 Johnny Bower was not always known as a legendary NHL netminder. From 1945-58 he played in just one NHL campaign (1953-54) and was unable to convince teams that he was capable of playing at the highest level. It wasn't until the 1958-59 season that he was finally able to lock down a job with the big club. Toronto claimed him in the Inter-League draft of 1958, and he would go on to play in 12 seasons with the team.
He came into the league at 33 and was able to lead his team to the Stanley Cup Finals six out of nine years. Out of those six times, the Leafs emerged victorious four times, winning the Stanley Cup in 1962, 1963, 1964, and 1967. In the 1966-67 season, Bower and #1 (see below, he wore #30 this year) teamed up in the crease. Bower went 12-9-3 while #1 went 15-5-4 in the regular season. By this time he was 42 years old.
In 552 NHL games played, he won 250 games, including 37 shutouts. His career GAA was 2.51. In 592 AHL games he won 359, including 45 shutouts.
He was inducted into the Hall of Fame in 1976. His number has been honored (but not retired) by the Maple Leafs since 1995 (March 11th, the same day they honored Turk Broda's #1.)
#2 – Jacques Plante
Nickname: "Jake the Snake"
Position – Goalie
When he wore #1 – 1953-1963 (Montreal), 1964-65 (With New York Rangers), and 1971-73 (With Toronto)
Note: He wore #30 in the 1969-70 campaign (With St. Louis) and #31 in 1973 (With Boston)
Regular Season Stats – 971 GP – 437 W – 246 L – 145 T – 82 SO – 2.38 GAA
Known primarily for – His Hall of Fame Induction, six Stanley Cups, seven Vezina trophies, and 83 shutouts.
Background – Born 1/17/29. Died 2/27/86; 6-ft-0, 175 lb
One thing probably comes to mind before all else when the name Jacques Plante is mentioned. He was the first goalie in NHL history to wear a mask regularly. He was also the first goalie to leave the crease to play the puck.
Plante led the league in wins five different seasons and also in shutouts four different seasons. He led the league in goals against average in eight different campaigns.
In his first year, Plante and Gerry McNeil combined efforts in net to win the Cup, with Plante winning three of four playoff games. In 1955-56 the reins were handed to him, and he led the Habs to five straight Cup victories. The first three playoff runs saw Plante lose just two games per. The fifth Cup run saw Plante go 8-0 with a GAA of just 1.35!
In 112 career playoff games he won 71 of them with an astounding 2.14 GAA.
In addition to his seven Vezina trophies, he also won the Hart Trophy in 1961-62. That season saw him win 42 games and lose just 14.
Plante played in eight All-Star Games, was named to the 1st All-Star Team three times, and the 2nd All-Star Team four times.
The QMJHL awards annually the Jacques Plante Memorial Trophy to the top goalie in the league.
He was inducted into the Hall of Fame in 1978. His jersey was retired by Montreal in 1995.
#1 – Terry Sawchuk
Position – Goalie
When he wore #1 – 1951-1967 (With Detroit, Boston and Toronto)
Note: He wore #30 from 1966-68 and 1970. He wore #29 with Detroit in 1969
Regular Season Stats – 971 GP – 447 W – 330 L – 172 T – 103 SO – 2.52 GAA
Known primarily for – His Hall of Fame Induction, four Stanley Cups, four Vezina trophys, and 103 shutouts.
Background – Born 12/28/29 – Died 5/31/70; 5-ft-11, 190 lb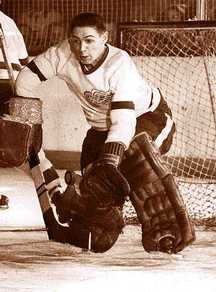 Before the 1950-51 campaign began, Detroit coach Jack Adams pulled off a large trade. Al Dewsbury, Don Morrison, Pete Babando, Jack Stewart, and goalie Harry Lumley were traded to the Chicago Blackhawks in return for Bob Goldham, Gaye Stewart, Metro Prystai, and goalie Jim Henry. In giving away one extra player than he received, Adams cleared a space for 20 year old rookie Terry Sawchuk to take the starting role in net.
In that rookie season he posted a goals-against average of 1.98 and 11 shutouts (led the league). He also won the Calder Trophy and was named to the first All-Star team.
Before the 1955-56 season, Adams traded him to the Boston Bruins along with three other players. He never quite found his game in Boston, and would return to Detroit in 1957. Toronto was able to acquire Sawchuk after claiming him in the 1964 Draft.
Injuries he sustained and overcame in his playing days included a collapsed lung, ruptured discs in his back, severed tendons in his hand, an appendectomy (which I can only imagine was more painful back then), three operations on his right elbow (from chips in the bone), a fractured, mononucleosis, instep, and of course wear-and-tear from the game itself manifesting in cuts and bruises as a result of the smaller goalie equipment and absence of masks.
Throughout his career Sawchuk recorded 447 wins in 971 regular season games, as well as 54 wins in 106 playoff games. His all-time GAA is 2.51. He led the league in wins each of his first five seasons in the league (44, 44, 32, 35, 40). In those five seasons, his GAA never rose above 2.00. In 1951-52 and 1952-53, his 1.90 GAA topped all netminders. In three different season with Detroit, he started all 70 games.
He didn't just have regular season success either. In his second season (1951-52) he won every playoff game he started (all eight) to win the Stanley Cup. More impressive than that was his GAA of 0.62. He allowed just five goals in the playoffs. He would lead his team to victory in two of the next three seasons as well. Later in his career, he would help Toronto win a Cup as well.
He played in 11 All-Star Games (7 consecutive times from 1950-56). He was a four-time Vezina Trophy winner.
Sawchuk was inducted into the Hall of Fame in 1971, the year after he died (he died while he was still playing, but not as a result of his laundry list of ailments), and his #1 jersey has hung from the rafters of Joe Louis Arena since 1994.
The Hockey Hall of Fame waived the five-year waiting period criteria for induction, thus allowing him to be inducted the year after he died.
He is still regarded by many to be the greatest goaltender of all-time, having played in an era with much less equipment for protection and with no butterfly style. It wasn't until Jacques Plante (see above) ushered in the era of facial protection that goalies were willing to drop to the ice to block a shot (although Plante himself didn't prefer the new style).
References:
On-Line Sources
Hockey-Reference.com
Hockeydb.com
Legendsofhockey.net
Off-Line Sources
Total Hockey (Book)
Hockey Chronicle (Book)
The Hockey News Hockey Almanac 2000 (Book)
Who's Who in Hockey (Book – Stan and Shirley Fischler)
Follow me on Twitter @yungspork