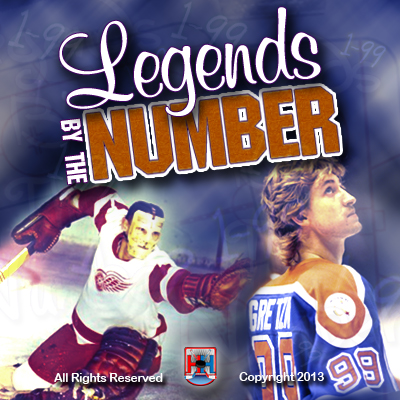 #3
*Note: +/- has only been recorded by the NHL since the 1967-68 season*
Honorable Mention: J.C. Tremblay
3rd – Harry Howell
Position – Defenseman
When he wore #3 – 1953-69 (With New York Rangers); 1970 (With Oakland); 1971 (With California)
Note: He wore #5 from 1971-73 in Los Angeles
Regular Season Stats – 1411 GP – 94 G – 324 A – 418 PTS – (-) 57* – 1298 PIMs
Known primarily for – His Hall of Fame Induction, Norris Trophy, and record for most games played in a Rangers uniform.
Background – Born 12/28/32; 6-ft-1, 195 lb
Harry Howell spent 17 years in New York, playing for the Rangers. In that time, he solidified the record for most games played in a Rangers uniform (1,160). He would later play an additional 251 games with the Oakland Seals/California Golden Seals and Los Angeles Kings. He ranks 28th on the all-time games played list (1411).
He grew a reputation for being one of the best defensive defensemen of all time over his career. He was always dependable on the back-end. He was so dependable that he only missed 17 games in his first 16 seasons in the league.
Perhaps Howell's most well-known accomplishment was winning the Norris Trophy in 1967, the year before Bobby Orr decided to hog the award for eight consecutive seasons. He is one of only three Rangers to ever win the trophy (you already know the other two from yesterday's article).
He would retire from the NHL at the age of 40 and from playing entirely at 43 (1976, after three seasons in the WHA).
Howell later entered into various management positions. He was an assistant GM (1976) and eventual GM of the Cleveland Barons. When Cleveland and Minnesota merged, he was asked to coach. After 17 games he decided to become a scout instead.
He is one of the best defensemen to never win a Stanley Cup as a player. However, he would eventually have his name engraved on the Cup in 1990 as a scout for the Edmonton Oilers.
He was inducted to the Hall of Fame in 1979.
The Rangers would honor Howell by retiring his jersey number in 2009.
2nd – Marcel Pronovost
Position – Defenseman
When he wore #3 – 1953-65 (With Detroit; 1966-70 (With Toronto)
Note: He wore #21 and #23 in 1951 (With Detroit) and #18 in 1952 (With Detroit)
Regular Season Stats – 1206 GP – 88 G – 257 A – 345 PTS – +3* – 851 PIMS
Known primarily for – His Hall of Fame Induction,
Background – Born 6/15/630; 6-ft-0, 190 lb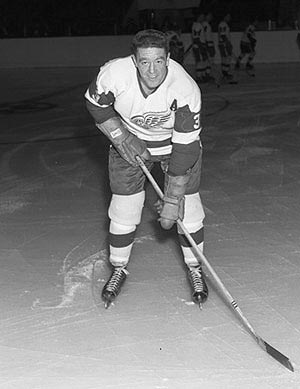 Originally a center in Junior, Marcel Pronovost was moved to defense after being signed by the Detroit Red Wings. At just 20 years old, Pronovost was called up to Detroit from Omaha because of an injury to Gordie Howe. Howe's injury caused defenseman Red Kelly to have to play forward. Young Marcel had a huge void to fill.
In that post-season, Pronovost helped Detroit survive the series with Toronto. Not only did Detroit defeat the Maple Leafs, but they would go on to defeat the New York Rangers and win the Stanley Cup. His name would be engraved on the Cup before he even played in a regular season game.
Pronovost would help the Wings win the Cup again in his second full season in the league, and again in both 1954 and 1955.
He was never afraid of getting hurt. He was injured many times, including breaking his nose 14 times! He was the ultimate team player that was more afraid of missing a few games because of the injury. He was quoted as saying "To me, accidents are as common as lacing on skates."
He played in 11 All-Star Games and was named to the All-Star Team four times (two on the First Team).
He would go on to win a fifth Stanley Cup in 1967 while playing for Toronto, which capped off a legendary playing career. I have to specify "playing career" because he didn't leave the hockey world.
After retiring in 1970, Pronovost decided he wanted to coach. He coached the Buffalo Sabres from 1977-78 and had a winning record of 52-29-23. He was also an assistant in Detroit from 1979-81.
As if having your name engraved on the Cup five times wasn't enough, he would have it engraved three more times as a scout for the New Jersey Devils.
He was voted to the Hall of Fame in 1978.
1st – Pierre Pilote
Position – Defenseman
When he wore #3 – 1958-68 (With Chicago)
Note: He wore #22 in 1956 (With Chicago), #21 in 1957 (With Chicago) and #2 in 1969 (With Toronto)
Regular Season Stats – 890 GP – 80 G – 418 A – 498 PTS – (-) 3*– 1251 PIMS
Known primarily for – His Hall of Fame Induction, Stanley Cup and Three Norris trophies (six total nominations)
Background – Born 12/11/31; 5-ft-10, 178 lb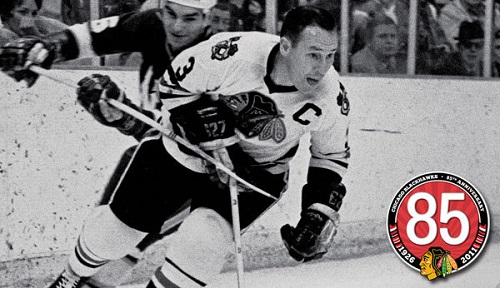 Pierre Pilote didn't even join the NHL until he was 24 years old. He was not able to play hockey on a team until he was 27 because his local rink had burned down, leaving him little options.
In 1955-56 he played his first professional game with the Chicago Blackhawks. He would remain with the team until his last NHL season when he joined the Toronto Maple Leafs.
He helped guide the Hawks to a Stanley Cup in 1961, and due to his stellar play and leadership, he was named captain the next season.
In his second season as captain, Pilote won his first Norris trophy. He would win a pair of Norris trophies in the next two seasons as well.
He was not a big blueliner by any standards, but he played a really rugged style. When Maurice and Henri Richard played alongside one another, Pilote took on both of them, leaving them both knocked out.
In quite a few ways his play was very similar to that of Doug Harvey's (See LBTN #2). He would often block shots and he was also a staple on the power play.
In his career, Pilote scored nearly 500 points in just under 900 games played, which was phenomenal for a defenseman of that era. He was the complete opposite of a stay-at-home defender and often opted to drive the puck down ice himself.
At one point in his career, he played in 376 straight games.
He was named to the 2nd All-Star Team three consecutive years from 1960-62. He would also be named to the 1st All-Star Team the next five consecutive seasons from 1963-67.
Pilote also played in the NHL All-Star Game seven out of eight seasons from 1960-68.
After 13 great seasons in the NHL, he was voted to the Hall of Fame in 1975
The Blackhawks would honor Pierre by retiring his jersey number (which was also worn by Keith Magnuson) in 2008.
References:
On-Line Sources
Hockey-Reference.com
Hockeydb.com
Legendsofhockey.net
Off-Line Sources
Total Hockey (Book)
Hockey Chronicle (Book)
The Hockey News Hockey Almanac 2000 (Book)
Who's Who in Hockey (Book – Stan and Shirley Fischler)
Follow me on Twitter @yungspork