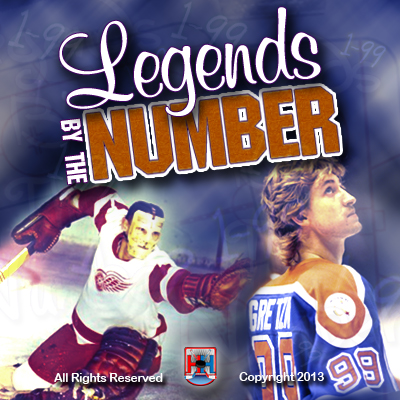 #5
Honorable Mention: Dit Clapper, Guy Lapointe, Rod Langway
Nickname – "Boom Boom"
Position – Right Wing
When he wore #5 – His entire career: 1951-64 (With Montreal); 1967-68 (With New York Rangers)
Regular Season Stats – 883 GP – 393 G – 429 A – 822 PTS – +1* – 327 PIMs
Accolades – His slap shot, his Hall of Fame Induction, eight Stanley Cups, four Lady Byng Trophies, and one Norris Trophy
Background – Born 2/16/31; 5-ft-9, 166 lb
Bernie Geoffrion's main claim to fame is his usage of the slap shot. He started slapping the puck on a daily basis and understandably terrorized net minders.
In his illustrious career, he helped the Montreal Canadiens win six Stanley Cups including five consecutive Cups from 1956-60.
In 1954-55, he tied teammate Maurice Richard for the league lead in goals (38) and edged him out in points 75 to 74.
In 1960-61, Geoffrion became the second player behind "The Rocket" to score 50 goals in a single season. He led the league in goals and in points (95) that year. He proved that his shot was not only powerful but lethally accurate as well. In 883 career games, "Boom Boom" scored 393 goals and 822 points.
He was just as dangerous in the postseason as well. Since he was a member of the Habs, he was able to play in the playoffs every season with the team. In 132 games he scored 58 goals and added 60 assists. In 1954 and 1957 he led the league in playoff goals.
Montreal's fans even booed Geoffrion after he scored while Richard was suspended once because Richard was a favorite player for most fans and they thought Geoffrion was stealing his thunder.
Over the course of his career, "Boom Boom" broke his nose nine times and received 400 stiches. He almost died once resulting from an on-ice incident and his doctors had advised him to stop playing numerous times.
That didn't stop Geoffrion from cementing himself as an NHL legend though.
He retired in 1964 after deciding to try coaching at the American League level. However, in 1966 he was drawn back into the NHL and played two additional seasons with the Rangers. Geoffrion retired from playing for good soon after.
He was inducted into the Hall of Fame in 1972. In March of 2006, Montreal held a ceremony to retire his jersey. Geoffrion had been suffering from stomach cancer for half a year, and passed away that very day, before he could see his number raised to the rafters.
2nd – Denis Potvin
Position – Defenseman
When he wore #5 – His entire career: 1974-88 (With New York Islanders)
Regular Season Stats – 1060 GP – 310 G – 742 A – 1052 PTS – +460 – 1356 PIMs
Accolades – His Hall of Fame Induction, four Stanley Cups, three Norris Trophies, and Calder Trophy
Background – Born 10/29/53; 6-ft-0, 205 lb
Denis Potvin was drafted first overall in the 1973 NHL Draft by the New York Islanders, the team that he would remain with the whole of his career and find much success with. He was one of the driving forces of the New York Islanders dynasty of four straight Stanley Cups from 1980 to 1983 and ranks among the greatest blueliners the game has ever seen. The Isles almost won five straight, reaching the Cup Finals in 1984 but losing to the upstart Oilers in five games.
Only 10 defensemen have ever won the Calder Trophy and Potvin was the fourth to do so. He led his team in scoring his first year with 17 goals and 54 assists in 77 games. Oddly enough, that year was the only full season in which he finished with a negative plus-minus (-16). For his career he was a +460. He ranks third all-time in that category behind just Ray Bourque and Larry Robinson.
He served as captain from 1979-87, leading his team to victory in the four consecutive years. In each of the Isles' Cup-winning playoff runs, he had an average of 1.09 points-per-game
His frame was solid and durable, and he was known for his ability to check hard, and often. That's not the only thing he was known for however. Potvin was an incredible offensive threat. He reached or surpassed the 20-goal mark nine times in his 15 seasons.
In 1979, he was just the second defenseman to score 30 goals and 100 points in one season.
Potvin ranks 5th all-time in goals by a defenseman (310) and 7th all-time in points (1052). If his career had lasted past age 34, he would easily be near the top if not the peak of the scoring list.
He was also responsible defensively and was awarded the Norris Trophy three times in four seasons from 1976-79.
When he retired from the game in ____ he had the most goals and points by a defenseman in NHL history.
Potvin's jersey number was the first to be retired by the Islanders (1988). He was inducted into the Hall of Fame in 1991, his first year of eligibility.
1st – Nick Lidstrom
Position – Defenseman
When he wore #5 – His entire career: 1992-2012 (With Detroit)
Regular Season Stats – 1564 GP – 264 G – 878 A – 1142 PTS – +450 – 514 PIMs
Accolades – Four Stanley Cups, seven Norris Trophies, and 1 Conn Smythe Trophy
Background – Born 4/28/70; 6-ft-1, 199 lb
Nick Lidstrom has often been called "The Perfect Human." He was always humble and never cocky. He skated with grace and was as smooth as they come.
He rarely made an errant pass. Rather every pass reached its intended target untouched. Lidstrom was a two-way defenseman, meaning he focused just as much of his game on offense as he did on defense. He wasn't known to make a hurried play or a rushed pass. He took his time and played smart hockey. That's what brought him so much success. He was a smart player.
Proof of his smart play is his career +450 rating, fourth best all-time for defensemen.
After entering the league in 1991, Lidstrom didn't win his first Norris Trophy until 2000-01. Who would have guessed that the third-round draft pick would one day give Bobby Orr a run for his money in Norris Trophies?
Finishing just one piece of hardware behind Orr, Lidstrom collected seven Norris Trophies in his 20 seasons. He was the second defenseman to win three straight Norris's (with the first being Orr). He was nominated a total of 12 times in his last 14 seasons.
In 1996-97 he was a vital piece to Detroit's championship puzzle. After winning two more Cups in 1998 and 2002, Lidstrom became the first European-born captain to hoist Lord Stanley's silver. He and his team never missed the playoffs in his lengthy career. In 2002 he was the first European-born player to hoist the Conn Smythe Trophy as playoff MVP.
After scoring just 38 points in 81 games in the 2003-04 season, Lidstrom scored 80 points in 80 games immediately following the locked-out season. Those totals marked his best assist and point totals in his career.
He was able to remain healthy throughout his career. He rarely missed a game in 20 years. In his final season he missed 12 games at age 41, which was his highest total of games missed in his career (next highest was 6 games in 2007-08).
He shares the record for most consecutive playoff seasons (20) with Larry Robinson of the Canadiens. He was the First European defenseman to score 1,000 points.
Lidstrom also holds the career records for: most regular season wins played in (900), most postseason assists by a defenseman with a single franchise (129), most postseason points by a defenseman with a single franchise (183), highest post-season plus/minus career (+61), most postseason power play goals by a defenseman (30), most post-season shots on goal with a single franchise (656).
He also holds some age awards too. A few examples include: oldest player to win the Norris, oldest defenseman to record a hat trick, and oldest player ever to record a hat trick.
No player has played more games wearing only the winged-wheel in their career than Lidstrom (1,687). Only Gordie Howe, Steve Yzerman, and Alex Delvecchio scored more overall points than Lidstrom's 1,142 in Detroit.
At the international level, Lidstrom won gold playing for Team Sweden at the 2006 Winter Olympics.
He announced his retirement on May 31st, 2012. His jersey number will be retired by Detroit on March 6th, 2014 (before the Red Wings take on the Colorado Avalanche at Joe Louis Arena). When he is eligible, he will surely be a first-ballot Hall of Famer.
References:
On-Line Sources
Hockey-Reference.com
Hockeydb.com
Legendsofhockey.net
Wikipedia.org
Off-Line Sources
Total Hockey (Book)
Hockey Chronicle (Book)
The Hockey News Hockey Almanac 2000 (Book)
Who's Who in Hockey (Book – Stan and Shirley Fischler)
The Hockey News Top 100 Players of All-Time by Position
*Note: +/- has only been recorded by the NHL since the 1967-68 season*
Follow me on Twitter @yungspork