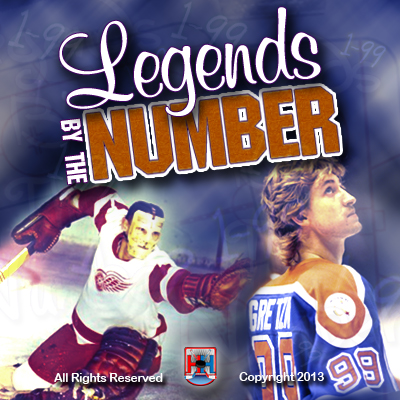 Welcome to a brand new segment here at Hooked on Hockey Magazine. Have you ever tried memorizing jersey numbers of all the players on your favorite team? Have you ever tried to memorize all the jersey numbers of every player in the league (or is that just me?)? Seriously? Wow…well have you ever tried to memorize all the jersey numbers of the greatest players who have ever played the game, spanning across all generations of the National Hockey League? Yeah I didn't think so.
Well this segment is for those of you who are intrigued by this idea.
The jersey number is the single most identifiable characteristic of a hockey player. It's what enables fans in the nosebleed seats to see their favorite players and to easily notice who is on the ice at any given time.
"Legends by the Number" will be an ongoing segment from numbers one thru ninety-nine, and will feature the best players to wear each number. If a player wore multiple numbers, I will choose their most prominent one.
Without any further ado, here's the unofficial start to the segment. Numbers 00 and 0, two of the least worn jersey numbers in NHL history.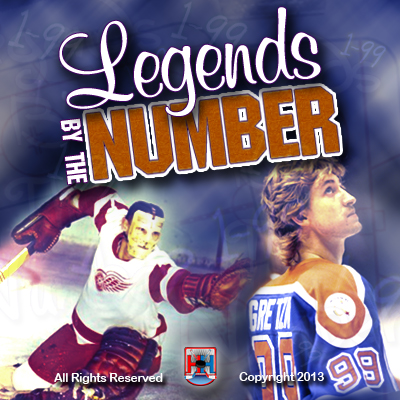 Number 00
The number 00 was only worn by two players: goalie Martin Biron for the Buffalo Sabres in the year 1996, and goalie John Davidson for the New York Rangers in 1978. For obvious reasons, these two netminders will not be seen in any other article in this segment, so let's just give them their time in the spotlight, since they are the best (and only) players to ever wear this number.
#2 – Martin Biron: The NHL initiated the "Biron Rule" after Biron decided to wear number 00. This rule required players to choose an actual number (1-99). He first played in an NHL game in the 1995-96 season for the Buffalo Sabres, the team who drafted him 16th overall in the 1995 NHL Entry Draft.
Marty has played in 506 career NHL games, winning 230 of them. 52 were ties (remember those?) or overtime losses. His career goals-against-average is 2.60 (46th best on the all-time list), with his lowest single-season GAA coming in 2010-11 (2.13 in 17 games). His career save-percentage is .911 (23rd best on the all-time list), with his highest single-season SP coming in 2007-08 (.918).
His best season to date came back in 2001-02, when he was the starting goalie for the Sabres. He played in 72 games, winning 31 of them. He finished the season with a 2.22 GAA and a .915 SP.
He has never won a Stanley Cup, and has only played in the NHL playoffs twice. In 2007-08, he won 9 games for the Philadelphia Flyers and lost 8 (2.97, .904).
He wins the #2 spot (sorry Marty) because he never influenced a legendary rock band to write a hit song about him.
#1 – John Davidson: Most people know John Davidson as the President of hockey operations for the Columbus Blue Jackets (and former President of Hockey Operations for the St. Louis Blues). However, long before that, he was a goaltender that played for the Blues and the New York Rangers. He was the first player to wear sweater number 00. Many people don't know this, but he actually indirectly inspired the band Foreigner to write a hit song about his misfortune. The song "Double Vision," the title track to Foreigner's hit album, came to be after guitarist Mick Jones and singer Lou Gramm witnessed (firsthand) Davidson get hit by a puck at a playoff game in 1977. Davidson received a concussion, and in turn, Foreigner's song went gold, meaning the single sold (at least) one million copies. The album of the same name sold 7 million copies.
Davidson's stats are not nearly as impressive as Biron's. His career record is almost .500. In 301 games, he won 123 and lost 124. His career GAA is 3.52, with his worst year coming in the 1980-81 campaign (5.14 in 10 games). In the playoffs he won 16 and lost 14 in 31 career games.
For the majority of his career he wore number 30.
He wins #1 because he inspired a hit song that is still popular today (that's good logic right?).
Number 0
As was the case for the Number 00, there have been only two players in NHL history to wear the number 0: Neil Sheehy and Paul Bibeault.
#2 – Neil Sheehy:
He entered the league in 1983 with the Calgary Flames as a tough defensive defenseman, playing in one game and scoring one goal. One-for-one, good start. The next year he scored three goals in 31 games. In his second full season, the Harvard graduate accumulated 271 penalty minutes, proving to everyone that he was better suited to dance than to score. In his career he totaled 1311 minutes in 379 games. Oh and he scored 65 points, but who looks at that.
He failed to register a single playoff goal in 54 attempts, although he spent 241 minutes in the sin bin, with his banner year coming in 1989-90 (92 PIMs).
He was never drafted, coming into the NHL as a free agent. Now he represents other free agents (and players under contract) as a player agent.
#1 – Paul Bibeault: Bibeault signed as a free agent with the Montreal Canadiens toward the end of the 1940-41 season, giving up 15 goals in just four games. He later played for Toronto, Boston, Montreal again, and Chicago. His career record included 81 wins and 107 losses, but he wins #1 because of his 1943-44 season. In just 29 games played, he led the NHL in shutouts and finished second (only to Vezina winner Bill Durnan) in goals-against average. His performance that year also earned him a selection to the NHL second all-star team.
He was the third goaltender to play for both Toronto and Montreal (the others were George Hainsworth and Lorne Chabot).
Well, there you have it. Consider yourself introduced!
Stay tuned to Hooked on Hockey all summer long to follow each number in this segment. Who knows, you might learn something you never knew…or you might win some cash the next time you play the Hockey Hall of Fame board game for money. Hey I don't know what you do on your free time.
Follow me on Twitter @yungspork