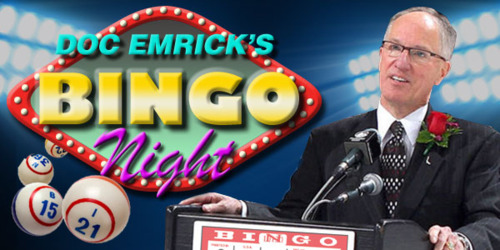 Mike "Doc" Emrick is a man of many words. He is also a man of many synonyms. Anyone who has watched an NBC broadcast of an NHL game has likely heard his easily recognized play-by-play voice.
Emrick is a member of the U.S. Hockey Hall of Fame (inducted in 2011). He has received the Lester Patrick Award (one of three to win the award for their work in media) and the Foster Hewitt Memorial Award (awarded by the Canadian Hockey Hall of Fame).
He is also one of the nicest people you could ever meet.
The name 'Doc' came to be since he received a Ph. D. in Communications, meaning he is actually a doctor.
Thanks to Reddit and inspired by Harrison Mooney of Puck Daddy, his many different synonyms for the word "pass" have been brought to light.
In any given game, Emrick has to say the word "pass" hundreds of time (even more if the game has three overtimes). It would get incredibly boring if an announcer said "he passed the puck…he passes the puck again…and again…" repeatedly. This is why his job is not as easy as it seems.
He has to think of different ways to say something on the fly, without any time to think. For most of us, trying to do so would result in a lot of stuttering. When Emrick does it, it sounds natural and smooth.
This past Wednesday night, during Game 4 of the Stanley Cup Finals, my friend Jon decided to make Doc Emrick Bingo sheets to use during the night's telecast.
Using a word bank, we filled in all of the blank squares with words such as "drubbed, squibbed, finessed, shoveled, knifed, swatted, scaled etc…"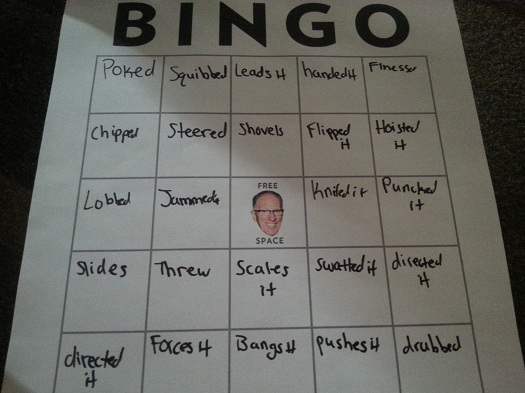 When the game began, we listened closely as a pass was about to be made. If he used one of the words we had on our sheets, we would cross it off like a normal game of Bingo.
After filling out the sheets we realized that some words could be used in the context of a shot or a pass. For instance, "fired" or "blasted" could be used for a hard shot, or a long pass. "Threw" or "lob" could be used for a dump into a zone or as a pass that is lifted high into the air.
Since there are a bunch of these "borderline" words, we made sure to call the intention of the word out loud, so the other would not think that the word was being used in a different way.
The first Bingo (across, down, or diagonal) counts as 1 point,
The second Bingo (four corners) counts as 1 point,
And the first instance of a coverall is also 1 point. (In games where a coverall has not occurred, the player with the most squares covered will win the game).
10 minutes into the first period, Doc said "squibbed" on a pass behind the Chicago net, and I got a Bingo, straight across the top. The play went to video review, as the DVR was rewound to verify the utterance of the word. After reviewing the play, the call on the TV stood, and a "good Bingo" was awarded.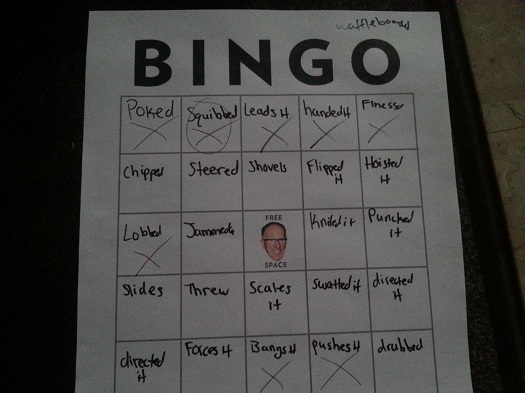 Later in the game, Jon heard Doc say "finessed, flipped, and banked" and just needed "rattled" to win four corners. It was late in the third period, and Jon said "Come on, say rattled." Mere seconds after, Emrick said "…rattles it around the boards to a teammate."
After the overtime period, we each tallied our total squares filled. The score was 16-15 (I won), which made the game inside the game just as close as the actual score, which was 6-5.
You can play for bragging rights, or you can play for thousands of dollars. Regardless of what's at stake, Doc Emrick Bingo is fun to play. Soon after playing it once, you'll be hooked.
I encourage everyone to print out this blank Bingo sheet (using the provided link) to use during Saturday's Game 5.
Play along, and once you are finished, send your results (pictures of the cards with name/city, and any details you wish to include) of the game my way at KSporka@hohmag.com and I'll feature them in my follow-up article the next day.
You can use any word from this word bank (the word "it" is not necessary, and tense of verb does not matter). Depending on how strict you wish to play, words such as "leads" and "led" can be interchangeable.
You may also use any word mentioned in this Daft Punk remix.
You can have as many players as you want (even more fun with more people).
CLICK HERE TO PRINT OUT THE BINGO BOARD
Follow me on Twitter @yungspork