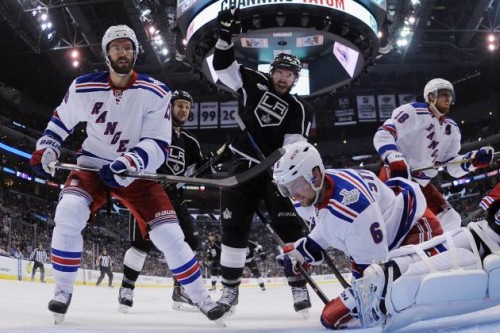 In 2012, the Stanley Cup Champion Los Angeles Kings won their first two Stanley Cup Finals games in overtime and then went on to win the third game in shutout fashion. Two years later, who would have thought the same exact method of winning would take place for this Kings squad? One more win and history will be made once more by the Los Angeles Kings. However, if the New York Rangers can muster up a reverse sweep starting with a must-win tonight, then they can find themselves on the better end of history being made.
Plenty of people are placing bets on tonight's game in hopes that the Kings do pull-off the sweep and claim once again in three NHL seasons, Lord Stanley's Cup. You can view NHL odds at topbet.eu where they place the Kings as the favorite tonight to win game four. That of course doesn't come as a surprise considering the Rangers have a mountain to climb if they want to prolong this series beyond four games. Yet many Rangers fans should stay positive knowing that three games to none leads are never safe.
Why it doesn't take much then to look back to the first round of this year's playoffs when the San Jose Sharks blew a three games to none series lead against the Kings themselves. Even the Rangers got in on the action in the second round when they overcame a three games to one deficit against the Pittsburgh Penguins. Therefore, both teams know that it's not over until that final fourth game is won and this series could be far from over tonight.
The Rangers have allowed at least three goals in the first three games of this series. If they plan on forcing a fifth game then tonight would be the best time to shut it down defensively and help Henrik Lundqvist by clearing the puck out of the zone effectively. Meanwhile the Kings won't need to change anything in their gamestyle aside from knowing that there will be a big push my the Rangers early on. The Kings overall are a well rounded team that can steal a game in one period alone having a big-time offensive outburst. Jonathan Quick has been average this year's playoffs but has made the big saves including two huge paddle saves in game three when called upon.
Will the hockey season end tonight with the re-crowning of the Kings or will the Rangers live on to fight another day? We'll soon find out tonight!
*****Disclosure of Material Connection: This is a "sponsored post." The company who sponsored it compensated HOHM via a cash payment, gift, or something else of value to write it. Regardless, HOHM only recommends products or services that we use personally and believe will be good for our readers. We are disclosing this in accordance with the Federal Trade Commission's 16 CFR, Part 255: "Guides Concerning the Use of Endorsements and Testimonials in Advertising."*****