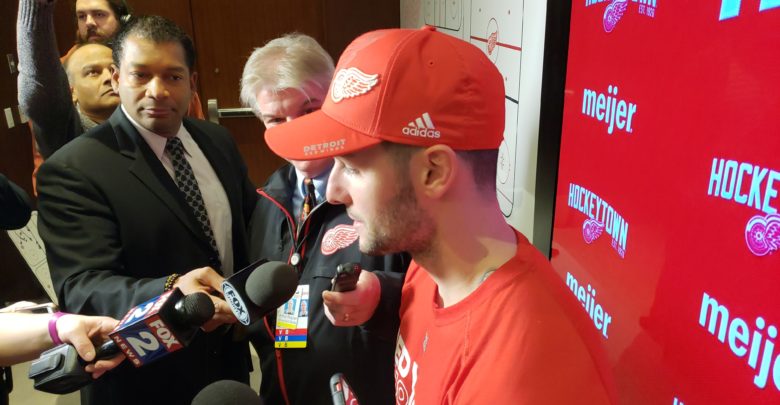 Detroit earned its second win of the season on Sunday night by a score of 4-2. It was the first win at home on the year through five games at Little Caesar's Arena, now in its sophomore year.
Anthony Mantha found the back of the net for only the second time in 11 games. He has underperformed through the first stretch of the season. Despite the team's performances of late, the expectations for Mantha's game are still very high, and the pressure has been on him to add to the team's offense. In the first period, he thought he had scored, but it was called back due to the puck being kicked in.
However, in the second period, his goal counted, as Gustav Nyquist fed him a perfect pass from the trapezoid behind netminder Ben Bishop. Dallas defenseman Esa Lindell attempted to play goalie as Bishop was out of position, but the shot found the twine. With the assist, Nyquist is now leading the team in points with 8.
Gemel Smith, older brother of Detroit prospect Givani Smith, ley the scoring with a goal for Dallas in the first period, assisted by Lindell and John Klingberg.
Later, Detroit would take the lead on goals by Tyler Bertuzzi and Jonathan Ericsson.
Bishop was the victim of an unfortunate puck bounce off the boards. Anticipating the puck wrapping behind the net, it instead angled toward the crease, where the awaiting Bertuzzi was quick to pot the easy backhand goal in the empty net.
Ericsson's goal was a long wrist shot which hit the right shoulder of Bishop before entering the net. Mantha provided a very useful screen in front.
In a late push, Radek Faksa made it 3-2 from Klingberg and Tyler Seguin with 37 seconds remaining. However, Justin Abdelkader added an empty-netter with 24 seconds to play. Trevor Daley and Dylan Larkin assisted.
The Stars led in shots the entire game, and Wings goalie Jonathan Bernier redeemed himself from his last few games. He wasn't tested too much, but was solid on the night.
Detroit is back on the road to face Columbus on Tuesday before returning home for a four-game home-stand.
Follow me on Twitter @KevinSporkaHOHM