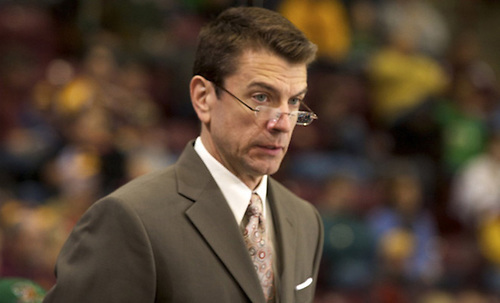 The Umass Minutemen's hockey program will look for a new leader behind the bench after another disappointing season going 8-24-4 in the 2015-16 NCAA college hockey season. It was announced Sunday that head coach John Micheletto was relieved of his duties. Micheletto's resume spoke for itself of the firing, compiling a 39-88-13 overall record in 4 seasons with the team.
A few key injuries on the rosters over the seasons did factor into such a poor record but it wasn't enough to excuse this season's great start and awful second half performance.
"On behalf of UMass Athletics, we thank John for his four years in Amherst," Massachusetts director of athletics Ryan Bamford said in a statement. "John worked hard to improve our hockey program and we wish him well with his future endeavors. Our expectation is to be a top contender every year in Hockey East, the premiere collegiate hockey conference. We will work aggressively to recruit a head coach to our hockey program that can realize those expectations.
The Minutemen have finished last or second-to-last in the Hockey East standings in all four seasons under Micheletto. In-fact, UMass hasn't had a winning season since 2006-07 under coach Don "Toot" Cahoon during Jonathan Quick's great last season with the team.
There is already a national search to fill this position.
This is a school that has had very little excitement in nearly a decade for its hockey program. Here's to better hockey days ahead for the all the faithful UMA fans that have waited patiently for more to cheer about.