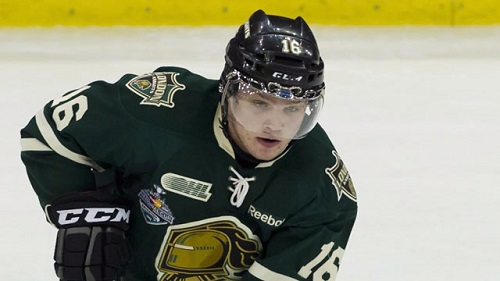 "With the 17th pick in the 2013 NHL entry draft, the Ottawa Senators proudly select, from the Ontario Hockey League"s London Knights – Max Domi."
Imagine that.
Senators fans, some NHL writers predict that Max Domi will be picked by the Ottawa Senators June 30 at the Prudential Center in New Jersey.
NHL.com's deputy managing editor Adam Kimelman and Mike Morreale both have the Sens taking Domi at 17. That should turn the heads of Sens fans. Why? He could bring some offence that the team could definitely use.
Domi's 2012-13 line is no-doubt impressive. In 64 games, he scored 39 goals and had 48 helpers for a total of 87 points. The 18-year-old was a +33.
"Excellent poise with puck and combined with very good awareness, he's capable of creating offensive chance," TSN scout Craig Button's report reads.
"Has a very good touch around net and a shot that can beat goalies from 25 to 30 feet."
That should get Senators fans licking their chops. Now, while Kimelman and Mike Morreale seem to take team needs into account, TSN's Bob McKenzie only ranks the 30 best prospects based on scout votes.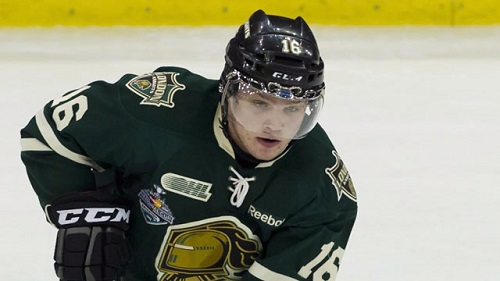 McKenzie had Tie Domi's son ranked at #10 which would technically see the Dallas Stars pick him up. A 10th-ranked player still available at 17? Perhaps it's too good to be true.
According to Button's mock draft, which takes team needs as well as player talent into account, Domi would be selected at 13 by the Winnipeg Jets and the Sens would pick 6-foot-5, 230-pound Nikita Zadorov from the London Knights 4 draft picks later.
Many people argue that the Senators should focus on getting offence in the draft while others, including Button, see Zadorov's shut-down abilities as a solid potential addition to Ottawa's blue line. The big 18-year-old defensemen could very well compliment Erik Karlsson's offensive barrage down the road.
So, a few potential outcomes of the first round of the draft with a focus on the Senators. However, once the 5th overall pick is made, the picks that follow tend to surprise many. Something tells me this year won't be any different.
And that's a good thing.