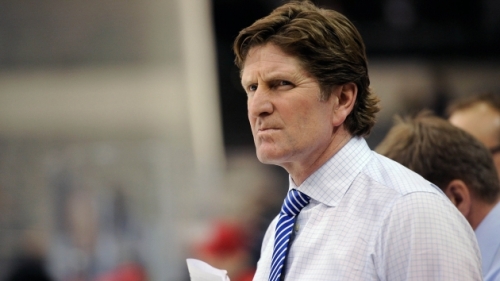 In an action-packed Saturday night contest between the Red Wings and Rangers, Detroit head coach Mike Babcock picked up his 500th career win, a milestone reached by only 18 other coaches in the long history of the National Hockey League. It ties him with Toe Blake and brings him only one win away from the late Pat Burns.
"The two points tonight means way more," said Babcock. "I thought that was a real gutty win. I mean, down 2-0, we weren't as competitive as we'd like to be, and we really battled our way back. Glenny's line and the penalty kill was outstanding. Helmer had as good a game maybe as he's had this year. We got to give credit to Howie. It doesn't always go the way you want as a goalie, and it hadn't gone the way he wanted in the first, but he just put up a wall of plywood there."
The game began with a four-minute power play for the home team, after Brendan Smith was the unfortunate recipient of a high-stick by Rangers forward Carl Hagelin which drew blood. However, Detroit was unable to accomplish anything with the extended man-advantage, as New York's penalty kill allowed them only one shot (they blocked all other attempts).
The outstanding penalty kill led to a momentum boost for the Blueshirts. Kevin Klein, a defensive defenseman that has uncharacteristically produced an impressive amount of points this season managed to score a goal from inside Jimmy Howard's crease.
Five minutes later, Rick Nash caught the Detroit defense out of position and was set up perfectly for an easy breakaway which led to a goal.
The Rangers looked pretty comfortable in the game's first half, but Detroit began to turn the game around in the final thirty minutes. Their strategy then was to just throw pucks on net and make sure their shots reached the New York netminder Cam Talbot, who was working on his third straight shutout.
That strategy paid off quickly, as Detroit scored twice within 61 seconds. First, Riley Sheahan made it 2-1 with some help from Stephen Weiss, who scored his 10th point in his eighth game this season. Next, Luke Glendening found the puck inches away from the goal line. All that was needed was a simple pool shot to tie the game.
Late in the second period, Howard robbed Rick Nash on the power play to keep the game tied in the second period's final seconds.
Darren Helm gave the Red Wings the lead in the third period. It was the 15th goal in 11 games for his line. Tomas Tatar found the speedy center just as he was crossing the opposition's blueline and Helm's momentum was not deterred.
A scary moment came a few minutes later. Detroit's penalty-kill specialist Drew Miller had an unfortunate run-in with the skate of Rangers defenseman Dan Girardi. The skate caught Miller near the knee, which he later said caused his leg to go numb, and forced him out of the game, temporarily as it turned out. After it was determined that the injury was not as serious as was thought, he was allowed to return right in time to kill off a long 5-on-3. In total, New York had a 5-on-3 for a combined 2:36 after Detroit was called for eight minutes worth of penalties, including a four-minute double-minor for high-sticking to defenseman Kyle Quincey.
"His skate came up. It almost like, I'll have to see the video but, got me in the kneecap, and the kneecap of my shin pad actually dented in and pushed against my actual kneecap, and I couldn't bend my leg," said Miller. "I think the combination of that and thinking I was cut, I just couldn't move. So it kind of freaked me out a little bit. Thankfully I didn't pull off the sock and see any blood, so I was able to come back."
When asked if he thought it might have been more severe of an injury, he said: "Yeah, I think because of how hard his skate actually hit me in my knee, I was definitely worried and thankfully it wasn't anything worse."
"At that time of the game you just got to dig in and get it done, and I think Howie, up to the 'D' and the forwards, everyone gave a great effort. 5-on-3s are big. They can kind of go either way, and it was big for us tonight."
Miller helped to secure his team's one-goal lead, and it allowed Detroit to hang on for the 3-2 victory.
"Millsie's one of the premier penalty killers in the league," said Stephen Weiss.
His penalty killing prowess was on full display on Saturday, and it was the reason that his team was able to come away with the win.
Detroit now moves into 2nd place in the Atlantic Division with a chance to tie the division leading Tampa Bay Lightning today. They will take on the Carolina Hurricanes at 5:00 ET this evening.
Follow me on Twitter @yungspork