Featured
Mike Green's First Career Hat Trick Powers Red Wings to First Win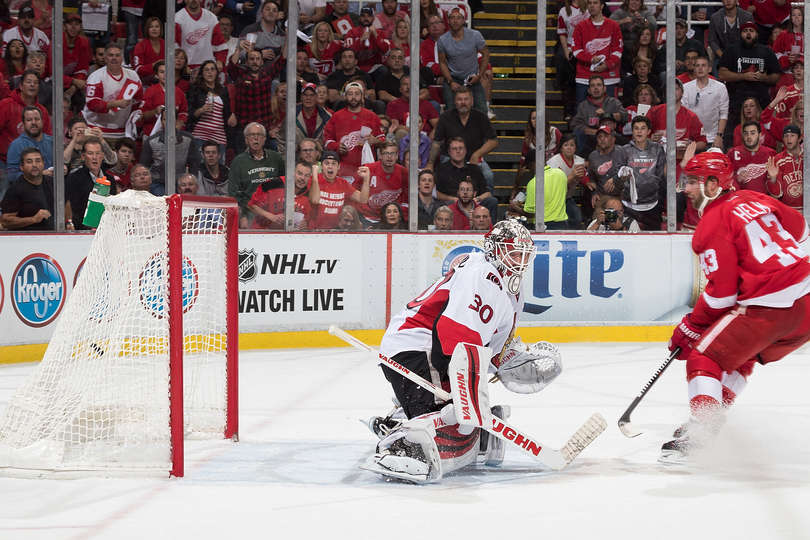 The Detroit Red Wings won their final home-opener at Joe Louis Arena on Monday night. They entered the night 0-2 having lost their first two games on the road.
Offensive defenseman Mike Green registered his first career hat trick as the Wings powered to a 5-1 win. The team and fans honored the late great Gordie Howe before the game, and the momentum carried throughout the game.
Green notches three
Mike Green once scored 31 goals in the 2008-09 campaign. However, last year his goal, assist, and point totals were his lowest since his first full season in the NHL. He currently has five points in three games.
His first goal came at 11:43 of the first period, as Thomas Vanek stole the puck in the corner and then fed the puck into the high slot where Green fired a rising wrist shot top shelf on Senators goalie Andrew Hammond.
"I think Greener's played well, all the way through the pre-season, even the games down in Florida (Lightning, Panthers)," said coach Jeff Blashill. "For the most part I thought he's played well. I thought he's played the way he's got to play to be successful. He's attacked the game. He's been shooting; I think he's had a real good shot-first mentality. I think he's coming into this year much more comfortable."
Before the first period concluded, he scored again, this time on the power play. Forward Tomas Tatar saucered a pass over the stick of Senators forward Tom Pyatt, of which Green one-timed from the point.
His third and final goal came on a wrist shot through traffic. Three players were in front of Hammond, and somehow the puck found its way to the net without being deflected.
Helm scores two
Darren Helm followed Green's first goal with a breakaway goal set up from a cross-ice pass from captain Henrik Zetterberg. Helm finished the play with a low shot. The forward now has four points (three goals).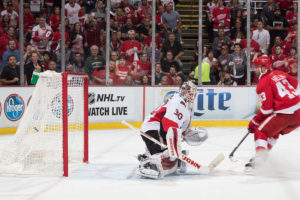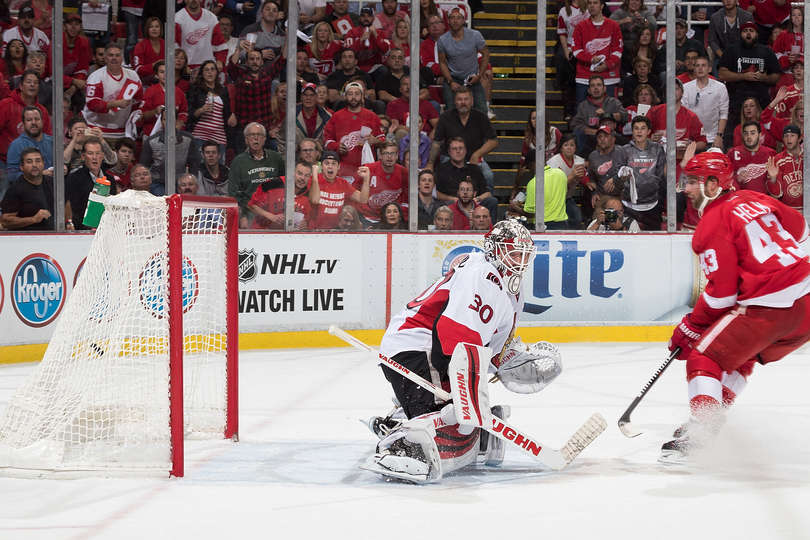 It's a good start for Helm, who signed a five-year contract on July 1.
"Each guy brings a little bit something else [to the line]," said Thomas Vanek. "Helmer's good on faceoffs. He works hard. Obviously we saw tonight he can shoot the puck as well. And then I think Nike (Gustav Nyquist) and I can make plays from our off-sides. So far I think it's working good."
Vanek impresses through three games
Thomas Vanek, a question mark coming into the season, has now scored five points in his first three games as a Red Wing. On opening night he potted two goals in a losing effort, and on Monday he assisted on three of his team's five goals.
"I think, that line's been great," said Blashill. "Game in and game out they've been our best line. Even in the pre-season, the last game against Toronto, I thought they real good. Vanek is real strong on the puck. He's won a lot of puck battles. If he does that, he's going to be real successful. And then Helm's got tons of energy on that line. And Nike's been real good as well, so it's been a good line."
His work effort has come under criticism in recent years, and his production has declined as well. This led to his most recent team, the Minnesota Wild, buying him out, allowing Detroit to offer a one-year deal to the former 40-goal scorer.
In the early stages of the season, he has already begun to take advantage of his unique opportunity to extend his career beyond this season.
"I've known Thomas Vanek since he played for Sioux Falls in the USHL," said Blashill. "I wanted Thomas Vanek on this team. He brings an elite offensive ability that's hard to get when you don't draft high. And I listened to a lot of people that I know real well that said he's got a great heart and wants to win. And that's all he's shown me. He's worked hard. He's pushed hard…He wins puck battles. He's real strong on the puck, and I've been real happy with his effort so far.
Fights aplenty
It was a physical game for both teams. Detroit defenseman Jonathan Ericsson and Ottawa defenseman Dion Phaneuf wasted no time dropping the gloves just past the five-minute mark of the game, with Ericsson earning the win.
Midway through the third period, Justin Abdelkader and Chris Neil fought as well, with Neil getting a more decisive win.
Detroit now has four total fighting majors, leading the league. 14 teams have not had a fight as of yet. However, don't expect the Wings to finish the season atop this leaderboard.
Last season, they finished with eight fights.
—
Ottawa winger Ryan Dzingel scored shorthanded in the second period, as his attempted pass to teammate Kyle Turris was redirected past Wings netminder Petr Mrazek off the stick of Detroit's Riley Sheahan.
A Look Ahead
Detroit has three more games this week:
Wednesday in New York (Rangers) – 8:00
Friday in Detroit vs. Nashville – 7:30
Saturday in Detroit vs. San Jose – 7:00
Follow me on Twitter @KevinSporkaHOHM
Love Reading About Hockey?

Subscribe to keep up-to-date with the latest and most interesting hockey news!
| | |
| --- | --- |
| | We hate spam just as much as you |