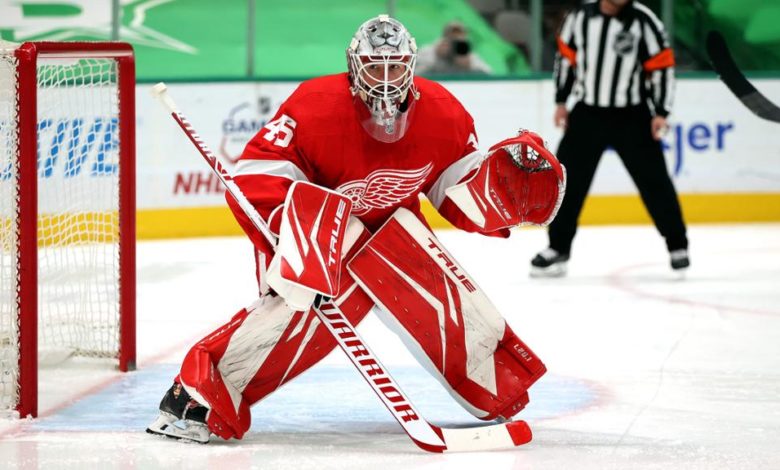 The New Jersey Devils sign Jonathan Bernier to a 2-year, $8.25M deal with a $4.125M AAV.
https://twitter.com/FriedgeHNIC/status/1420426211386396672
A first-round pick (No. 11) of the Los Angeles Kings in the 2006 NHL Draft, Bernier, at 19 years old, became the second-youngest goalie, and 11th-youngest player, to play for the Kings when he started their season-opener in London on Sept. 29, 2007. Bernier made 26 saves in a 4-1 victory against the Anaheim Ducks, becoming the youngest Kings goalie to win his NHL debut.
Returned to Lewiston of the Quebec Major Junior Hockey League after four games, Bernier didn't get another call-up until March 12, 2010, when he made 29 saves to help the Kings to a 2-1 shootout win against the Dallas Stars. He earned his first NHL shutout in his next game with 34 saves in a 2-0 victory against the Nashville Predators on March 30, 2010.
Bernier, who finished the 2009-10 season 3-0-0 in three starts, made the Kings roster out of training camp to begin the 2010-11 season. Still a rookie, he played 25 games (22 starts) as Jonathan Quick's backup. Among first-year goalies, Bernier finished tied for third with three shutouts, and his 2.48 goals-against average ranked seventh among rookies who played at least 10 games.
Bernier won the Stanley Cup with the Kings in 2012, though he did not play during the Stanley Cup Playoffs. He saw his first postseason action the following spring with a nine-save performance in relief of Quick in Game 2 of the 2013 Western Conference Final against the Chicago Blackhawks.
A trade to the Toronto Maple Leafs on June 23, 2013 gave Bernier his first real shot at being a starting goalie in the NHL, and he ran with it. He made 31 saves to win his Maple Leafs debut against the Philadelphia Flyers on Oct. 2, 2013. A 36-save effort at Nashville eight days later gave Bernier his first shutout with his new team.
Bernier finished 26-19-7 in 55 games (49 starts) in 2013-14 but slipped to 21-28-7 in 58 games (55 starts) in 2014-15. A difficult 2015-16 season saw Bernier lose his grip on the starting job, although he still led Toronto with 12 wins and three shutouts.
The Maple Leafs traded Bernier to the Ducks on July 8, 2016, and he went 21-7-4 with a 2.50 GAA and .915 save percentage in 39 games (33 starts). The Colorado Avalanche signed him as a free agent July 1, 2017, and he went 19-13-3 to help Colorado qualify for playoffs one season after finishing last in the NHL.
Bernier became a free agent again and signed a three-year contract with the Detroit Red Wings on July 1, 2018. In a 4-2 win against the Boston Bruins at Little Caesars Arena on Nov. 8, 2019, Bernier had two assists to become the first Detroit goalie to do so since Jim Rutherford on Feb. 18, 1979.