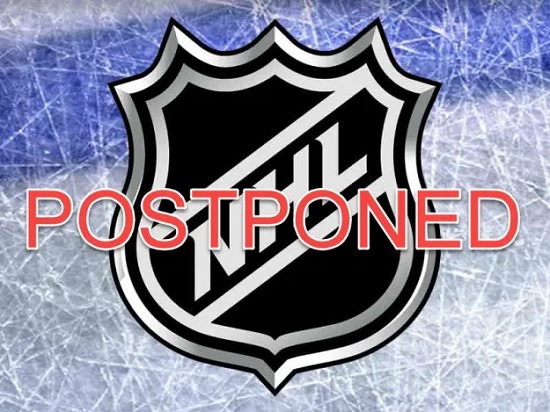 On Thursday morning, Islanders coach Barry Trotz said his players were discussing the possibility of boycotting their game, scheduled for 7 p.m. ET, though he predicted they ultimately would decide to play.
"I know our team is having that discussion," Trotz said. "I think we're a pretty mature group. I'm trusting that group and the leadership of guys like [captain] Anders [Lee], and they're excellent in that way. They understand the importance of the playoffs, but they also understand where the world is right now.
"What happened yesterday, we weren't really informed what was happening. We were playing when all this happened. As you get to digest it, I think what happened last night is a great statement for athletes. They have a great platform and get to use it."
Trotz's counterpart, Flyers coach Alain Vigneault, said he has been so focused on the series that he was unaware of the protests going on in other sports leagues on Wednesday.
"I really have no idea what's going on in the outside world," Vigneault said Thursday morning. "We're in this bubble right now. I'm invested 24/7 on our team, working 20 hours a day going through video and preparing our group."
Jacob Blake, a Black man, was shot seven times by police Sunday in Kenosha, Wisconsin, as he attempted to enter the driver's side door of his vehicle. Video of the shooting was distributed on social media, sparking more protests and causing more athletes to speak out or take action.
Games in the NBA, Major League Baseball, MLS and the WNBA were postponed Wednesday night in protest over racial injustice. The NHL, however, completed its full slate of three playoff games, including the Philadelphia Flyers' 4-3 victory over the New York Islanders. Those two teams are scheduled to meet again Thursday night.
Evander Kane, a member of the Hockey Diversity Alliance (HDA) spoke out yesterday disappointed at the NHL being slow to respond and followed up earlier today with another statement:
We the @TheOfficialHDA have formally requested the @NHL to suspend all playoff games today. We strongly feel this sends a clear message that human rights take priority over sports.

— Evander Kane (@evanderkane_9) August 27, 2020
However, the NHL and NHL Players' Association (NHLPA) have been in communication over the past 24 hours, but the league would not initiate a stoppage unless there was a strong push from the players' side. That's exactly what we have seen occur in the last hour as word spread that more than 100 players have expressed they would like to join in and have games be postponed tonight.
Players and teams involved are acknowledging there won't be games tonight, however, it's up to the NHL and NHLPA to formally postpone.

— Darren Dreger (@DarrenDreger) August 27, 2020
UPDATED (3:20pm)
Now official NHL sources have been released that there will be no games tonight in solidarity of all other leagues postponing games as well as a ruling for no games Friday. Two nights postponed in games is to signify all 8 NHL teams not playing for the cause.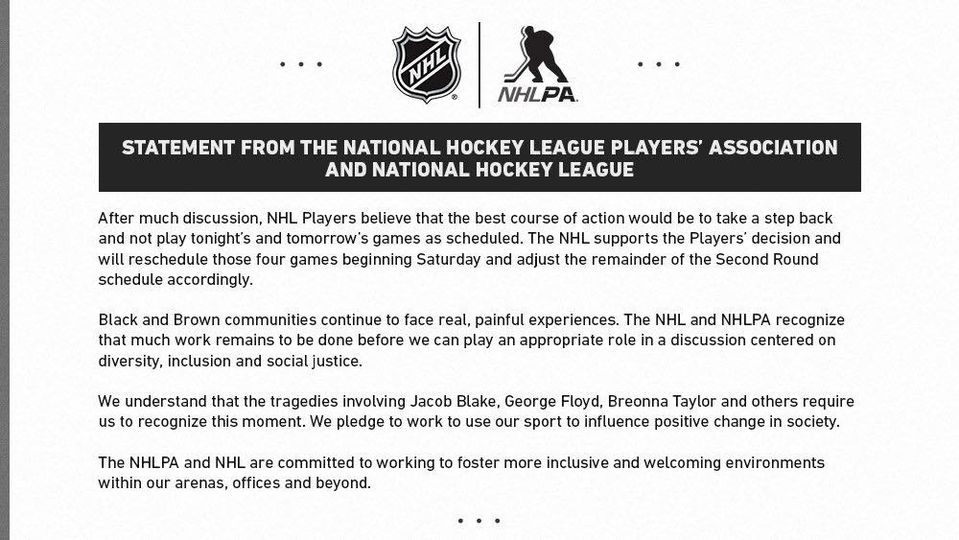 Love Reading About Hockey?

Subscribe to keep up-to-date with the latest and most interesting hockey news!
| | |
| --- | --- |
| | We hate spam just as much as you |