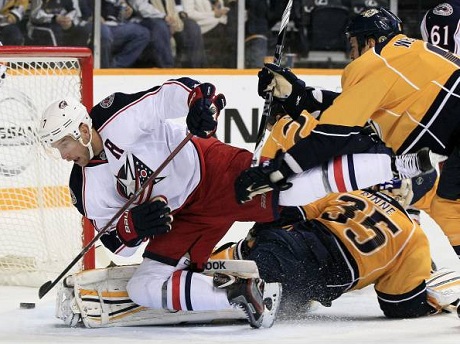 Hands down this is the NHL Game of the Year for the first half of the 2011-2012 Season. The Bluejackets lead 4-1, and 5-2 at two separate points in the game but the Nashville Predators never gave up and fought their way back in stunning fashion.
Notable Game Stats:
The Blue Jackets scored 4 times on the Power Play (3 of them came in their first 4 tries all in the 1st Period)
The Predators scored twice on a Delayed Penalty Call (They also scored twice on the Power Play)
The Blue Jackets blew two 3 goal leads (4-1 and 5-2)
Jeff Carter had a Natural Hat trick in the First Period for the Blue Jackets (Unfortunately that wasn't enough to get the W)
Martin Erat scores a beautiful breakaway goal with 8.4 seconds left in the game to put the Predators up 6-5 and complete the comeback!
But don't take my word for it, you be the judge and check out the highlights here: