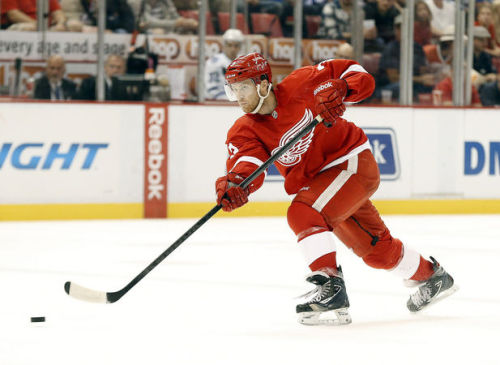 Defenseman Nick Jensen scored the game-winning goal in a 3-0 shutout against Atlantic division rivals the Toronto Maple Leafs. The goal came shortly after Jensen drew a tripping penalty midway through the second period. He got revenge very quickly when his slap shot from the point deflected off a Maple Leafs player and past netminder James Reimer.
"I drew the penalty, got a little tripped up in my skates," said Jensen. "Coaches are always telling me, you know, move your feet, because that's my best asset, so I did that and actually drew a penalty. I got the chance on the power play. [Andrej] Nestrasil made just a great pass to me and I just wind it up, couldn't have made it any easier for me, and you got a lucky bounce with a tip in front and goes into the net. So it was pretty exciting."

Detroit defenseman Nick Jensen slaps a shot on net during the second period of Monday night's game against Toronto. (AP Photo)
Knowing that he won't be able to make the team out of training camp, he is very grateful for the opportunity to play in these preseason games. During last year's camp, he was unable to participate after he was injured in a fight with fellow Red Wings prospect Tyler Bertuzzi during a scrimmage in the Prospect Development Camp.
"It's an extraordinary opportunity," said Jensen. "I mean, this is my first real training camp. I was here last year, but I was hurt, so I didn't get any preseason games. And finally getting them in, there's a little nervous edge but there's a lot of excitement being able to go out here, be in this locker room, this historic arena, and everyone that's played here. It's an opportunity that you don't get very often. It's nice that I've gotten to take advantage of it so far."
He will go back to Detroit's American Hockey League affiliate Grand Rapids Griffins where he was only able to play in half of the team's games last year. I asked him what he hopes to take from this training camp going into his upcoming season.
"Try to keep making myself more NHL-ready," he said. "Doing what all the coaches up here are telling me to do I've just got to take it all in and work at the things they're telling me to work on. Obviously, a lot of that stuff is puck control and great D-zone breakouts, being solid in the defensive zone, and then the offense kind of takes care of itself."
—
Detroit goalie Petr Mrazek was outstanding in the contest, stopping all 27 shots he faced. The Red Wings committed nine penalties, and spent much of the night killing them off. Of those important penalty killers was forward Mitch Callahan, who, once again, made his presence known to his opponents. In Grand Rapids, he is used to playing when his team is down a man.
No penalty kill was more important than when Tomas Nosek delivered a hard hit from behind on Stuart Percy. He was awarded a major penalty and a game misconduct. Shortly after, Callahan found himself in the box unfairly after his attempt to clear the puck out of the zone deflected off the leg of Joffrey Lupul. Luckily for Detroit, Toronto's full two-minute 5-on-3 advantage was thwarted by a pair of game-saving stops by Mrazek.
Late in the third period, defenseman Ryan Sproul fired a shot from the point on the power play that was tipped by Riley Sheahan. After making the initial save, Reimer failed to contain the rebound, and Sheahan easily slid the puck into the net. Tomas Jurco would also add an empty-netter as the clock wound down.
—
Callahan, who delivered a strong hit on Boston Bruins defenseman Zdeno Chara on Saturday night, also tried to get under the skin of tough Maple Leafs defenseman Roman Polak on Monday. The two exchanged words as well as shoves in the second period.
I asked him what was said in the exchange. "I don't think it was a whole lot of words being said," responded Callahan. "I think it was more of one guy pushing the other guy. I think we were both trying to get each other to take the extra [penalty], but he's a little smarter than that. He's a tough guy, so I don't think I want to poke that bear too many times before he snaps. It's more just kind of get under his skin, but he's a little smart for that."
He also expanded on his encounter with Chara on Saturday.
"I just went to bump him and he thought I was going after his knees, but he's so tall that, I didn't mean to, but I did. He just got me in a headlock and I started pushing him, and he ripped my helmet off. So I pushed him again and he fell down. He was saying some words to me throughout the game, and I couldn't help but smile."
So what went through his mind after he provoked the 6-9 giant? "Just keep my head up for the rest of the game (laughs). As soon as I threw him down, I had a feeling that the refs were probably going to give us both the penalty for that, but since he let it go I think that's what really fired him up more to want to go after me all game. But it's preseason. I don't think he's trying to fight anybody or do any of that, but that's where I need to show my game."
There is no doubt that Mitch will be a crowd favorite if he makes this team. Just one look at his missing teeth lets his opponents know he isn't messing around.
—
With the win, Detroit moves to 3-1-1 in the preseason with three games remaining. Their remaining schedule includes the Pittsburgh Penguins (in Detroit) on Wednesday, Toronto again (in Toronto) on Friday, and Boston again (in Boston) on Saturday.
Follow me on Twitter @yungspork