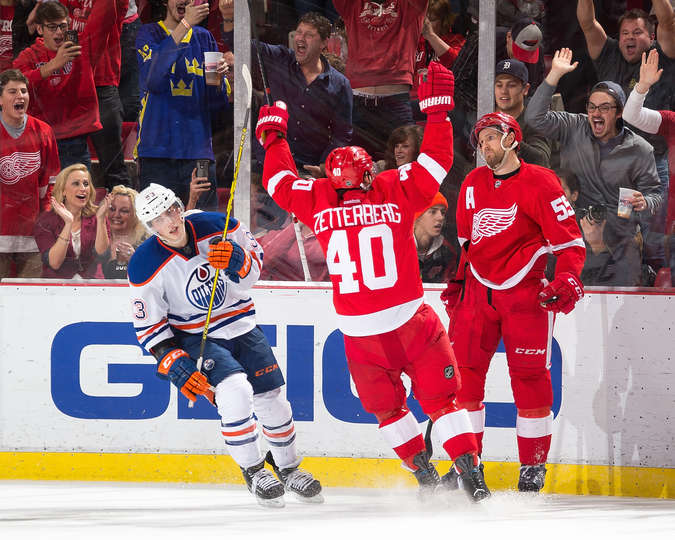 The Red Wings and Edmonton Oilers faced off in a Black Friday showdown. The Oilers are without number one draft pick Connor McDavid until late January, but the team still has offensive star power.
Detroit came into the night only winning five of twelve games at home, and the team is in the midst of a long home stand before the road-heavy month of January begins.
6:58 into the game a pair of 55s collided. The recipient of a Kronwall hit was Mark Letestu, who had his head down along the boards. The veteran blueliner connected with a clean shoulder-to-shoulder hit, avoiding any contact with the head. But his Oilers teammates took exception nonetheless, with Matt Hendricks stepping in to confront him. A large scrum ensued, but Kronwall was not penalized.
"I just think big physical hits like that, they're lifts for sure, but they're also, I think it makes the other team be cautious coming out of their end a little bit," said coach Jeff Blashill. "They got to have their head up a little bit more and it has impacts that way for sure."
"Yeah that was a big hit," said Nyquist. "It was a great hit. You know obviously gave us a lot of energy. I thought we played great in the first, again in the second. I thought we started taking the foot off the gas a little bit, a little too many turnovers, kind of let them in the game again. But other than that, I think overall the last four games have been pretty good I thought."
"Everything just goes so fast but you see a guy with his head down, you're just trying to separate him from the puck," said Kronwall.
The Wings limited the Oilers to only four shots in the first period (nine for Detroit) in a scoreless twenty minutes, but the second period would see a lot more action take place. The teams combined for 27 shots in the middle frame (16-11 in favor of Detroit).
"It was quiet early," said Jimmy Howard. "We did a great job in the first period of just playing in their end. When you do that, it's tough for teams to get scoring chances on you, so I thought we did a great job again tonight. It was a great effort and we deserved the two points."
Gustav Nyquist led the charge as he found the puck in the crease following a Mike Green wrist shot. He poked the puck in for the first goal of the game.
Seven minutes later, linemate Tomas Tatar fired in a rising wrist shot past netminder Cam Talbot far side over the blocker. Nyquist also assisted on the tally.
Finnish forward Iiro Pakarinen would put Edmonton on the board shortly after with his second goal of the season and third in his career. Anton Lander retrieved the puck from behind the net and proceeded to one-time a quick snap shot past Jimmy Howard.
They would then tie it on their next power play opportunity. While three Red Wings were behind Howard, defenseman Andrej Sekera was ready and waiting in the high slot. When the pass from Mark Letestu came, he made no mistake firing it home.
Fortunately for Detroit, this change in momentum would not be carried into the final stanza. The duo of Zetterberg and Larkin led a final charge before time expired in the period. Zetterberg fed a perfect forward pass on the backhand as only he can do. The puck found Larkin's stick, and he deked on the forehand before scoring on the backhand.
Near the midway point of the third, Pakarinen scored his second of the night. Darren Helm attempted a deke to exit the zone with the puck, but Pakarinen stole it and fired a shot between the glove and pad of Howard.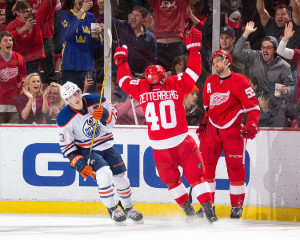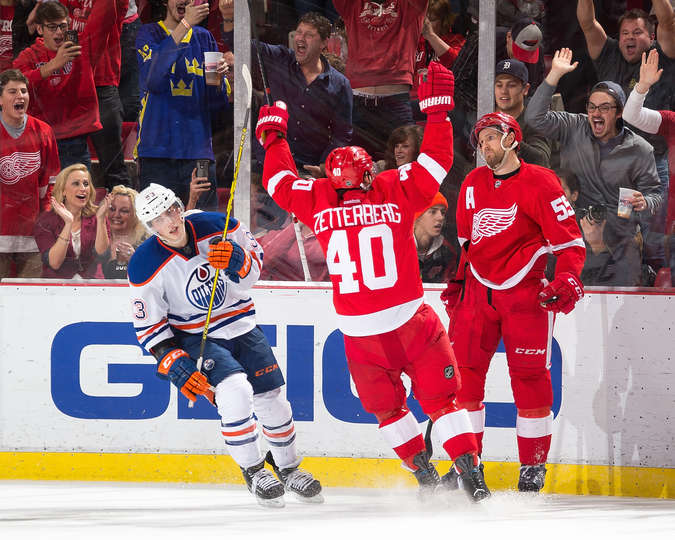 At this point, Detroit had outplayed their opponent, but due to a handful of defensive miscues, the scoresheet said otherwise.
As one of only two Eastern Conference teams to have avoided the shootout thus far, they hoped to keep it that way on Friday.
And that they did, as the first shot of the extra period would be the decider.
After a misplay by Kronwall in the first ten seconds, Ryan Nugent-Hopkins had a prime scoring chance. But he couldn't control the bouncing puck, and the game went on.
Larkin retrieved the puck and raced down ice with Kronwall. He patiently waited for the right moment to make the pass. Kronwall then shot a well-placed wrister through the legs of the defenseman Klefbom. Talbot was sliding to the left, so Kronwall picked the opposite corner.
"[Larkin] made a real nice play, held on to it, held on to it and made a nice pass over and I just tried to put it on net and luckily it went in," said Kronwall.
He's (Larkin) obviously a great player," said Nyquist. "I think they complement each other real well on that line. Z makes those plays, Larkin's speed and then Abby's physical presence. They make a pretty good line."
Detroit has gone to overtime eight times this season, and five of the last six games. Overall, they have gone 5-3, a far better record than they have had in shootouts in recent years.
"I kind of like it," said Howard. "I'm probably one of the few goalies that have said that so far this year, but I kind of like it. I think it's fun. It's 'on-the-edge-of-your-seat hockey.'"
The Wings' puck possession play has been much better of late, and it has allowed them to control games.
"I thought the first 35 minutes or so we did a lot of good things," said Kronwall. "We kept shooting the puck, got some opportunities, had a lot of zone time. We've got to find a way to score a few more goals there. I thought we had some opportunities, but then they got the momentum going and we got too much on our heels. All-in-all we dug deep and found a way to get two points."
The extended home stand continues Sunday, when the Panthers arrive for a 2:00 matinee matchup. It is the first of four games next week.
Follow me on Twitter @KevinSporkaHOHM
Love Reading About Hockey?

Subscribe to keep up-to-date with the latest and most interesting hockey news!
| | |
| --- | --- |
| | We hate spam just as much as you |