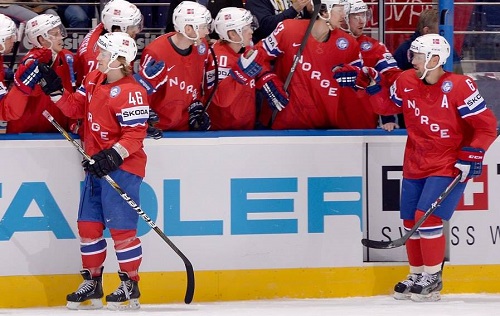 After finding themselves down early by two goals against Denmark, Norway hung-on tight to rally back and take the game 4-3. It may have been just what Norway truly needed by finding themselves in an early deficit as the team showed sparks of confidence greater than that in their display during the 2014 Olympics in Sochi. Denmark however was not thrilled giving the game away and missing out on picking up much needed points after being blanked by Sweden the previous day.
The true culprit was Denmark's undisciplined play that lead to key power-plays on which Norway capitalized. One of the biggest of course being the game-winning goal in the third period scored by Mats Trygg. Norwegian coach Roy Johansen considered pulling his starting netminder, Lars Haugen, but stuck with him and ultimately had it pay off. On the bright side for Denmark was that despite being out-shot 27-18, they managed to put three goals up just on those 18 shots alone.
With the victory Norway remains perfect in the 2014 World Championship picking up six points. Denmark, which is still winless after a valiant effort against Norway, will have to look ahead and put this rough loss behind them. It's not going to be easy but if there's one thing we've seen so far only three days into this tournament is that upsets do happen. In-fact there has been an upset each of the three days thus far and nothing is set in stone until that final horn goes off.