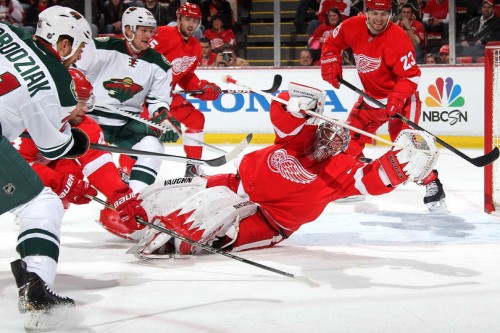 The Detroit Red Wings managed just 16 shots on net Sunday night in a 4-3 overtime loss to the Minnesota Wild, the team they beat on the road the previous afternoon. Coming into the night, the Wings had won four of their previous five, including tough matchups against the Toronto Maple Leafs, Pittsburgh Penguins, and of course Minnesota.
Despite being outshot 12-6 in the first period, Detroit, or should I say, Gustav Nyquist, managed to make it 2-0. The first goal came on the power play with some help from defenseman Niklas Kronwall and the other man on the point, veteran forward Daniel Alfredsson. His second goal was the result of a perfect breakaway pass from linemate Tomas Tatar that gave him all the time in the world to put it past the diving Wild netminder Ilya Bryzgalov's glove.
"Tats made a good play, blocked a shot, and it got stuck in his pants," said Nyquist. "He was able to find it in his skates, and chipped it out for me. I was all alone and tried to make a move, and it was nice to see it go in."
Just past the midway point of the second period, Minnesota forward and leading scorer Jason Pominville scored a power play goal just ten seconds into Kyle Quincey's interference penalty. 4:33 into the third period, Charlie Coyle, who was recently bumped up to the second line (with Matt Moulson and Mikko Koivu) tied the game with both linemates assisting.
Fewer than two minutes later, Zach Parise would give his team the lead on the Wild's third unanswered goal.
Tatar would score a goal for himself at 11:43 of the third, which would bring the game to overtime.
Moulson would win the game for the Wild just 2:15 into the extra period, but Detroit had earned a much needed point in the standings. With the OT loss, their point total increased to 80, which pulls them even with the Maple Leafs.
Detroit currently has two game-in-hand on Toronto and also possess the tie-breaker of regulation-plus-overtime wins (28-27).
"The way we played, I think we're happy with a point [in the standings]," said Nyquist. "I don't think we were desperate enough today. I thought they were on us pretty much all game. Howie (Jimmy Howard) was huge, played great in net, bailed us out a lot of times, and we weren't good enough."
Jimmy Howard didn't like what he saw from his team, and he didn't mince words in the locker room. "I don't think we really played well at all tonight," Howard said. "We were very fortunate to be up 2-0 after the first on a couple of great goals by Gus (Nyquist). It could have been a different game if it hits the post and goes in for Alfie (Daniel Alfredsson; referencing his wrist shot that rung off the left post late in the contest)."
"That point's huge. It moves us up here with Toronto. We just have to keep pushing forward."
For Nyquist, he extended his goal streak to five games (seven goals, one assist). He has 18 goals and 30 points since January 18th.
"He's been doing great," said Howard. "He's pretty much carrying the mail for us here. He's hot. He's been hot since January and we're gonna continue to need him."
That's no understatement either, especially with just 11 games remaining in the regular season for Detroit.
The Red Wings are set to take on the Columbus Blue Jackets on the road Tuesday night at 7:30 ET (NBCSN).
Follow me on Twitter @yungspork