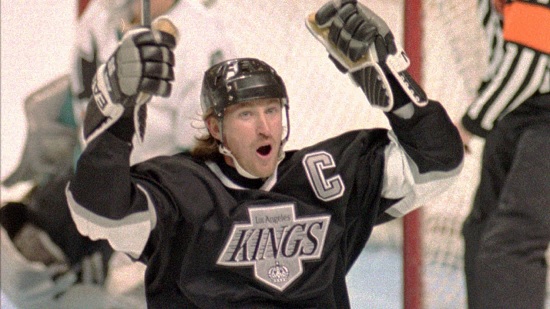 On October 26, 1990, Wayne Gretzky became the first player in NHL history to score 2,000 points when he assisted on Tomas Sandstrom's goal against the Winnipeg Jets.
In 1990-91, Gretzky led the NHL in scoring with 163 points in 78 games and won his ninth Art Ross Trophy in 12 seasons.
This was only Gretzky's 857th career NHL game and he was just 29 years old when setting this astonishing record. Perhaps the more incredible thing was he scored exactly 857 more points after this game; Coincidence?
Wayne Gretzky holds or shares 61 records listed in the League's Official Guide and Record Book: 40 for the regular season, 15 for the Stanley Cup playoff and 6 for the All-Star Game.
Gretzky finished a remarkable career recording a total of 2,856 points (894 goals, 1,962 assists) in 1,485 career NHL games. If not for health issues in the early 90s that included a herniated disk, then it would have been very likely the Great One would have tallied over 3,000 total points.
Still, what Gretzky did accomplish is hard to ever overlook and to this day amazes both hockey fans and players of all ages.
Do you think it's possible another player reaches the 2,000 point mark?
Love Reading About Hockey?

Subscribe to keep up-to-date with the latest and most interesting hockey news!
| | |
| --- | --- |
| | We hate spam just as much as you |