Buffalo Sabres
Featured
On this day in 2018, Jeff Skinner was traded to the Buffalo Sabres (Here's how that trade worked out….)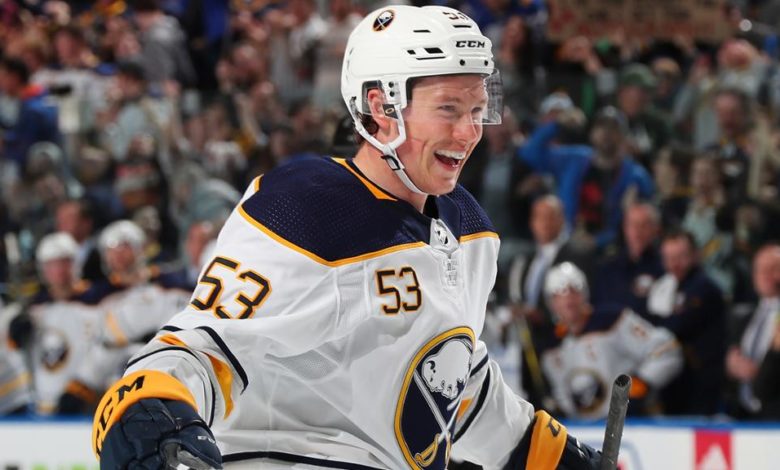 The Buffalo Sabres acquired veteran forward Jeff Skinner from the Carolina Hurricanes 3 years ago today (August 2, 2018).
The Sabres' revealed the Hurricanes received 20-year-old forward Cliff Pu, a 2019 second-round draft pick and third- and sixth-rounders in the 2020 draft in return.
Skinner had spent his entire NHL career up to that point with the franchise, which selected him in the first round of the 2010 draft. The 26-year-old then, finished with 24 goals and 25 assists that past season, and he was fifth all-time in team history in goals (204) and seventh in points (379).
So how has he done since coming over to play with the Sabres?
Well the trade surely looked like a huge win for the Sabres in year one. In the 2018-19 NHL Season, Skinner scored a team leading 40 goals along with 23 assists while playing in all 82 games.
However the following season in 2019-20 while only playing 59 games due to the pandemic, Skinner finished with 14 goals and 9 assists with a -22 rating.
Finally this past year for the 2020-21 season, Skinner only scored 7 goals and added 7 assists in 53 games played of the 56 (shortened season).
It's clear that the Sabres only got one spectacular year out of him and this deal added more value to the Canes down the road than for Buffalo.
What else is new for the Sabres?
Oh that's right their captain Jack Eichel wants out of there too in-case you haven't heard.….