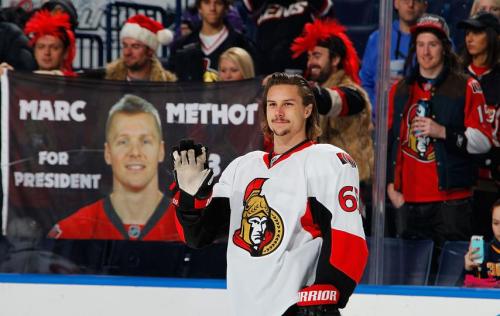 The Ottawa Senators came off what most would consider to be a successful playoff run with a team of misfits in 2013. Nearly manhandling a competitive Montreal Canadiens team was a feat in itself.
The season after? Disarray in the defensive zone from puck drop on Oct. 4th of last year. Sure, they had arguably one of the hardest schedules to begin the season. Six-straight games on the road, four of which game against western conference contenders. They completed that string with a slightly mediocre 2-2-2.
And that continued. The team couldn't win two games in a row until Nov. 7th, when they ironically beat the Canadiens in the first rematch of a hard-hitting, lopsided eastern conference quarter-final. Though Ottawa crawled over the 82-game finish line with a winning record (37-31-14), they were 6 points out of a wild card. Lockers were cleaned out in frustration. Fresh off being named coach of the year the season prior, it was made public that Paul MacLean's leash was being considerably shortened. Things continued to get worse.
At least it seemed that way. Jason Spezza left town on draft day with a hankering to win, a short-term desire he reportedly thought wouldn't be quenched in the nation's capital. In return, general manager Bryan Murray picked up recently-turned 24-year-old Alex Chiasson (happy belated, Mr. Chiasson) and a couple of fairly promising prospects in Alex Guptill and Nick Paul.
Soon after, veteran David Legwand joined them, adding valuable playoff experience to a newly inexperienced line-up. Yet, as many as six members of the team's core were heading in the direction of unrestricted free agency with no extensions in sight at that point.
Then, the worst possible news.
Three days after Legwand signed a two-year deal with the Senators, the team announced their general manager Bryan Murray had been diagnosed with cancer. The hockey community of fans and media paid their respects and wished Mr. Murray the best in the battle he was about to fight, something we'll continue to do until he wins.
Sens GM Bryan Murray diagnosed with cancer. The battle begins. He is one of the toughest guys I've ever met. My money is on Bryan.

— Dean Brown (@PxPOttawa) July 7, 2014
We took a break from criticism and rallied around Bryan and the team. Maybe that's just what they needed, because soon after, things started to happen.
One by one, Milan Michalek, Craig Anderson and Clarke MacArthur re-signed, restoring a fraction of fan confidence that had been scraped away in the months that preceded. Three down, two to go.
The problem was that it was the team's biggest two in Bobby Ryan and Marc Methot, and talks seemed to be going south. Ryan even asked that the season play out a bit before he made a decision. He wanted an increased role within the team, and time was beginning to run thin.
"If you're going to hitch your wagon to a team for seven years, it's okay to take some time to decide if it's what you want to do or not," he told reporters in mid-September.
It took until the tail end of training camp but the team managed to extend the sniper for the media-debated, 7-year deal worth north of $50 million. Several deals consisting of terms ranging from two to seven years were offered, leading some to think that front office was doing everything in their power to keep a star player who, perhaps, did not see his future in Ottawa. But according to the 27-year-old, it wasn't like that.
"It was July fifth last year when we were traded here and immediately embraced by the city," he said following Eugene Melnyk's first announcement Thursday. "We felt that we had found the place where we could build a family, start a family, call home and everything we have experienced here in the last year has hinted at nothing other than that. We came to this decision, it was fairly easy."
Did I mention the team didn't have a captain at this point? Well, the anxiety around that was erased when Bobby Ryan finished his press conference address with "we'll turn it over to the more important stuff", and winked at teammate Erik Karlsson. The all-star defenceman was named the ninth captain of the team moments later.
I feel very excited and honored to be named captain today. Many good years to come. Thanks for all the support, fans family & friends

— Erik Karlsson (@ErikKarlsson65) October 2, 2014
It was also reported that a new offer was extended to Marc Methot, which, according to the Ottawa Sun's Bruce Garrioch, reaches four years at $4.6 million AAV. Unfortunately, that dollar value is a long way off Methot's original asking price of $5.5 million AAV. Though he and agent Larry Kelly have since conceited in dollar value, the sides are still a ways off from reaching a deal.
But compare all that to the state of this team four months ago. Which would you prefer?