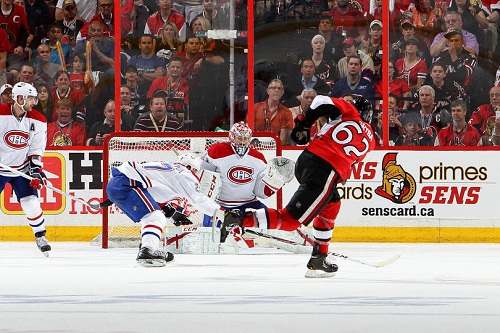 The Ottawa Senators took a 3-1 stranglehold on their series with the Montreal Canadiens after a 6-1 thumping and 3-2 comeback win in Ottawa .
With just under 30 seconds to play in game four, Senators forward Cory Conacher snuck one under Carey Price during a scramble to send the game to overtime. Carey Price left the game right after with what appeared to be a lower body injury late in the game and it only took two minutes and 32 seconds into overtime for Kyle Turris to handcuff backup goaltender Peter Budaj with a wrist shot from the perimeter.
In game three, Jean-Gabriel Pageau, who was called up from Binghamton late in the regular season, scored his first career hat trick in the game but the feat was overshadowed by all the punches exchanged late in the third period. There were a total of 8 game misconducts and 236 penalty minutes between the two teams.
Senators's head coach Paul McLean called a time-out with less than 2 minutes left in the third while the game was out of hand, a move Canadiens' head coach Michel Therrien called "classless" post-game.
McLean brushed off Therrien's criticism and backed up the decision.
"I felt bad for the referees, but they wouldn't let me bring my players back to the bench so I could tell them what I wanted them to do," he said. "My only recourse was to take the timeout because I didn't want anyone to get hurt."
In game four, the boxing subsided and it was back to hockey.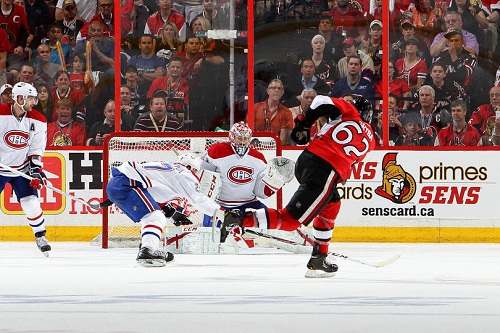 Their was no clear favourite to win after a scoreless first period. In the second, the Montreal Canadiens capitalized on the Ottawa Senators' flat feet and used their speed to take a 2-0 lead. Throughout, it appeared as though the Ottawa Senators didn't want it as badly as their opponents. They struggled with their break-ins and break-outs and ultimately had to play catch-up late in the game
The team, however, fought through the deficit and they will now go into the Bell Centre on Thursday night with a chance to knock out a team that spent most of the regular season among the best in the eastern conference.