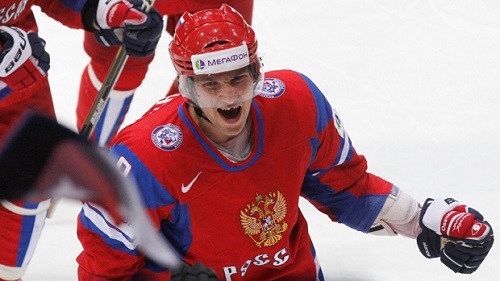 The host Russians announced their 25-man roster today that'll take the ice at the Olympic Winter Games in February. It is as follows:
Goaltenders: Sergei Bobrovsky (CBJ); Semyon Varlamov (COL); Alexander Yeryomenko (Moscow Dynamo, KHL)
Defensemen: Anton Belov (EDM), Alexei Emelin (MON), Andrei Markov (MON), Evgeni Medvedev (Ak Bars Kazan, KHL), Nikita Nikitin (CBJ), Ilya Nikulin (Ak Bars Kazan, KHL), Fedor Tuytin (CBJ), Slava Voynov (LA)
Forwards: Artem Anisimov (CBJ); Pavel Datsyuk (DET); Denis Kokarev (Dynamo Moscow, KHL); Ilya Kovulchuck (SKA St. Petersburg KHL); Nikolai Kulemin (TOR), Evgeni Malkin (PIT); Valeri Nichushkin (DAL); Alex Ovechkin (WAS); Alexander Popov (Avangard Omsk, KHL); Alexander Radulov (CSKA Moscow, KHL); Sergei Soin (Dynamo Moscow, KHL); Vladimir Tarasenko (STL); Alexei Tereschenko (AK Bars Kazan, AHL); Viktor Tikhonov (SKA St. Petersburg, KHL)
This team, especially on home soil, will look to avenge their quarter-final exit against the Canadians during the Vancouver 2010 Olympics. And there is pressure from the top as Russian President Vladimir Putin has cited gold as the standard for this team.
The Russians finished the 2010 Olympic preliminary round with a 2-0-1-0 record and finished first in their grouping. This year, they will play in Group A with Slovakia, Slovenia and the United States. They begin the preliminaries with Slovenia on Thursday, Feb. 13, followed by a the date with the rival Americans Saturday, Feb. 15, and finish with Slovakia on Sunday, Feb. 16.
Omitted from the roster were former Washington Capital and current Carolina Hurricane Alexander Semin, and the Dallas Stars' Sergei Gonchar who has played in the past four Olympic tournaments.