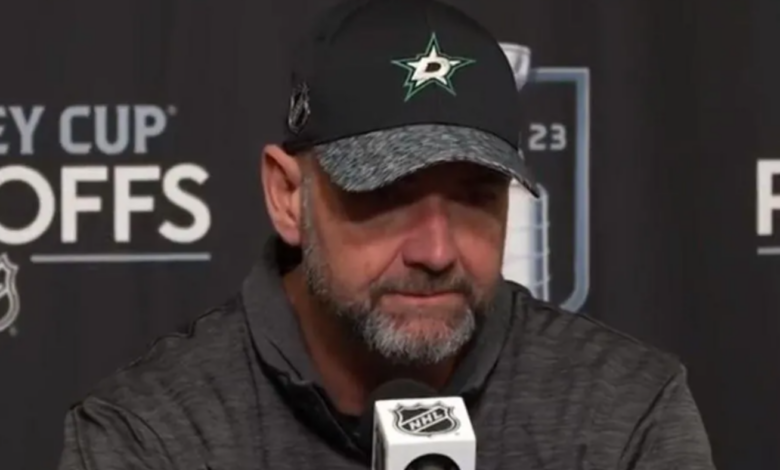 This past weekend, a horrific mass shooting at an Allen, Texas, mall devastated the whole state of Texas. Unsurprisingly, the tragedy has had a significant effect on the hockey club that considers the state of Texas its home. It is thought that the killer's horrible actions resulted in the deaths of 8 innocent people and the injury of 7 more.
Not only are the Dallas Stars based out of Texas, but on Sunday Stars head coach Peter DeBoer revealed just how close to home this particular tragedy had hit for the Stars.
"That mall… family's been there, family shops there, players go there."

"Frankly when you hear victims as young as 5 years old you get tired of hearing it," said DeBoer.
A mass shooting, this time in Allen Texas in the Dallas-area. Governor Greg Abbott offers thoughts and prayers as The NRA lines his pockets. MAGA Republicans care more about AR-15s than the lives of your children.

IT'S THE FUCKING GUNS#ItsTheGuns #AllenPremiumOutlets pic.twitter.com/zPcxjLXQ2U

— StandForBetter.org (@StandForBetter) May 7, 2023
DeBoer also showed sympathy for the Allen Americans, the Ottawa Senators' ECHL affiliate team headquartered in Allen, Texas, in a wonderful display of class. The fact that the Americans play only "5 minutes away" from the location of the tragedy, as DeBoer put it, added to how personally the incident affected the Stars head coach.
It's not difficult to understand why DeBoer might be disturbed by the incident given that his own family has previously visited that spot.
Check out the video below to hear his entire declaration:
Stars Head Coach Pete DeBoer speaks on yesterday's events in Allen. pic.twitter.com/YgSB8W0EYt

— Dallas Stars (@DallasStars) May 7, 2023