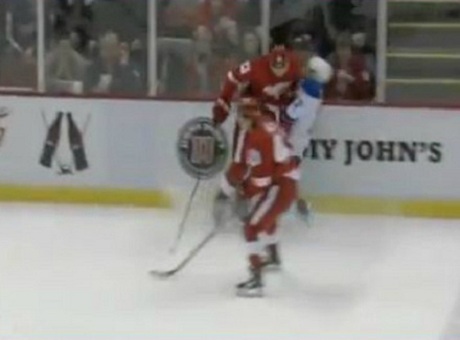 The Red Wings continued their dominate ways at home with their record-setting 17th consecutive victory at Joe Louis Arena Monday night. It was the 5th of 6 meetings this season between the St. Louis Blues and Detroit Red Wings. The previous 4 games had been split with Detroit taking the previous 2 and with the the win last night, now the Wings hold a 3-2 season series lead. However, the great enjoyment of watching these 2 top quality western conference teams matchup is the physicality both bring to the ice against one another.
Brad Stuart lays a great blow to Alex Pietrangelo in the closing minute of the 1st period:
Now it's your turn to RATE THAT HIT (RTH)!
1 for "I'm not impressed" and a 10 for "Wow, that's an absolutely bone crushing hit!" Vote Below:

Loading ...