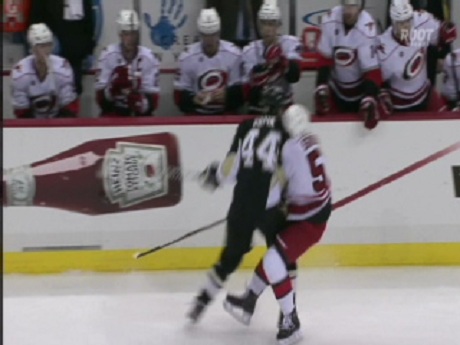 Jeff Skinner was cleared to return back to the Carolina Hurricanes' lineup after missing 16 games due to a concussion suffered earlier in the season. However in his 2nd game back, midway through the 3rd period, Brooks Orpik of the Pittsburgh Penguins, delivered what looked to be a clean shoulder to shoulder bone crushing hit on Jeff Skinner. Orpik was assessed a 2 minute interference penalty on the play. Fortunately, Skinner was checked over by a physician away from the bench and returned back to the ice roughly 5 minutes later to finish the game for the Canes.
Here is that hit:
Now it's your turn! In HOH's newest segment RATE THAT HIT (RTH)!
Give it a 1 for "I'm not impressed" and a 10 for "Wow, that's an absolutely bone crushing hit!" Vote Below:

Loading ...