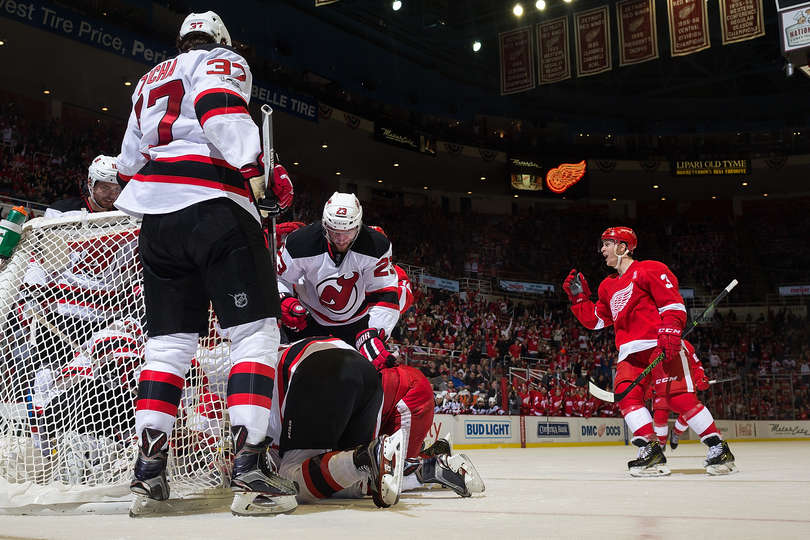 The NHL resumed play on Tuesday after a four-day break for the All-Star weekend. Detroit had lost its last four games, most recently at the hands of the Toronto Maple Leafs (3-0) on Thursday.
Dylan Larkin returned to the lineup after missing two games with an upper body injury.
1st period
New Jersey's Stefan Noesen scored the game's first goal only 1:28 into the game (second shot). Pavel Zacha had the initial shot, and Noesen potted the rebound near the crease.
Nearly five minutes later, Kyle Palmieri would score shorthanded to widen the lead to two. Detroit defenseman Niklas Kronwall could not contain the Devils forward as he deked and scored on goaltender Jared Coreau.
2nd period
Late in the second period, captain Henrik Zetterberg redirected a Gustav Nyquist pass past Cory Schneider to get the Wings on the board.
With 34 seconds left, Palmieri added his second goal to restore the two-goal lead.
Also in the second, Detroit had 1:16 of 5-on-3 time, in which they failed to generate any chances.
"We either need to change personnel on the 5-on-3…now it was the same personnel that scored on that one in Dallas, obviously not that long ago," said coach Jeff Blashill. "The 6-on-4 [with the empty net] to me is different than the 5-on-3. The 5-on-3 is a bigger advantage for sure that you have to score on. I thought they were on the same page, but we didn't execute [or] generate enough opportunities out of it."
3rd period
New Jersey's Adam Henrique scored the team's second shorthanded goal as he found himself on a breakaway. Kronwall gave chase but could not prevent the goal.
Detroit's league-worst power play was finally successful. Kronwall fed the puck to Tomas Tatar, who wristed a shot past Schneider from the right faceoff dot.
The team finished the month of January 4-for-42 on the man-advantage (9.52%).
Later, rookie defenseman Nick Jensen scored his first career NHL goal as his behind-the-net backhand attempt bounced in off the pad of Schneider.
"It's always a personal goal that you want to achieve, but it's never sweet without the win," said Jensen. "So I think it's kind of bittersweet. It's obviously a nice goal to get out of the way, but I'd rather win all year and not score than score all the time and lose."
However, the comeback would be halted by New Jersey and time would run out for the last-place Red Wings.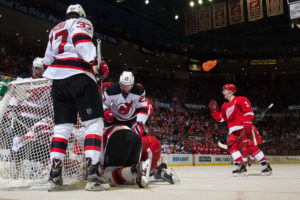 Relevant Scores from Tuesday
28 teams played Tuesday, and here are the scores that affect Detroit's playoff chances.
Division
Buffalo Sabres lost 5-2
Boston Bruins won, Tampa Bay Lightning lost 4-3
Florida Panthers won, Ottawa Senators lost 6-5
Toronto Maple Leafs lost 6-3
Wild Card
New York Islanders won 3-2
Carolina Hurricanes won, Philadelphia Flyers lost 5-1
New Jersey Devils won 4-3 (as noted in this article)
Detroit sits last with 49 points and 32 games remaining. Buffalo (49 GP) has 49, Tampa Bay (51 GP) has 50, New Jersey (51 GP) has 51, Carolina (49 GP) has 51, New York Islanders (48 GP) have 53, Florida (51 GP) have 54, and Toronto (48 GP) has 55. Needless to say, Detroit's playoff hopes appear very bleak at the moment, and the playoff streak has never been more at risk than right now. Their five-game losing streak is second league-wide only to the league's basement dwelling Colorado Avalanche (eight games).
A Look Ahead
Detroit faces the New York Islanders on Friday (home, 7:30 ET) before playing the Nashville Predators on the road Saturday (8:00 ET).
Next, the difficult seven-game stretch begins on Tuesday, beginning with Columbus, followed by Washington (2/9), Columbus again (2/11), Minnesota (2/12), St. Louis (2/15), Washington (2/18), and concluding with Pittsburgh (2/19). Then, starting February 28, the Wings embark on a five-game road trip, albeit against somewhat easier opponents.
Of the remaining 32 games, 21 are against teams I consider to be significantly better (both higher in the standings and higher skilled).
Follow me on Twitter @KevinSporkaHOHM