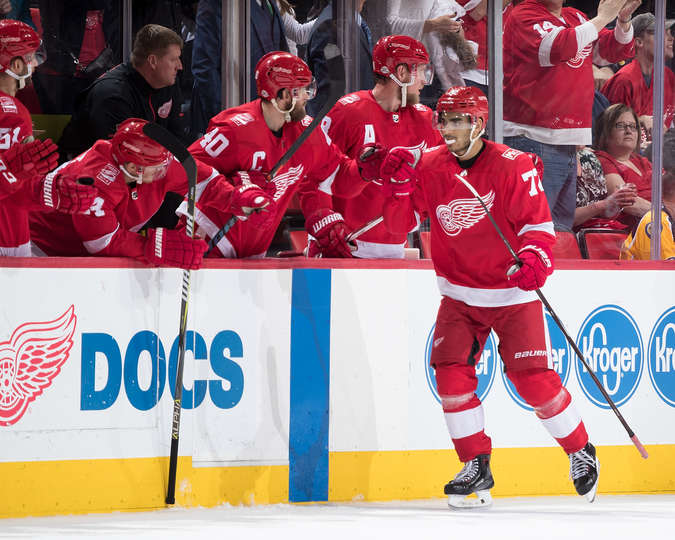 The first big domino of Detroit's trade deadline sale fell on Monday, as streaky netminder Petr Mrazek was dealt to the Philadelphia Flyers for two conditional draft picks. Before the trade deadline, there is a strong chance that defenseman Mike Green and either forwards Tomas Tatar or Gustav Nyquist will be dealt as well.
The team has alternated between Jimmy Howard and Mrazek all season (65-35), and as it stands currently, the two both sport a .910 save-percentage and nearly identical goals-against average. The problem is that Mrazek has been wildly inconsistent over the past few seasons, while Howard has been more reliable.
Philly definitely needed this trade. With both of their goalies struggling with some injuries, this deal will help support their upcoming playoff run.
According to TSN's Bob McKenzie, "Detroit is guaranteed no less than a 4th round [pick] for Mrazek. If Philadelphia makes playoffs and Mrazek wins 5 games for Philadelphia in regular season, 4th becomes a 3rd. If Philadelphia advances to Conference finals, and Mrazek wins 6 playoff games, the 3rd becomes a 2nd. If Philadelphia re-signs him next season, Detroit gets Philadelphia's 3rd in 2019."
Surely Detroit would not have re-signed the young Czech goalie in the off-season. This was made clear when they left him vulnerable in the Vegas Expansion Draft last summer. He was once the future of the crease in Detroit, but his stock steadily declined over time.
The Red Wings will now rely on Grand Rapids' Jared Coreau to back-up Howard for the remainder of the season.
Just like Howard and Mrazek, Coreau has started 65% of all Griffins games in the AHL this year (36 GP), with Tom McCollum (who, along with Mrazek won the 2013 Calder Cup) playing in 19 games. After a very rocky start to the season, Coreau has improved his stats to boast a .916 SP and 2.47 GAA. It is now or never to give him his shot at the NHL.
—
Detroit took on the Nashville Predators on Tuesday night, as Jimmy Howard started his first game as the team's clear number one goaltender.
It didn't take long for the Preds to light the lamp, as a soft Roman Josi point shot was deflected past Howard by veteran forward Scott Hartnell.
Still, before the midway mark of the period, Kyle Turris made it 2-0, also with help from Josi. Nashville led 15-8 in shots after 20 minutes.
Detroit had a great second period, pulling even in shots (22-22). After a turnover at the Flyers' blueline, Howard thwarted a breakaway opportunity with a great poke check, which then led to a breakaway for Detroit. Andreas Athanasiou excelled on the 1-on-0, going backhand-forehand and sliding the puck past the goalie Juuse Saros.
In the third period, an unfortunate break for Detroit ended with Philly restoring the two-goal lead. The puck took a strange hop over the stick of defenseman Jonathan Ericsson, allowing Viktor Arvidson to easily score on a mini-breakaway.
Soon after, a Wings power play led to a goal by Tomas Tatar, which made it 3-2. Justin Abdelkader and Athanasiou jammed away at the puck, while Tatar patiently waited for the puck to come out the other side. He scored his 16th goal of the season.
After a late push and a power play in the final minute of play, the Preds managed to hang on for the 3-2 win.
Follow me on Twitter @KevinSporkaHOHM