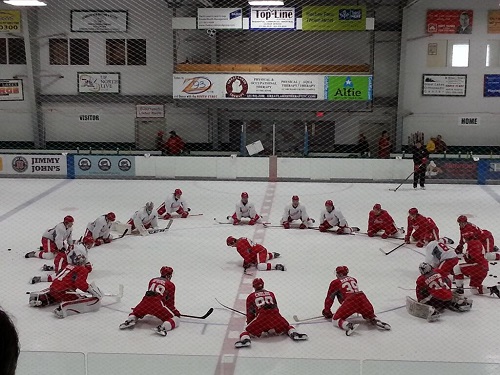 Development Camp is underway here in Traverse City with Day 1 seeing the players take part in off-ice physicals and on-ice drills. The group of 38 prospects was divided into two teams: Yzerman and Lidstrom.
The rosters are as follows:
Team Yzerman: Forwards – Rasmus Bodin, Dean Chelios, Martin Frk, Darren Helm, Philippe Hudon, Ty Loney, Anthony Mantha, Zach Nastasiuk, David Pope, Dominik Shine, and Brody Silk.
Defensemen: Trevor Hamilton, Alexei Marchenko, Richard Nedomlel, Ryan Sproul, and Ildar Telyakov.
Goalies: Andrew D'Agostini, Jake Paterson (Saginaw)*, and Jared Coreau (didn't participate in drills due to recovering from shoulder surgery.
Team Lidstrom: Forwards – Andreas Athanasiou, Michael Babcock, Tyler Bertuzzi, Kurt Etchegary, Luke Glendening, Barclaay Goodrow, Mattias Janmark, Marek Tvrdon, Dane Walters, and Jamien Yakubowski
Defensemen: James de Haas, Alex Gudbranson, Nick Jensen, Mark McNulty, and Xavier Ouellet
Goalies: Toni Eskelinen and Jake Patterson (London)*
*Note: Paterson with one 'T' is the drafted goalie. Patterson is a camp invite (or a practical joke).
On-Ice Drills:
Grand Rapids Griffins bench boss Jeff Blashill led the drills today. Newly inducted Hall-of-Famer Chris Chelios and Tomas Holmstrom have been given on-ice coaching roles for this camp.
Drills included skating in passing lanes and dishing the puck from tape-to-tape and different variations of that, boards play corralling a shot around the glass, shootouts, and a few others.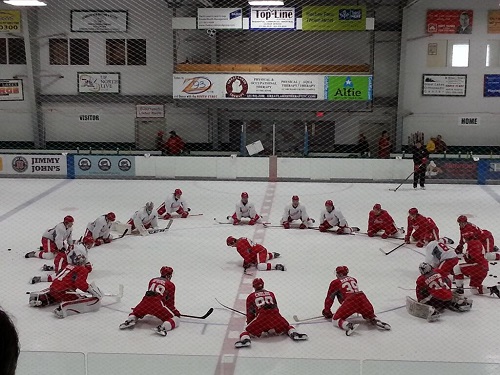 Helm's Back:
Red Wings forward Darren Helm skated for the first time in two months today. "It was a good first day, haven't skated in two months," Helm said earlier today. "It's a good start, felt good. I'm pretty happy after how things went today."
He mentioned that he wasn't skating at full speed today but he doesn't believe he lost his stride in the time he's been out.
Helm will likely not be participating in Friday's scrimmage as a precaution. He emphasized he doesn't want to risk injury in the process. "I've been out for two months. There's no point in getting out there and starting hitting. It's a slow progression and process."
Nedomlel Ready to Turn Pro
Bulky defenseman Richard Nedomlel is ready for the next level. His booming slap shot that he demonstrated today was really impressive, and is something that he has been continually working on.
He projects as a stay-at-home defenseman that can drop the gloves when needed. If he can develop a Chara-like slap shot it will only boost his stock.
He had the opportunity to work alongside Chelios during the practice. "I work with [Chelios] every time I'm here and talk to him a lot," Nedomlel said. "It's great experience. Not all the time you can talk to a Hall-of-Famer. I try to learn as much as I can from him, and to learn how to be a tough guy to play against."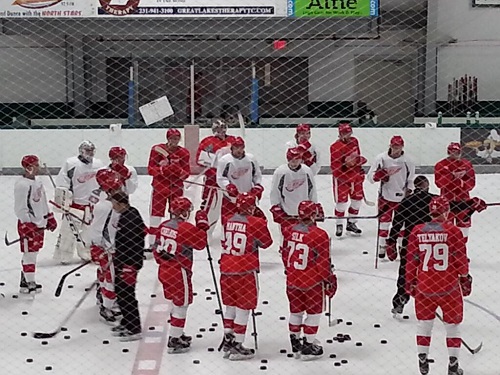 Mantha's Goals
First Round pick Anthony Mantha skated for the first time in a Red Wings uniform this afternoon, and realizes that nothing comes easily.
When asked what he thinks he needs to still work on, he said what everyone's already heard before: "My compete level, being present every game. That's the difference between being a professional and [being] a major junior guy."
His shot was noticeable out there. He showed great accuracy in the shooting drills.
Homer School:
Red Wings great Tomas Holmstrom is hoping to make a positive impact on these young players. He emphasized the importance of going to the net and doing what he did for the whole of his career. "…You can't [stand on the side of the net], even in practice," Holmstrom said. "That's where you learn."
"At least one or two guys on each line need to go to the net. That's where you score all the goals."
While he accepted this role, he is not done coaching his kids' team. The difference between coaching his kids' team and these players? "Now you can yell at them (laughs)."
Coreau Shows Off New Cage
NMU Wildcat turned free agent Jared Coreau will be playing alongside Petr Mrazek in the crease for the Griffins next season. He is in the process of recovering from a shoulder surgery and believes in about two weeks' time, he should be cleared to go 100%.
He was happy to show off his new mask. It was designed by Ray Bishop, the man who designed Jimmy Howard and Ryan Miller's masks. It features a Red Wings and Griffins logo on opposing sides and is made to look like a Hemi V8 engine.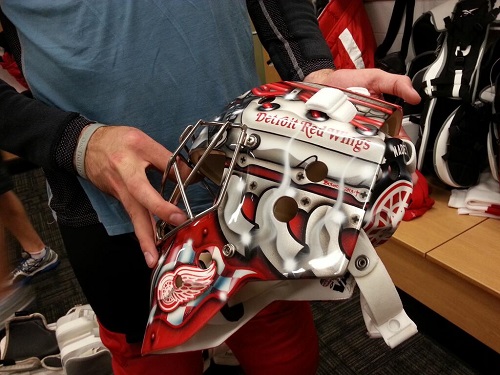 And a few other views of the masks can be found here:
Some things you may want to know about Coreau:
Playing style comparable?
"I'd say [my style] is probably close to like a Pekka Rinne."
Favorite player growing up?
"Curtis Joseph was the first player I ever idolized growing up. I had matching pads, I could have been his mini-me."
Jensen and Bertuzzi Get Physical
While we were in the locker room following the first group's practice, forward (and nephew of Todd) Tyler Bertuzzi cross-checked defenseman Nick Jensen hard and challenged him to fight, to which he obliged
Jensen didn't take it personally. "That's hockey," said Jensen. "We're fine now. We were both just competing."
Janmark Happy to Be in the Organizaton
"It was a good surprise to get drafted by Detroit. I knew since I'd been passed over the last two years I didn't get my hopes up."
First impression of the organization?
"Everything is a step up from Sweden here. Everything is bigger here. Only have good things to say so far."
Strengths?
"I have good hockey sense. I'm a smart player. I like to make up some plays and also try to work hard, maybe not with bodychecks, but with forechecking. I try to be a smart center and make my teammates better."
Fit?
"I would say this is the team with the most similar playing style like me. I can see myself fitting perfectly in this organization."
Janmark mentioned that he talked to fellow Swede Holmstrom after practice: "…[We] talked about jetlag and stuff like that, but also maybe the next step for me and what he thinks…A little about his career when he was my age. It's always good to know someone who has done that travel before so you can get a little information about how it is."
Favorite player?
"Peter Forsberg. Also Pavel Datsyuk and Henrik Zetterberg, those two I've been watching real close."
Mysterious Giant
Virtually unknown to everyone, except for Igor Larionov, whose connection found him, the Russian Ildar Telyakov is hoping to impress as a camp invite.
He's a 6-foot-9 blueliner that was never drafted. He's 22, making him eligible to sign as a free agent.
Being as tall as Zdeno Chara, he can move very well and demonstrated a knack for clearing the crease, knocking fellow countryman Alexei Marchenko to the ice in a net-front drill led by Chelios.
I asked director of player development Jiri Fischer if he knew anything about him, and he said today was the first time he's seen him play.
Day 2 This Morning
I'm back at it this morning from Centre Ice Arena in Traverse City. Team Lidstrom will be practicing from 8:00 AM to 9:50 AM while Team Yzerman will take to the ice from 2:00 PM to 3:50 PM. I will be live-tweeting from the arena again so be sure to follow me on Twitter @yungspork.