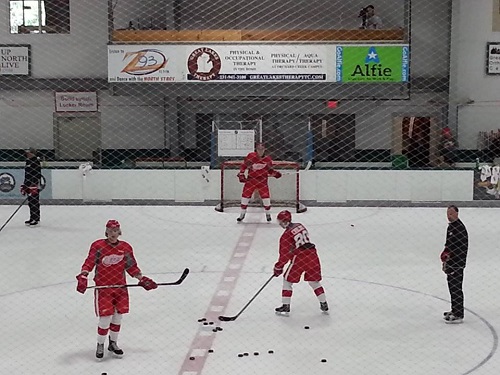 New Scouting Staff
After the departures of Jim Nill and Joe McDonnell in the scouting department, the Red Wings have hired Tyler Wright and Jeff Finley as their replacements. Wright will be the new Director of Amateur Scouting, and Finley will be the new Chief Scout.
According to Ken Holland: "Tyler's been in the business, both have been in the National Hockey League. Tyler's been a chief scout. He's been a director of player development. He's been in the business seven, eight, nine years scouting. Jeff Finley's been an assistant coach in Kelowna. He's been working there for three years. He also served as the Red Wings' Western Canadian scout.
"We've hired Andrew Dickson, who worked for Columbus (alongside Wright), he'll scout in the Ottawa area. We've got David Kolb in Minnesota. We're close to hiring someone in the New England area. Marty Stein will be part-time out west." Sam Lites (son of Jim Lites, former COO of the Red Wings) will be a college scout. Detroit has also hired Kelly Harper (played for Michigan State in the early 90s) to be a part-time scout based out of Toronto.
I talked to Joe [McDonnell] about staying and offered him a job. And ultimately he wanted to maintain his relationship with Jim Nill."
Holland also believes Detroit got five bonus years from Nill. "Teams were calling, four, five, six years ago," he said. "Jim Nill made a decision for a variety of reasons that he wanted to stay, but it was obvious that if he wanted to be a general manager, he was going to go."
Wright was a former 12th overall draft pick (1991) with the Oilers. He scored 115 goals and 271 points in 233 career games over the span of a 14 year NHL career with Edmonton, Pittsburgh, Columbus, Anaheim.
Finley was drafted by the New York Islanders in 1985, playing for the Isles, Flyers, Jets, Coyotes, Rangers, and Blues over the span of 17 years. He scored 13 goals and 83 points in 708 career games as a defenseman.
Day 2 of the Development Camp took place earlier today in Traverse City. Team Lidstrom had the ice from 8:00 to 9:50, while Team Yzerman had the ice from 2:00 to 3:50.
The first 45 minutes of both practices focused on Tomas Storm's drills. Power skating and puck control comprised the bulk of the time. The last 50 minutes saw the ice split into three sub-sections, each with a different drill set up and a different coach.
One section was used by Chris Chelios and the defensemen. Another was used for deflection practice and accuracy shooting where Jeff Blashill was splitting time with the two stations. The last space was used by Tomas Holmstrom and forwards practicing screening the goalie and, well basically what Holmstrom did his entire career minus a defenseman knocking them flat on the ice.
During the power skating drills, I was surprised at how nimble 6-foot-9 defenseman Ildar Telyakov was. He made smooth transitions and looked light on his feet. Darren Helm participated in the first session, but was not present during the second one (don't worry it's not because he got hurt again).
During the second half of the practice, Martin Frk really impressed me. He was working on deflecting wrist shots into an empty net. He successfully tipped in 30+ shots in succession, from every different angle and speed. His hand-eye coordination is unparalleled among these prospects. In fact, I'll venture to say I haven't seen such good net-front hand-eye coordination since Holmstrom's playing days.
Michelle, from the Winging It In Motown blog, was nice to film much of this drill for video proof (as well as a few other videos that can be found at the bottom of this article).
The 3-on-0 breakout with two forwards and one trailing defenseman is a great way to gauge skill, speed, passing, and coordination all at once. The player who impressed me the most after this drill was 2013 4th Round Pick David Pope. Pope's wrist shot is powered with deadly accuracy.
Here is some Q&A to help you learn more about these prospects: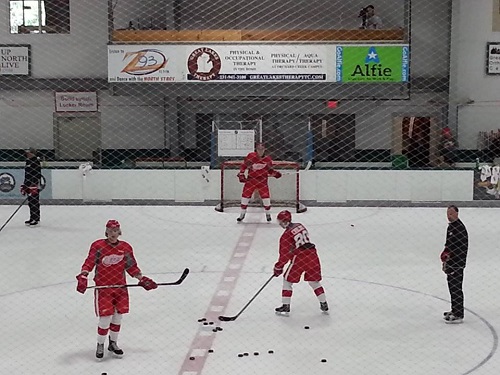 Anthony Mantha
I asked first-round pick Anthony Mantha what role he prefers to play: sniper or power forward. "It's really what the spot is going to be. The only spot that's not going to be taken. If it's to be a sniper, I'll try to be a sniper. If it's a power forward, I'll change my play to become a power forward. It's really to play in the NHL that I need to adapt my game to."
If you had a choice? "For sure if I had the choice, I would be a sniper, because it's always more fun scoring goals than being a power forward and dropping your mitts. In the future, I'll be able to do both. At the junior level last year I played more of a sniper game, so I can bring that to the NHL.
Ryan Sproul
What do you need to work on the most? "I work on everything. You've got to be versatile out there. My strength in my shot and probably my skating, and I still work as hard as I can on both of those. Just because you're good at one thing, you don't stop working on it.
Which NHL player do you model your game after? "It used to be a guy like Mike Green, but I've kind of tried to turn my game into more like a Shea Weber. Clearly he's got a great shot, but he's also a leader and he's a big physical presence as well.
Philippe Hudon
What are your goals for the week? "Get better, show that I'm getting better, that I want to sign as soon as possible to move up in the ranks."
What area of your game needs the most work? "Skating, and staying composed…I just want to build a little more of my hockey IQ and build on all the other things that I've been working hard on: net-front presence, shot, physical presence…"
Which NHL player do you model your game after? "I think Holmstrom is actually a pretty good example as well as power grit players that drive the net and aren't afraid to get in the dirty areas, that are blue collar workers."
Tyler Bertuzzi
What are the strengths in your game? "Just being an agitator I guess, playing tough."
Which NHL player do you model your game after? "When he was in the NHL, Wendel Clark for the Leafs."
Nick Jensen
Reason for not playing in Friday's scrimmage: "Strained shoulder. When we [he and Bertuzzi] got in the scrap yesterday, my grab hand, I think I might have yanked a little too hard, might have pulled something. I didn't really feel it until about five minutes after the fight."
What are your strengths? "I like to say my skating is definitely one of my strengths. I like to say I have good, smart skills with the puck, making good plays. Obviously it always needs to be worked on. I got to work on my passing. I've been working on that a lot over the summer, so hopefully I can come in and be a top puck-moving defenseman."
Mark McNulty
Is there an NHL player that you would compare your style of play to? "I'd like to say a guy like Chris Pronger."
More of Michelle's Videos from Day 2 (Follow her @Slapshotg0al)
Chelios's Defense Drills – all defensemen
Shooting Drills – Pope, Shine
More Shooting Drills – Bodin
Deflections Part 1 – Pope, Loney, Hudon, Nastasiuk, Shine
Deflections Part 2 – Hudon
Deflections Part 3 – Nastasiuk
Deflections Part 4 – Frk, Bodin, Dean Chelios, Mantha
Follow me on Twitter @yungspork. This is my last day of coverage, and I'll be covering the scrimmage game tonight.